Grey's Anatomy Season 11 Episode 4 Review: Only Mama Knows

Christina Tran at . Updated at .
I don't think I've ever appreciated an episode like the way I did with Grey's Anatomy Season 11 Episode 4.
As we took a stroll down memory lane with Meredith and Richard, every haunting recalled moment was tragically beautiful. In particular, the carousel scene and Meredith's emotional memories with Ellis were painstakingly heartbreaking. 
Well done, Shonda and company. I loved every bit of it.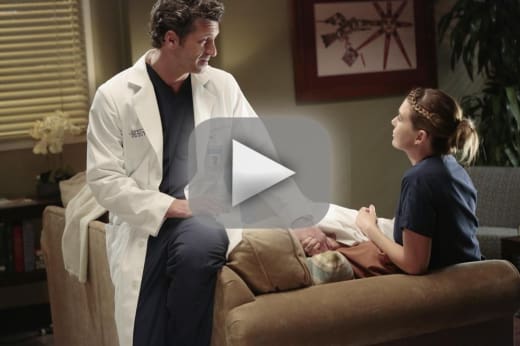 As Maggie wanted to resign with all that's happened with Richard and Meredith, I was glad that Meredith finally came around and took baby steps to reach out to her sister. Sharing the journals and showing that Ellis did know and care about Maggie was the perfect touch.
Maggie has really grown on me. She impressively brought the thunder once again in the OR and you cannot fault her for not giving up on a life. 
Like Derek, I totally believe that sisters are awesome. I always say the best thing my parents gave my sisters and me is each other. It was really nice and totally dreamy of McDreamy to be so welcoming and hug Maggie the way he did upon finding out who she really was.
In that moment, I forgot how narcissistic he can be. By the way, thank goodness Meredith and Derek both called a truce with all of their fighting. Honestly, that's gotten so old. I just wish they'd just communicate.
It was interesting to see how Ellis and Richard's relationship played out. Perhaps the most pivotal moment was when we learned that Richard left Ellis in that one unforgettable carousel scene. More importantly, this was why Ellis tried to take her life. 
I couldn't help but constantly think it was no wonder why Meredith was once so dark and twisty. 
It can only be a matter of time until Richard is able to form some sort of relationship with his daughter. However, given their rough start, I think Meredith will need to intervene.
Other Thoughts:
I loved that Arizona asked Alex to take her place while she focuses on her marriage and stepping up her game with the fellowship. 
Even with the focus on simply Meredith and Richard's memories, we were treated to two fairly cool cases. Who seriously thought the 10-year-old girl was pregnant at first? I can't be the only one.
Several doctors were missing from this blast from the past episode. Who did you miss most? 
I'm starting to wonder where all the kids are. How about you? Maybe Child Protective Services should try to find out how Zola, Bailey, Ben, Sofia, etc. are doing.
Check back early next week and chime in with your takes on our Grey's Anatomy Round Table.
Overall, I thought that this installment was incredible. I found it fascinating and really thought it fit well for a Throwback Thursday kind of night. 
So, what did you think of "Only Mama Knows?" Did you like the flashbacks? Hit the comments and share your thoughts now!
Don't forget you can watch Grey's Anatomy online via TV Fanatic to catch up with your favorite doctors.
And, lastly, here's a look ahead to Grey's Anatomy Season 11 Episode 5, "Bend and Break."