Haven Season 5 Episode 4 Review: Much Ado About Mara

Carissa Pavlica at . Updated at .
Finally. We're making some headway.
At least that's the case if headway means Dwight is on board that Audrey is tumbling around inside Mara, as well as even Mara herself. Other than that, it was pretty much the same old same old.
Each week long-time fans hold out hope that the show can bounce back, but Haven Season 5 Episode 4 isn't evidence of that.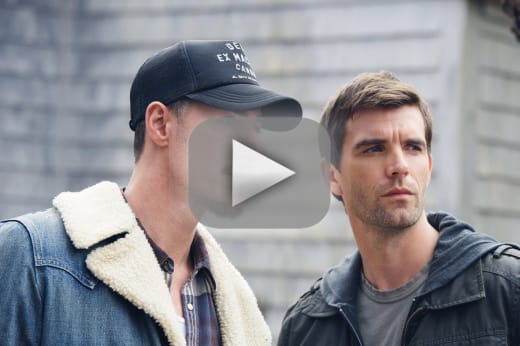 Yes, Audrey is rattling around inside Mara. Some have commented that they never thought Emily Rose was a bad actress until Mara. I'm blaming the direction. She probably has no friggin' idea where they're heading with this story and it's difficult to play that well. 
Mara is painful to watch. There is nothing frightening about her, she's rather a buffoon and it's difficult not to laugh at her because she's scared shiteless. That's the reality. She knows she has no powers left and she has no ability to do any of the things she has promised and she also knows Audrey has a (small) army of supporters. Mara doesn't have staying power.
What's even worse is that the "Audrey" that is rumbling around inside of Mara is a shell of her former self. What version of Audrey, Sarah, Lucy or even the fake Lexie ever whined like this new Audrey? The begging and pleading and talk of being crushed is NOT OUR AUDREY. Audrey was strong. She took forever to share her feelings with Nathan because she doesn't show emotion much. Who the hell is this Audrey inside of Mara?
Honestly, do we even want her whiny ass to be released? I fear that after the last two years Emily Rose has lost sight of the character she played so beautifully from seasons 1-3. I don't blame her; we're all confused. 
I'm sad; sad and confused.
Turning a spotlight Trouble into a microwave Trouble was too easy. The best moments were watching Duke with his gibberish, which wasn't really gibberish as much as words spoken without purpose. Nathan figured out that Duke had paired the Trouble with an emotion, and it was gone. Dwight and Duke figured out the other things, that Audrey can't cure Troubles and some other epiphany I have lost because it was mostly boring.
At least they are working together. Hurrah!! That's headway, right? 
Meanwhile the Teagues were consulting some sort of therapist who dug right into the heart of their matters -- I especially liked her saying Vince was so uptight he could create diamonds in his ass or something similar. A creature of some sort chose to reveal itself and wipe time away so only Vince remembered the session.
Was this the thing that escaped the Lighthouse when it imploded? Will we finally move away from one storyline and into another? I'm shocked the series has managed to maintain viewers through this desperately dreary and slow storyline. I do know (thanks to Colin Ferguson's Twitter feed) that William will be returning at some point. Whether that means Mara will drag on all season? I shudder to think.
What do you think about it all? Did this week help or hurt? Do you wonder who this whiny Audrey is? Hit the comments and if you want to revisit the past, you can watch Haven online via TV Fanatic.
Carissa Pavlica is the managing editor and a staff writer and critic for TV Fanatic. She's a member of the Critic's Choice Association, enjoys mentoring writers, conversing with cats, and passionately discussing the nuances of television and film with anyone who will listen. Follow her on Twitter and email her here at TV Fanatic.