Haven Season 5 Episode 6 Review: The Old Switcheroo Part 2

Carissa Pavlica at .
Audrey Parker was just born.
Giving credit where it is due, Haven Season 5 Episode 6 finally provided die-hard fans with an hour to appreciate. It's taken a bit longer than anticipated, but it seems that the immediate problem from the Mara/Audrey situation has spun off into a new tale.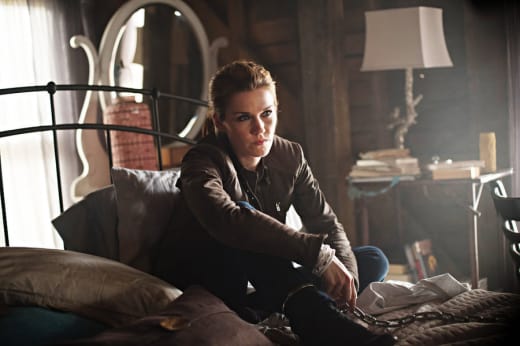 It has been a complaint all season that two of the leads have been given horrid stories to play with. Emily Rose, once simply joyful to watch in her many-faceted portrayals, was reduced to a one-note bad villain with an unrecognizable Audrey Parker residing inside her trying to get out.
Lucas Bryant's Nathan Wuornos was left to pine away for the woman he loved and try to thwart all efforts to capture Mara due to his belief he could rescue his Parker.
With the old switcheraroo, we were given a Trouble that allowed almost the entire cast to shine in a new way. Adam Copeland as Dwight and Jayne Eastwood as Gloria were given a particularly difficult task as they played up the switch of the sexes. They both delighted as they took root in their new bodies. 
Lucas Bryant's portrayal of Duke Crocker in Bryant's own body, however, stole the show. He had Eric Balfour's mannerisms down pat. From the way he pursed his lips and raised his eyebrows, to the slightly slack opening of his mouth when he was at a loss for words and the jittery way Duke can prance around when agitated -- it was all golden. 
Duke as Nathan: See Nathan? I can totally sound like you. Stick-up-my-ass serious, sprinkle in a few "Parkers."
Nathan as Duke: Well I'll just try to look annoyed all the time.
Duke as Nathan: It ain't easy being me, Nathan.
For all of those reasons, we were entertained. Yet there was more!
We even had (gasp) a call back to the (we thought) forgotten characters of Agent Howard and The Colorado Kid! It's impossible to understand what, exactly, is going on with Dave Teagues, but if it requires the recollection of characters that seemed lost in the lore, then I'm all for it.
Another anomaly was Gloria's decision to share news with Dwight about his sister, a sister we never knew he had and who is now dead. Perhaps it was empathy from the switch that prompted her to do that, but for a second there, I had visions of Dwight's world expanding and those hopes were dashed in an instant. 
The real surprise came from the attempt by Duke to set free a reincarnation Trouble that they thought might trigger something in Mara since she's not immune to Duke's Troubles because she doesn't even understand how it's happening.
They set the Trouble free and Duke thought something happened, but Mara proudly proclaimed nothing happened and he and Nathan were still idiots. Except for the naked Audrey Parker on the other side of the bar.
The Reincarnation spell gave birth (for lack of a better word) to Audrey Parker, one of the identities inside of Mara. It's too early to tell exactly what that means. Is she merely the Audrey she created for herself when she came through the barn, false childhood and all? Does she retain any of the other memories of Sarah, Lucy and the bi chick that was mentioned?
It was still a little bit distressing that Audrey was portrayed as weak upon her arrival in the world, because despite what anybody says, Parker was never weak. I look forward to her getting some of her swagger and bite back. We don't want an Elena/Katherine from The Vampire Diaries situation where one must be weak for the other to appear strong. Surely Emily Rose can find a balance allowing for Parker to get back to her kick ass self and for Mara to just be a bitch.
Hopefully this new pace will be maintained throughout the remainder of this half of Haven Season 5. Let's get some more action about Agent Howard and how people knew about the other world and the Troubles. Let's have our trio of stars start tracking and halting Troubles again. They can do all of this while they keep Mara locked up to determine how her life and Audrey's are intertwined.
Maybe when William gets back into town there will be a new switcharoo that involves Audrey acting as Mara to get some answers from the gingerbread boy. Although it doesn't matter, now that they've dragged up the beginning of the Troubles and the two who created them, it seems fair to get the entirety of the story out in the open. 
So what do you think? What answers will be hatched from the newly born Audrey Parker and how will she connect with Mara? What about the Teagues and their dredging up beloved names from the hayday of Haven? Hit the comments with your resounding joy and don't forget, you can watch Haven online via TV Fanatic for more!
Carissa Pavlica is the managing editor and a staff writer and critic for TV Fanatic. She's a member of the Critic's Choice Association, enjoys mentoring writers, conversing with cats, and passionately discussing the nuances of television and film with anyone who will listen. Follow her on Twitter and email her here at TV Fanatic.