Haven Season 5 Episode 8 Review: Exposure

Carissa Pavlica at . Updated at .
One half of the Darkside Seekers, Seth Byrne, formerly seen in Haven Season 4 Episode 11, stopped by Haven Season 5 Episode 8.
I'll be honest. I don't remember him. Now? He was a breath of fresh air. If the quote didn't belong to Duke, the witty remark was coming out of Seth's mouth. What a difference a year makes. I likely still had so much hope for everyone that I didn't take note of Seth. Sorry Seth, you rocked it tonight.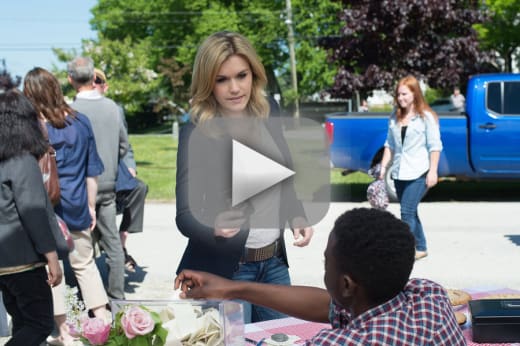 Mousy Audrey had to come out of her funk to solve a Trouble on her own in order to save Nathan. That's something Seth has some experience with since he was once a duo and now on his own. He had the pep and vigor required to launch Audrey out of the chair.
Together they made gizmos and looked beyond the Trouble to the people (as Seth so eloquently put it) so that they could discover how a Trouble truly started. They didn't get it right, necessarily, but close enough to play ball.
Audrey has lost all of the excitement from her personality. She is dull. She doesn't have a lot of confidence, although her love for Nathan thrust her into another dimension via a camera. If Seth hadn't been there to cheer her on, I don't think she would have made it.
This was the first time Mara became interesting. First she got Duke to talk about his mother. I'm unsure why she chose that topic or what she knows, but it was an interesting history lesson into the already messed up Crocker family.
What really struck me was what we already knew -- she tried to trap Duke into admitting he wanted a piece of Audrey to himself and that's why he split them in two instead of simply allowing Audrey to emerge whole. Apparently, it could have been done. I think.
Mara has tempered a bit and it now it doesn't seem far fetched that she and Duke will hook up. Why? Because he always had a thing for Audrey, yet he was a bit rough around the edges to truly win her heart. This Mara? Well, she is a bit rougher than Duke which probably suits him just fine. It also makes sense since the word on the street (thanks to Colin Ferguson's Twitter feed) is that William will be back.
What better way to reintroduce that character than to have him pop in on a newly entangled Mara and Duke? To make things even more uncertain, there will be an Audrey and a Mara just to confuse him even more. That's my guess.
While they are trying very hard to make Vince and Dave relevant, and their scenes were mildly entertaining, their story just isn't interesting. By the time it becomes so, the raging infection on Dave's leg will have likely consumed the entire thing. Is there a Trouble to fix that?
Things seems to be aiming toward a more normal flow, with Troubles that they can all solve, but Audrey needs a personality adjustment. Without her kick she's just ... there. I'm jumping on the Mara train. At least she puts some thought into being insulting. I do like that they used Audrey's susceptibility to the Trouble to help solve it. We'll see if that sticks around and some slack shall be cut.
Was this better than the last seven outings? Hit the comments and chat about it. You can also watch Haven online for a reminder about the past, and to check out Seth's former visit.
Carissa Pavlica is the managing editor and a staff writer and critic for TV Fanatic. She's a member of the Critic's Choice Association, enjoys mentoring writers, cats, and passionately discussing the nuances of television and film. Follow her on Twitter and email her here at TV Fanatic.