Hawaii Five-0 Season 5 Episode 3 Review: The Last Break

Michelle Carlbert at . Updated at .
Kono was the woman of the hour in Hawaii Five-0 Season 5 Episode 3.
I know some of us have been waiting to see more Kono this season and, for me, this episode really delivered.
It was kind of a given that a case involving three girls in bikinis might end up involving Kono, but I thought that it was done with a lot of class. Kono didn't just put on a skimpy swimsuit and run out on the beach to look pretty while the guys kept watch.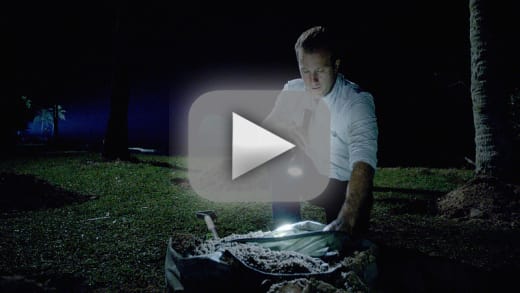 Instead, she went and met the ladies on their turf and made it clear that she was there to take them in. Then began one of the best chases I've ever seen on this show. I mean, come on, Kono chasing after a suspect while they're both on surf boards? That was beyond epic.
I also liked that her voiceover at the end when she talked about how the girls had just wanted to live a life of fun and sun, but got themselves messed up in some bad stuff and ruined it all. I didn't feel too badly for them, but it was nice to hear her voice giving a somber message in the end.
Jerry's story moved along pretty nicely in this episode. I loved that Steve went so far as to call his friends at the Secret Service, but I had a feeling he'd come up with nothing. I also had a feeling that wouldn't stop Jerry at all, and I was right.
I loved that we got to learn a little bit more about Jerry and why he's bound and determined to prove that he's right about this counterfeiting guy. I thought it was great that he went to Kamekona for help and I'm curious to see if they'll keep working together on the "case."
Danny's story was brief, but powerful. He didn't get much information out of Reyes about his brother, but he did remember some important stuff about when Matthew left.
Danny realizing where the money was absolutely brilliant and I can't wait to see how he, with hopefully some help from Steve, takes down Reyes and saves Matthew.
My favorite bits:
The fact that Danny immediately went to Steve and told him Reyes had his brother.
Grover referring to Danny as the "brains." That sounds about right.
Poor Jerry's face when Steve said just wanting to believe in something didn't make it true.
Kono's reaction to finding out the boys expected her to go undercover in an itty bitty bikini.
I love Grover but... I really didn't need to picture him in a Speedo. Thanks, Steve.
Wondering why on earth Kono would mention the bruise. Did she want to let the girls know she was after them? Wouldn't it have been better to ID them and get back to the beach?
Okay, wait. I stand corrected. That last scene was obviously so that we could see the coolest arrest ever. High-speed chase on surfboards? THAT WAS AWESOME. Go Kono!
Jerry sniffing the fish that Kamekona gave him.
Kamekona saying that Jerry was definitely Five-0 since he came for a favor and not to eat.
Jerry asking Kamekona if he was ever sure of something that he knew was true and no one believed him.
Kono taking out the guy one the second story, from a still-moving car. Like a boss.
Kono's speech as the girls was taken to jail.
Steve reassuring Jerry that he was kahuna and an incredible asset to the team. Aw.
Steve telling Danny he wasn't going to tell him he was crazy.
Danny figuring out where the money way. Grover is totally right, Danny really IS the brains of the operation. That was amazing.
What did you think of this episode of Hawaii Five-0? Is Jerry about to get himself in big trouble? Watch Hawaii Five-0 online to see all the action.