Manhattan Love Story Season 1 Episode 4 Review: It's Complicated
Whitney Evans at . Updated at .
Every sitcom that involves people starting a new romantic relationship has an episode like this. I like to refer to it as the "first time sex" episode. 
The one that pops out at me the most is the Ross and Rachel first time sex episode on Friends, where they end up having their first time at his museum. Of course that's not the original plan, but do things like your first time with someone new ever go as planned?
Manhattan Love Story Season 1 Episode 4 finds Dana and Peter very ready to take their relationship to that next level but unfortunately they run into a bad batch of oysters.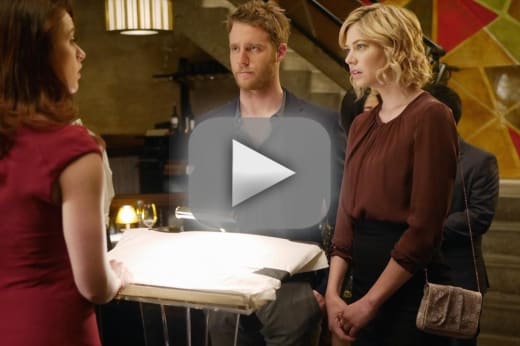 It's pretty refreshing to see Dana and Peter getting to know one another before jumping into bed. I'm loving that they're continuing to date and knocking things off Dana's list.
They decide to go for oysters because SEX, but they're turned away at their first choice restaurant. So now they're forced to search for another eatery and stumble into the first oyster place they see. But they miss the big C minus grade on the window.
Is that a real New York thing? How would places stay in business if they were marked with anything under a B?
Anyway, the bad oysters hit Peter first and I loved the way he tried to hold it together. I especially loved the exchange between him, Chloe and her friend Izzie, who were just hanging at his apartment when the couple showed up.
Chloe: You look green. Yeah, doesn't he look green to you?
Izzie: Green like this bike that I'm customizing.
Peter: Nobody cares about you Izzie!
Eventually the food poisoning caught up to him and he vomited at Dana's feet. Yikes! 
Side note, Analeigh Tipton is a knockout and how cute was her bra!
Okay so Dana doesn't run away because she's a trooper, but then she gets hit with the vomit bug too. 
It really was adorable to see them laying in bed, helping one another. Clearly you don't want food poisoning when you're trying to get it on but the situation brought them closer than ever. And if you didn't swoon when Peter sang that cheesy song to Dana than you don't have a heart!
Elsewhere, Amy and David had babies on the brain. It was a nice twist to learn that David was all about having children and he was so good with them.
Dana: It's kind of awesome you're into that so much.
David: Oh yeah, are you kidding me? Have you ever smelled a baby's head, it's like fresh bread and dreams of the future.

David pretends like he isn't into children in front of Amy because he's realized that the only way to get Amy to do something is to convince her it was her idea. It's a pretty genius idea, really.
When the duo babysit for a friend, Amy has a hard time and David flourishes. But he just couldn't keep himself from sniffing that babies head. And Amy caught him. 
I'm glad the episode ended with them compromising on when to start having kids. With Amy wanting them seven years down the road and David wanting them ASAP, two years seems like a healthy wait. 
That gives Amy two years to learn how to make a bottle correctly. 
While not quite as charming as last weeks episode, this was another good installment of a really solid show. Spread the word people and get your friends and family to give this show a chance!
How adorable was that baby? And aren't Dana and Peter slowly becoming the cutest couple on TV? Let me know your thoughts in the comments!
Remember to watch Manhattan Love Story online so you're not left behind!
Whitney Evans is a staff writer for TV Fanatic. Follow her on Twitter.