Modern Family Season 6 Episode 2 Review: Do Not Push
Leigh Raines at . Updated at .
It's always good to offer your children guidance, but pushing too hard might ultimately push them away.
This is a lesson learned by Mitchell and Claire on Modern Family Season 6 Episode 2.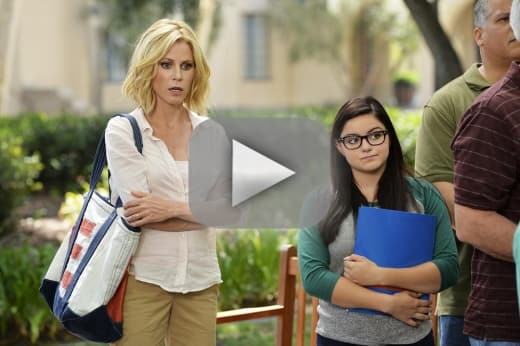 Everyone knows that Alex is the golden goose of the family when it comes to going far with her education. She is a brilliant girl and will definitely have her choice of colleges. Claire is obviously excited, since she's really the only one in the Dunphy clan who relates to Alex at all. However, it seems the middle child is feeling a bit stifled.
Okay you need to calm down. This college tour, not Oprah's favorite things.

Alex
Alex thinks Caltech is a great school, but alas it is too close to home. From Claire's point of view, she only gets Alex for maybe another 4 years before she's off on another planet developing some brilliant new scientific discovery. Phil is excited by the possibilities in Alex's future. Christmas on Neptune? Sign him up!
It's not until Alex meets a cute boy on her tour that she realizes maybe she should be open to other options she'd previously discounted. Then again nobody should base a college on a guy, but it was cute to see her flirt! Maybe college will finally be her time to find some eligible bachelors.
Claire realizes she's been pushing too hard after she has a conversation with her equally controlling brother. Mitchell and Cam are troubled by Lily's awkwardly large smile in their new family pictures. They try and gently nudge her in another direction by giving suggestions to themselves too.
I think I could be a little less Ryan Gosling, and a little more everyman.

Cam
Cam, I don't think there's every a thing as "too much Gosling." Am I right people?
Claire and Mitchell realize that the more they push, the further they will push their kids away. Claire's other two kids could use some guidance anyway.
Luke cut class to finish a movie project and Haley feels like a failure because she's living in their basement. That was actually a sad moment she had during her breakthrough with Phil and Luke in the "perceived" experiment. I actually felt bad for Haley. 
Speaking of Haley, the audience wants to know if Andy the manny is coming back!
Elsewhere Jay and Gloria were celebrating their anniversary. Jay made Gloria a bunny sculpture in pottery class because of his old nickname for her. Gloria cracked it open because she assumped there was a bracelet inside. Manny had to teach the two a lesson about sentimental gifts.
Overall, this wasn't a super funny episode, perhaps it had a little more emotion to it than usual. Did you think this episode veered more towards the emotional side? Put your thoughts in the comments!