Nashville Season 3 Episode 4 Review: I Feel Sorry For Me

Amanda Steinmetz at . Updated at .
Did Rayna James just make a new best friend?
Well I certainly hope so after watching Nashville Season 3 Episode 4 because Rayna could sure use a friend like Sadie Stone. 
Rayna's life has been filled with nothing but romantic drama, so it's about time she had some fun!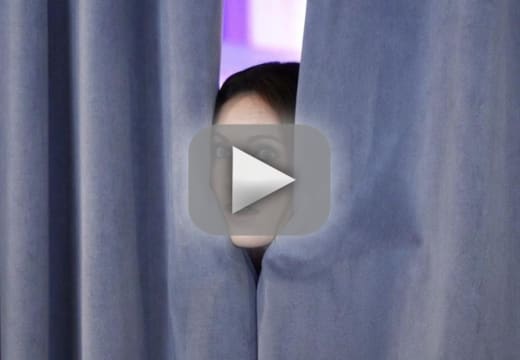 Rayna decided to make a play for Sadie to join Highway 65. She made a compelling pitch, but I think Sadie was just trying to hold it together as her idol was buttering her up. I thought Sadie might pee herself when Rayna invited her to the dress fitting. 
We rarely see Rayna with other women in a friendship context. It's either been her sister or Juliette, who's been more of a frenemy. Sadie's a bit of a fireball and I'm not positive that she should even be allowed to drive, but damn did it look like they were having fun.
After all the paparazzi car chasing, Sadie still decided to go with Jeff and Edgehill. However, Miss Rayna James does not give up so easily. She gave the facts to Sadie straight. Jeff doesn't work well with women. If she wants to be a star in her own right than she needs to go with Rayna.
Hey listen, you don't want to be Rayna James. You want to be the one and only Sadie Stone.

Rayna
Luckily, Sadie's a smart woman and made the right choice. Wasn't "Gasoline and Matches" catchy? I'd download that duet! Another bright spot of this development is that Rayna got to shove it to Jeff, which is always a good day in my opinion. 
However, she's going to have to be on high alert as it seems Jeff is scheming to sign Maddie and Daphne to his label. I know he's going to try to pit Teddy against Rayna, but if Teddy has any common sense, he won't let his daughters sign with that weasel.
While Rayna was making a new best friend, Juliette was coming clean to Glenn and Emily about her pregnancy. I wonder what went down during her conversation with Rayna at the end of last week's episode. Did Rayna advise Juliette to give the baby up for adoption? 
At least we got to see Rayna support Juliette during her scare. Rayna is someone she can trust. She's been down this road before, and Juliette needs guidance now more than ever.
How sweet was Glenn in this episode? It's always been clear that he views Juliette as a daughter. That's why he sticks around despite all her diva antics.
Juliette's a smart girl, so I think it's a little far fetched for her to believe she could just disappear to have the baby. The scene between the two of them was so sad on both their ends. All he wants is for her to be happy, and she's scared of disappointing him.
I want you to be happy. I want you to believe that you can be happy. That you deserve to be happy.

Glenn
I thought it was admirable that Glenn tried to get Avery to talk to her, but Avery wasn't really interested in hearing advice from anyone. Seriously, how has that boy's stomach not been pumped yet? I love Avery, but he's regressing to his season one self without Juliette by his side.
I understand that he's in pain, but the things he said to Juliette were just plain mean. Juliette was trying to reach out and it was obvious she wanted to tell Avery, but he had to go and say that she destroys people's lives and he wishes he'd never met her. Ouch! 
Another relationship that's strained is Zoey and Scarlett, and frankly, I'm bored by it. Sorry, I just am. I've never been a big fan of Scarlett's and hearing her accuse Zoey of making everything about her made me laugh out loud. I'm so over Scarlett and this weird fear of singing.
No one is holding a gun to her head, so if she just wants to write music than she should do that. It just seems like a lot of unnecessary whining on her part. Zoey was just trying to do something nice, and Scarlett had to run out like a drama queen. Over it!
Another storyline I don't really care all too much about is Deacon and his new lady friend, Pam. I think it's good that she's getting him to loosen up and have some fun, but we all know this "relationship" isn't going to go anywhere in the long run. 
On the bright side, no sign of Will or Layla this week. Sweet relief!
My favorite performance this week was actually a tie. I loved Rayna and Sadie's duet, "Gasoline and Matches", as I mentioned earlier. However, I also loved seeing Maddie and Daphne's performance of "Joy Parade". I always enjoy watching the two of them sing. They have such sweet voices and are so adorable together.
So over to you guys! Do you think Sadie should be Rayna's new BFF? Do you think Avery went too far with the things he said to Juliette? Also, what was up with Glenn's hair, or lack thereof, in that one scene?! Sound off below, and don't forget you can always catch up on all the drama when you watch Nashville online. 
Amanda Steinmetz was a staff writer for TV Fanatic. She went into retirement in June of 2027. Follow her on Twitter.