NCIS Los Angeles Season 6 Episode 3 Review: Praesidium

Carla Day at . Updated at .
Does anyone in leadership tell the truth within NCIS? 
If I was Hetty, I'd be furious at Director Vance. His claim that his only or at least best choice to protect her was to put her under the fire of a Congressional inquiry is ridiculous. His actions should be investigated for stupidity. Despite that, NCIS: Los Angeles Season 6 Episode 3 was an intense and unpredictable hour.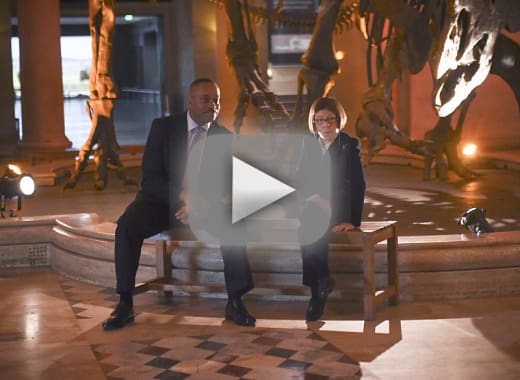 By forcing Hetty to Washington D.C., Vance put Hetty's people in danger in a multitude of ways. Vance should take responsibility for the death of Hetty's long-time guard. He was left without the knowledge that could have protected him. I understand that Vance didn't know who he could trust, but he should have let Hetty make that decision.
Hetty's fake collapse at the hearing was brilliantly planned and executed. I'm not sure how Vance's men ended up finding her, though I guess she's lucky that it was the good guys who took her instead of the ones after her in Los Angeles. How awesome was Hetty's dinosaur comment to Vance?
The real action of the hour took place back in Los Angeles as Hetty's team was determined to find out who wanted her dead and why. They tracked the evidence and got close to the guys after intercepting them at one of Hetty's homes. If the Department of Justice and Investigator Wallace stayed out of their way it would have been much easier for them to get the job done.
Though, the car chase with Sam and Wallace was awesome! I loved how after avoiding her, he chose that moment when she was fearing for her life to agree to answer questions. She had a tough job with that team. They weren't easy to pin down. Even once she got them under her thumb, they either didn't cooperate or found a way to escape.
Eric's tale about losing the video game competition was fitting for him as was Callen's escape through the boat shed escape hatch. It was Kensi would had the answers Wallace wanted and when questioned, she was the most forthcoming. Kensi's still not over what happened in Afghanistan and the interrogation brought it all to the forefront again.
The relationship between Deeks and Kensi isn't clear right now, but they are partners and very close ones at least. They woke up on the couch together at Kensi's house, though not in an embrace and fully clothed. After her questioning, she broke down in front of him and he consoled her. I'm not sure she'd let down her tough facade in front of anyone other than Deeks. That's something. 
Vance's actions put Hetty's team at risk. Instead of backing up Sam, Callen and fake-Hetty Nell, Deeks and Kensi were with the investigators. In the end, they all made it out alive, but if Deeks and Kensi were there, perhaps Nell wouldn't have been put in the position to kill someone. We'll have to see if that pushes her into the field or makes her want to stay safely in the ops center going forward.
The fake-Hetty ruse worked and with Eric's help, the team uncovered the true force behind the hit on Hetty -- Mattias Draeger. He was last seen on NCIS: Los Angeles Season 2 Episode 9 and NCIS: Los Angeles Season 2 Episode 10 when he killed Hetty's faux husband, Cole. Why does Mattias want Hetty dead now? We'll have to tune in next week to find out!
NCIS: Los Angeles Season 6 has effectively brought the show's long history into the first few episodes of the season. I hope we see that continue throughout the rest of the season. Whether it's Hetty's complicated past, Callen's mysterious family, Kensi's father or ex-fiance, Sam's wife, Deeks' past covers, or the team's previous cases, the episodes which include aspects of their history are by far the best.
Stop by to watch NCIS: Los Angeles online whenever you need a boat shed crew fix!
Carla Day is a staff writer for TV Fanatic. Follow her on Twitter and on Google+.