NCIS Los Angeles Season 6 Episode 5 Review: Black Budget

Carla Day at . Updated at . Comments
After the trouble Hetty got in for her unsanctioned mission in Afghanistan, it didn't take her long to be up to her old tricks.
That said, I'm not sure why Sam and Callen had to go to Mexico without support given the circumstances on NCIS: Los Angeles Season 6 Episode 5. Why wouldn't the Department of Defense send whatever forces necessary to find the lone survivor of a professional hit on one of their offices?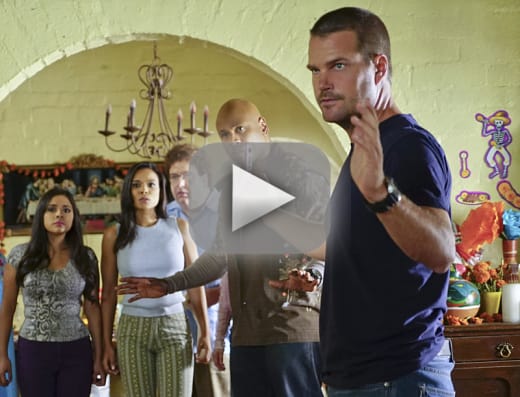 Usually the NCIS: LA episodes which focus entirely on an investigation with the team unraveling the mystery are my least favorite. "Black Budget" had so many pieces moving that it maintained my interest. Margaret's awkward flirting with Milton at the beginning set a different tone for the hour which continued with the awesome and hilarious matriarchal Mexican family.
I did get taken by the mislead with Milton in the bathroom. I wondered why the assassin only shot the bullets through the top of the bathroom stalls instead of making sure he covered the entirety of the bathroom. I quickly dismissed it as unimportant. Of course, that was the major clue that Milton was involved in the heist.
As random as that appeared, I felt the same way about Doug forgetting his lunch on that day. I never believed he was involved and figured it was just a coincidence he had to go out to lunch that day. It ended up being a very lucky mistake he made that ended up saving his life.
It's scary to think that a group could hijack a Delta team name and use it to steal money from the US government. I guess it falls in the same category as governmental departments spending hundreds of dollars on a toilet seat or nails. It's inefficiency at work. Margaret's diligence uncovered the fraud and it cost her her life.
The best part of the hour was when Sam and Callen interacted with the Mexican family who had been hiding Milton. The Accountant had it made with millions in the bank and a woman who loved him. She trusted him so much, she ended up outing his secret when she tried to save his life. Oops.
Another aspect I appreciated was that the truth was being uncovered in Los Angeles and revealed to viewers, while Sam and Callen remained in the dark in Mexico. While watching, we knew the situation was much more dire than the NCIS partners realized. They could have been taken out by the Delta team at any time.
The final twist was one of the best. It was difficult to believe that some of the most honorable fighting men in the world would kill indiscriminately for a buck. When Granger and the real "Duster" team arrived, it was perfect. They saved innocent lives, while taking out their impostors. 
Overall, it was a fun episode. The women stepped it up and used whatever they could find to protect themselves and took out men twice their size. Sam and Callen made quick decisions to protect them all. Their ploys didn't all work, but it got them the time they needed to survive.
I loved the final exchange between Granger, Sam and Callen. The money? What money? Of course, it was all there. It was a nice touch for Sam and Callen to help out the women in need. They won't have to worry about their future now. Nice move!
What did you think about the hour? What was your favorite part? Did you see the clues along the way? 
Need an adventure fix? Stop by and watch NCIS: Los Angeles online whenever you want!
Carla Day is a staff writer for TV Fanatic. Follow her on Twitter and on Google+.