NCIS New Orleans Season 1 Episode 4 Review: The Recruits

doug@mediavine.com at . Updated at .
Brody is fitting into the New Orleans scene the way a hand fits a glove.  Plus, she kicks ass - and her NCIS teammates couldn't be more happy about it.
NCIS: New Orleans Season 1 Episode 4 gave us the tale of a murdered Navy SEAL who was found in a sorority house. To add insult to injury, he'd been keeping company with a young prostitute for quite some time.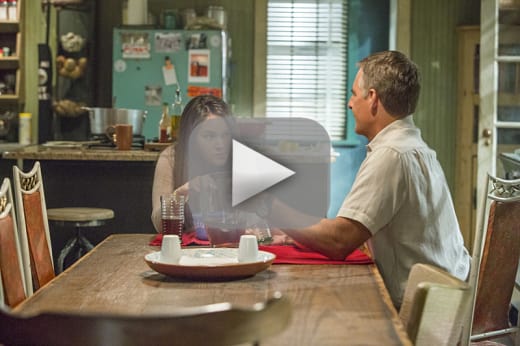 The episode also introduced us to Pride's daughter Laurel, a girl who appears to be the same age as the student/prostitutes in the story. And she's definitely a cause of concern for Pride. Yet they share a strong connection; a camaraderie in which - unlike her dad -  she fails at cuisine but like him excels at music. 
And what a great way to end the show with that piano duet!
I like the way Brody is meshing with the team. She continually shows them she can and does hold her own with the bad guys - and they are at the point now (or at least LaSalle is) of simply trusting her to do her job. You have to think about how pleasant that's got to be for her in a profession in which many others would still patronize her as "the girl" of the unit.
Wolf: What are you, some kind of super hero?
LaSalle: You should see her when she's angry.
One of the consistent themes to this new series is the notion that everyone gets a second chance, that things aren't always as they seem, and that you can't judge a book by its cover. Okay - that's three themes, but it feels like just one. 
It comes from a place of treating people with respect right from the get-go.
In this instance, Max Wolf represented the typical societal view of Blake and his girlfriend prostitute. His contempt for both of them was obvious and predictable.
Pride didn't see her that way, though. He saw a girl who'd maybe lost her way. You could feel his sadness when he spoke with Natalie's roommate Tilda as she told him about her "tutoring job" on the side, a euphemism representing what they both knew she really did.
Instead of judging and condemning Natalie, he sat her down for a "chill and spill" to find out what her real story was. And what a heartbreaker it turned out to be. 
Hard not to like a guy like Pride.
Or LaSalle either for that matter. The man is just a "down home" type who would cheerfully give anyone the shirt off of his back if they needed it. The other side of him is intriguing too, however - you have to wonder if he has a girl or secret admirer stashed away in all the corners of New Orleans. The bartender/former cheerleader Heather was a breath of fresh air (and a complete delight to Brody).
With all of the New Orleans patois, along with the food you can practically smell through the TV set and the great music, this series is turning out to be a winner.
What do you think?  What was your impression of the case of the week?  Be sure to watch NCIS: New Orleans online and then chime in with your comments!
Douglas Wolfe was a staff writer for TV Fanatic. He retired in 2016. Follow him on Twitter
.