There are two words to describe tonight's episode of New Girl; Julian Morris!
On New Girl Season 4 Episode 5 they could have just had Julian Morris stand, smile and read from the phone book and it would have been fine with me!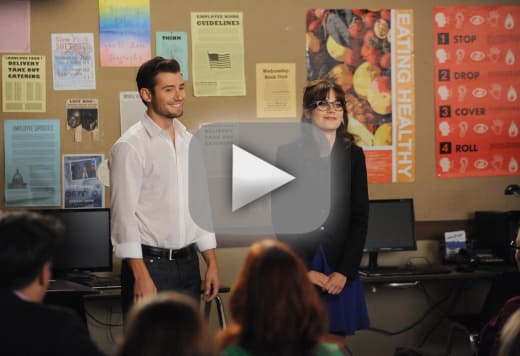 In all seriousness, this was a solid episode. Having everyone in Nick's bedroom trying to get a signal on their phone was pretty funny; I have had to do something similar in my life. We can always see how a show is going to shape up thanks to the opening; New Girl did not disappoint!
Principal Foster is back! This is where New Girl always succeeds -- their guest stars. Curtis Armstrong is the perfect choice for the principal. He plays the whole out-of-touch administrator extremely well. 
They threw in a Nick and Winston flashback! Can we all agree that Nick and Winston are still as awkward as they were back in the day? Never change guys, never change. 
It's interesting that they are making Coach the slut of the school. I am perfectly OK with this; it added a lot of comic relief. They seem to be developing his character as the new player and taking the title away from Schmidt. Come on! We all know that Schmidt is going to pine over Cece -- someone has to take his title!
Show of hands -- who wants Nick as your secretary? He is truly the worst person for this job, yet it worked. I know, I know, the writer's could have had him succeed, but that is not Nick. Nick is a good bartender and a great friend; tonight it showed how much he does love and miss his friends. 
It's not shocking that my favorite moment was the teacher's meeting. Have you all seen Julian Morris? Bringing him on as the new science teacher makes me just want to hug and kiss the casting department! I really want to see him and Jess go on a date. This has nothing to do with the fact that I want to see more of him, or it has everything to do with that fact! We also got confirmation that everyone who works at the school is basically a pervert. 
OK! The writers redeemed themselves this week. The entire episode was comical from start to finish. Was it a perfect episode? No -- but it was not terrible. They got everything right; from the secretary, the perverts at school and even added in a heart to heart. 
Everyone was on their game and they looked like they were having fun. I have been extremely critical of New Girl because I expect a lot from my comedies. This is the first installment this season to actually make me laugh throughout the entire episode. 
What did you think of tonight's episode of New Girl? Are you still unhappy with the way things are going? Or are you going with the flow?
Have you caught up on this season of New Girl? Well, if you haven't, you can watch New Girl online now via TV Fanatic!
Samantha McAllister is a staff writer for TV Fanatic. Follow her on Twitter.