Once Upon a Time Season 4 Episode 3 Review: Rocky Road

Christine Orlando at . Updated at .
Should vanilla be someone's very first flavor of ice cream?
That was the first question that popped into my mind during Once Upon a Time Season 4 Episode 3. With all of those amazing flavors, vanilla seems a little bland but then again maybe it's important to start slow. Of course Regina might say that vanilla is perfect for Marian.
Marian being inflicted with the freezing spell had several wonderful side effects. First of which was we had to endure less of Marian. As someone who was rooting for Regina and Robin Hood, I'm generally not thrilled when she's on the screen.
Second was finding out why true love's kiss didn't break the spell. As Robin revealed only to Regina, he's no longer in love with Marian. Which both made my heart soar and made me very sad since in the same breath Robin reiterated that he plans to stay with his wife.
Of course Regina now has the woman's heart in a box so that could lead to all sorts of interesting consequences. 
Another stand out moment for Regina was when she told Henry about her plan for the book. She couldn't have been happier to have him on board. it's about time these two were able to bond again. Operation Mongoose here we come!
Back in Arendelle of the past, Elsa and Kristoff worked together to save the kingdom and ran across an urn that held the Snow Queen. Is she really Elsa's aunt? Did her own sister stick her in that urn and if so, why? And why is she so darn determined to turn everyone against Elsa?
Hunting down the Snow Queen made for some interesting moments back in Storybrooke. 
Hook confronted Mr. Gold about the dagger. He's not buying that he really turned it over to Belle. Hook's smart but he might get outsmarted if he continues down this path. 
As David and Emma searched through the woods, he looked so hurt when she dismissed him in order to split up. It may be hard to take but Emma worked solo for most of her life. That's not an easy thing to let go of. 
Will Scarlett (otherwise known as The Knave of Hearts on Once Upon a Time in Wonderland) turned up to point Emma and David in the direction of the Snow Queen. I enjoyed Will in Wonderland and look forward to seeing more of him in Storybrooke. Although as Emma and David enter the ice cream parlor, you'd think one of them would be smart enough to keep the thief in front of them instead of leaving him behind.
Hook trying to explain a cell phone to Elsa was a great way to remind everyone that these characters generally have no clue about modern technology while suddenly being surrounded by it. 
It's a device for talking. I don't bloody know. I hit the Emma button and she answers usually.

Hook
Emma yelling, Hey Dairy Queen was another great moment and there's no better way than putting the man she loves in danger to get her to turn on her badass magical powers. 
I was grateful that Hook didn't allow Emma to continue to push him away and it was great to hear her explain why she's doing it in this Once Upon a Time quote...
Hook: Then why do you keep pulling away from me.
Emma: Because everyone I've ever been with is dead.
As Hook pointed out, if there's one thing he's good at, it is surviving. And although Regina and Robin Hood are apart, it did my shipper heart good to get that wonderful kiss between Emma and Hook. 
Will Emma finally start to let Hook in? How does the Snow Queen know Emma and where does Mr. Gold fit in to the mix after this episode of Once Upon a Time?
If you need to catch up on the magic, you can watch Once Upon a Time online here at TV Fanatic.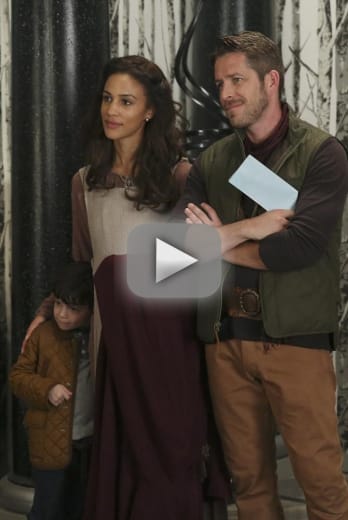 Meanwhile, here's your first look at Once Upon a Time Season 4 Episode 4, "The Apprentice."
C. Orlando is a TV Fanatic Staff Writer. Follow her on Twitter.