Once Upon a Time Season 4 Episode 4 Review: The Apprentice

Christine Orlando at . Updated at .
Is love a precious thing or a weapon to wield? As we saw in Once Upon a Time Season 4 Episode 4, that all depends upon to whom the emotion belongs. 
For Emma and Hook, it was a precious thing just beginning to find its footing.
Emma looked young and adorably nervous as she asked Hook out on a date and he was so taken aback that he put a dart in the wall. In his defense, he got his game back pretty quickly and their banter was better than ever, even as he pointed out that he should have been the one to ask her out. 
I should have known you'd be old fashioned given your age. What are you like 300?

Emma
Speaking of old fashioned...or perhaps I should say retro, Emma's dress was straight out of the early 1960s yet it seemed the perfect outfit to highlight that this was their first real date. I almost missed that Killian also had a new wardrobe. To be honest the short leather jacket didn't catch my eye until he mentioned it. 
Mary Margaret and David were very cute as parents watching their daughter going out on her first date. Well, not her first date, it's not as though she's a teenager but Snow White and Charming missed out on all of that. It's odd to think that if baby Emma hadn't been put in that wardrobe because of the curse, she might have been attending balls at the royal castle. 
To be honest, Hook and Emma's dinner date was a little boring. I was hoping the former pirate would come up with something a little more adventurous but there was a different type of drama brewing. 
It was oddly sweet when Hook threatened Mr. Gold in order to get his hand back in this Once Upon a Time quote...
Hook: I've got a date with Emma. Should things go well and she wants me to hold her, I want to use both hands.
Mr. Gold: Oh I see that blackmail brings out the romantic in you.
That Mr Gold was lying was not a surprise but my question is, which part was he lying about? Did he lie when he said that the hand had retained parts of Hook's former self, the cunning and selfish pirate or was he lying when he said that that was a lie. Were those aggressive mood swings all in Killian's head? Was planting the seed of fear about his dark side enough to bring it out?
And Storybrooke appears to have Internet and DVRs, according to its residents, so why doesn't it have digital video. Who still has a VCR?
My biggest disappointment was that Hook didn't share any of his fears with Emma. If he would have gone to her and explain what happened. That he wanted his hand in order to feel closer to her and that Mr. Gold tricked him, I think Emma would understand. The truth could actually bring them closer together.
But the longer Hook lies to her or keeps secrets, the more likely it will be that these two will get torn apart before they've had the chance to finally get together. 
If that's where this is leading it's going to be frustrating to watch. 
Back in the Enchanted Forest, plucky, optimistic Anna met the Dark One. I was proud that she eventually got the upper hand but was upset that she didn't ask him again about her parents while she was holding the dagger. There's certainly no guarantee he was telling the truth when he said her parents feared Elsa and wanted to rid her of her powers. If she had only asked again while she was holding the dagger, then she could have been sure his story was true. 
The Snow Queen was slinking around Storybrooke taunting Emma and Will Scarlett ended up arrested while holding a picture of his beloved Red Queen. As a fan of Once Upon a Time in Wonderland I'm hoping to find out why he's in Storybrooke and not with her now. 
So tell me TV Fanatics, what did you think of Hook and Emma's first date? And if you missed a minute, you can watch Once Upon a Time online here at TV Fanatic now.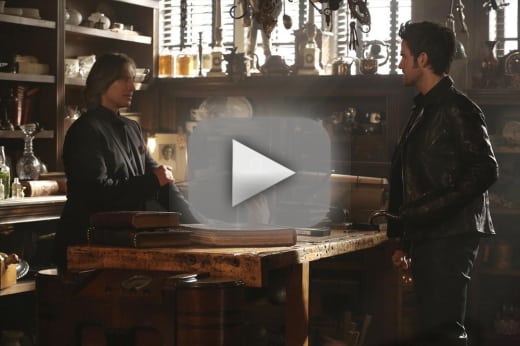 And here's your look ahead to Once Upon a Time Season 4 Episode 5, "Broken Glass."
C. Orlando is a TV Fanatic Staff Writer. Follow her on Twitter.