As Emma and Elsa search for the Snow Queen on Once Upon a Time Season 4 Episode 5, Regina spends her time trying to break the curse on Marian but their paths eventually collide in the woods as Sidney give Regina a lead. 
Unfortunately, Sidney's information takes an unexpected turn which leads Regina and Emma into the grasp of an ice monster conjured up by the Snow Queen. Thankfully, Elsa sets aside her fear and help them defeat the Snow Queen but once again she disappears before they can capture her. 
Emma recalls a run in with a teenage girl from her past which has her telling Regina she had hoped they could be friends. Emma admits she has very few people in her life who know what it's like to be misunderstood and rejected. Regina appears to soften at her words.
Later, Emma finds an old video recording she made with that friend long ago and she shares it with Hook. On another section of the tape, they both recognize the woman in charge of the group home as the Snow Queen. 
What is she doing there and what is her connection to Emma? Watch Once Upon a Time online here at TV Fanatic.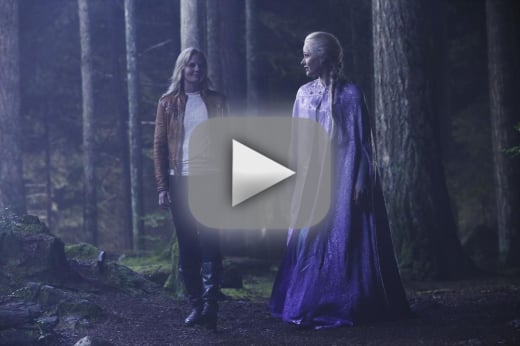 C. Orlando is a TV Fanatic Staff Writer. Follow her on Twitter.