Parenthood Season 6 Episode 3 Review: The Waiting Room

Carissa Pavlica at . Updated at .
A day in the life of the Bravermans.
That's what Parenthood Season 6 Episode 3 felt like and I'm thankful for it. Despite the enormity of the situation they were facing with Zeek's open heart surgery, it was a day like any other for the family. 
They were all there for each other as they always are, with the grandkids conspicuously missing. That, too, really helped to make the hour feel genuine.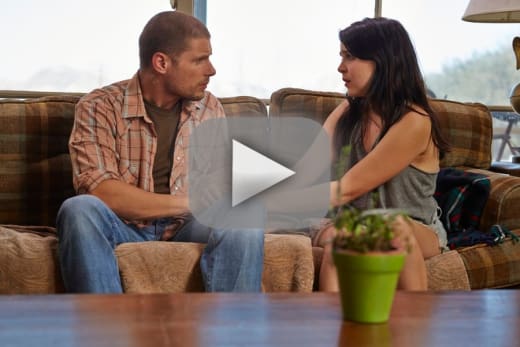 It's sometimes hard to believe how many families go through such stressful situations every day. They just go through it, face the challenges and move on. Sometimes the tougher times come after the initial stress.
Zeek got bonus points tonight for his loose lips while the clan was gathered the night before he entered the hospital. He's so damn proud of his granddaughter and didn't even think about the fact she had only shared her news with a couple people.
That reveal lead to another beautiful moment between the two as she shared her first baby picture with him.
Zeek: Oh no, sweetheart. I'm gonna be there to see this child born, OK. I'm going to hold him or her in my arms. I promise. So you keep the picture.
Amber: OK.
Zeek: And you show it to Ryan.
I suppose it was his words that sent her to Wyoming to see Ryan. I'm glad Drew accompanied her because like her mother, Amber has a blind spot for the men she loves. But first, I was shocked they chose the day of Zeek's surgery to leave the state. That seemed odd, right? Oh well.
Ryan was in terrible shape. He's always in terrible shape. I think Amber hoped in her big heart that she would arrive and find a different man than the one who left. Instead he made no progress at all. Prescription bottles littered his cluttered house, but he wanted to be there to raise baby with Amber.
Amber would have probably let him back into her life if Drew hadn't been with her, not because she believed he could be a good father, but because she needs additional strength to say no to the people she loves. With a baby to protect, she wisely chose to walk away. If Ryan didn't change on his own, the stress of a newborn won't do the trick. Maybe someday things will be different.
I really like Julia's boyfriend. Getting to know Chris a bit better this week worked. He has been crushing on her since college, and even remembered meeting Zeek and the items inside of the special care packages he used to take to Julia. When a someone from her firm showed up at the hospital with case information for Julia to look over while she waited, all eyes were on her. What kind of guy would do that?
Chris is the kind of guy who sent to her a waiting room survival kit that rivaled Zeek's. Oh the feels. It's hard to close the door on someone that caring. Joel dropped the ball and Julia has a viable candidate to pick it up. I hate to say it, but I'm rooting for less drama and Julia and Chris.
Adam and Crosby were particularly affected by Zeek's surgery. They're his sons, after all. After all of the hospital visits with Kristina, Adam wanted to believe he had it all down. Who was dying and when and how they might get the talk. Crosby wanted to be positive. Good Lord I was so worried for him when he was speeding down the highway.
If there had been a bait and switch catastrophe I would have hit the ceiling!
I'm still not impressed with Sarah's decision to be with Hank. They've not shown us a relationship with any depth at all. Maybe Sarah needs a relationship with a light touch. I just don't see the appeal. Hank's not being a father to Ruby and Sarah and Sandy are the main forces in her life. Nothing good can come of that situation so Hank has to step up.
The hour was full of beautiful, small scenes. The ones between Zeek and his Millie were heartwarming. Julia telling Joel she was dating, while painful, was well-written and very indicative of their characters. Amber's wise choice to leave Ryan behind and Jasmine's support of Crosby, but still understanding Adam's pain were also super. 
It was just a day in the life. The Bravermans have it down pat. They live, they love, they argue and they feel together all the time. That's why they seem like our own families.
Share your thoughts of the hour in the comments. You can watch Parenthood online for more Bravermans any time via TV Fanatic.
Carissa Pavlica is the managing editor and a staff writer and critic for TV Fanatic. She's a member of the Critic's Choice Association, enjoys mentoring writers, conversing with cats, and passionately discussing the nuances of television and film with anyone who will listen. Follow her on Twitter and email her here at TV Fanatic.