Selfie Season 1 Episode 2 Review: Facebook is like Crack

Amanda Wolf at . Updated at . Comments
In Selfie Season 1 Episode 2 disaster is on the horizon for both Henry and Eliza as they try to get over their fleeting, unhealthy obsessions. 
How do you know that you are a booty call (channeling my inner Carrie Bradshaw here)? This is the question that Eliza had to ask herself about her two-week relationship with her coworker. I think she could have used some help from the Sex and the City girls to answer this question.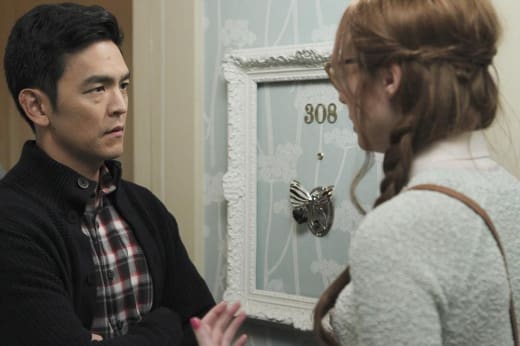 Henry, being able to come from the guy's perspective, was pretty spot on though. 
Eliza took his advice to heart and started to realize that she wanted more than the current level of attention she was getting from Freddy. The way she asked Freddy if he would do something outside with her was extremely leaning toward the overdone, but it did get the point across. 
Despite not caring about how a guy is treating her, Eliza certainly does know something about how to be manipulative in her own right. It almost had Henry fooled. 
Eliza: Guy's love it when you laugh at their jokes. It makes them feel powerful.
Henry: President. Like that guy could be president.
Eliza: You're right. You are so smart. You should be on the supreme court.
While Henry was trying to rid Eliza of her obsession with men, he was dealing with an obsession of his own. An obsession that both of the sexes can relate to. 
Facebook is like crack. 
As Henry was making his first foray into the world of Facebook, he experienced three of the top ranking embarrassing things that any serious Facebooker has dealt with. 
1. Friending our moms. 
2. Accidentally liking or tagging something. 
3. STALKING YOUR EX
As a long time Facebooker and honest reviewer, I won't be afraid to admit that I have dealt with all of these. 
Accidentally tagging or liking something can be painfully embarrassing. Unfortunately, Henry experienced two of these terrible, terrible things at once. He got caught stalking his ex by accidentally tagging himself in her picture!!!  
Like I mentioned in the Selfie Season 1 Episode 1 review, Selfie is a little bit extreme and over the top on the situations that it comes up with. (Henry tagging himself as his ex's breastfeeding baby and as a bed pan...) Again, I am bearing with it for getting these points across; they do have a lot of truth to them. 
Henry felt the only way he could really un-tag himself was to go over to his ex's place and clear the air, that he was stalking her, but only because he wanted to know how she was doing. 
True enough I guess, but not the whole truth when you are stalking your ex. 
Henry: According to Facebook everyone is married and having kids. When did that happen?
Ex: Probably when you were in the office.
His ex snuck in some dirty insults during this scene, while keeping on the nice face the whole time. I felt bad for Henry, that she was being so mean and that he realized that he has been a complete workaholic for most of his life. The price if success?
I did like the reveal that Henry used to imitate Mark McGrath of Sugar Ray. I would have loved to see John Cho in a flashback.
Pop culture asked him to leave and instead he rose like a phoenix from the ashes of Sugar Ray.

Henry
At the end of this be a non-booty call lesson, Eliza was still struggling. Her coworker ,Charmonique, had some strong advice to take to heart. 
Have a kid. No one will ever want to call your booty again. But seriously it is a deterrent. Not to everyone. But to a lot of people.

Charmonique
However, the stronger advice about not being a booty call came from a moving car and open manhole. Instead of landing in Freddy's bed, Eliza landed in the hospital. It was successful in attracting two men to her bedside, although, I doubt this is the lesson that Henry was trying to teach. 
In the end, I found a lot more lines in this episode to laugh at than I did in the first, maybe because I am ready to take the show more for what it is: a generic network comedy with funny lines. 
Putting that aside, I got some good chuckles out of this show, and think I will be able to enjoy the future episodes more. I am still hoping that the show continues to add more depth as it goes along.
The last laugh came at the very end, when Henry said he was checking up on people the old fashioned way, when he was in his car outside of Eliza's window. If actually stalking people is the old fashioned way, then Facebook stalking and modernity for the win! 
What did you think of the second installment of Selfie? Will you continue to watch? 
Leave comments below for discussion and don't forget to watch Selfie online via TV Fanatic!