Sons of Anarchy Season 7 Episode 5 Review: Some Strange Eruption

Christine Orlando at . Updated at .
It's maddening to think that one brutal event and the horrible lie used to cover it up led to Sons of Anarchy Season 7 Episode 5. 
There's been so much death. Slaughter at almost every turn and now a little boy stands with a hammer thinking he has to hurt someone to protect his baby brother. 
Chibs and Althea's hookup was cut short by the call about Diosa. Nothing like mass murder to destroy the afterglow.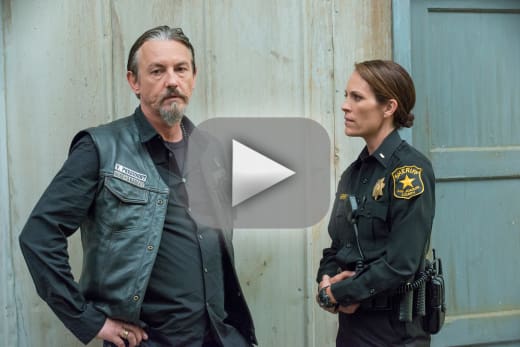 I'm really enjoying Sheriff Jarry. She's doing her best to stem the violence by working within the system and not just the justice system but the outlaw one as well. When she warned Jax that he needed to give her something about Diosa or else none of them would walk away whole, I couldn't help but think that that one thought is the entire theme of the show. No one will walk away whole. 
Jax's bloodlust finally spilled over onto Nero when Lin ordered Padilla to hand over Jax or be killed…and then handed him a picture of his son. 
Security at the cripple home ain't that tight.

Lin
I wondered if Nero had his own backup plan for his son, just in case something like this happened. He seems like a man who would have contingency plans to protect those he loves.
Lin had no idea what Jax was talking about when he accused him of killing Tara but he knew this was bad. But could Lin and his army be just as dangerous inside as they are out? Will Jax be satisfied having the man killed in prison and not doing the job with his own hands?
Back at Red Woody, Abel's life became even more disturbing. All this little boy wanted to do was go to school and go home. Instead he knows that more people are dead, that everyone is scared and that his daddy supposedly protects them all.  As Jax told his son that it was his job to keep everyone safe, all I could think was that he's failing at it spectacularly. 
Watching Abel stand guard over his baby brother with a hammer, declaring that he wouldn't let anyone hurt him was truly disturbing. It made me wonder what Wendy was thinking as she watched her son turn into a little Jax Teller. 
As Jax was making it his life's mission to murder as many Chinese as he could, he had no idea what was going on behind his back.
Gemma gave Juice a pack of smokes when what he really needed was a psych evaluation and some medication. If Juice hadn't been left alone with the voices in his head perhaps that poor motel manger wouldn't be lying in a bathtub with multiple holes in his.
Poor Unser always seems to get the worst of these situations but disposing of the dead body may have been the easier job. One question, was there anyone down at the desk to take Unser's money for the room since Juice killed the motel manager?
The moment Gemma left with Juice I knew that plan had changed but when she mentioned that Nero was going to help Juice get away, she was done. I loved how Juice calmly explained why the mother of that boy couldn't live because Jax considered her too big of a risk, all the while knowing Gemma now saw him the same way.
Will Juice kill Gemma? I hope not. I hope he decides to make a phone call and tell Jax the truth because if he does I can't even imagine what happens next.
Don't miss a minute of the mayhem. Watch Sons of Anarchy online here at TV Fanatic. 
C. Orlando is a TV Fanatic Staff Writer. Follow her on Twitter.