The Flash Scoop: Rick Cosnett on Eddie's Backstory, Being a Pretty Boy & More
Jim Halterman at . Updated at .
As we venture into The Flash Season 1 Episode 3, we're getting more answers about how young Barry Allen is dealing with his new powers post-particle accelerator explosion.
But we still need to know more about the characters surrounding him, right?
On tonight's episode, viewers will learn more of Caitlin's backstory when we see what exactly happened on that fateful night with her fiance, played by Robbie Amell. 
But I've got my eye on Eddie Thawne, played by Vampire Diaries alum Rick Cosnett. So far, Eddie - who is boyfriend to Iris and partner with Iris's father, Joe - just seems too perfect, doesn't he? Is there more going on under the surface? And when will he fully realize what's going on in Central City?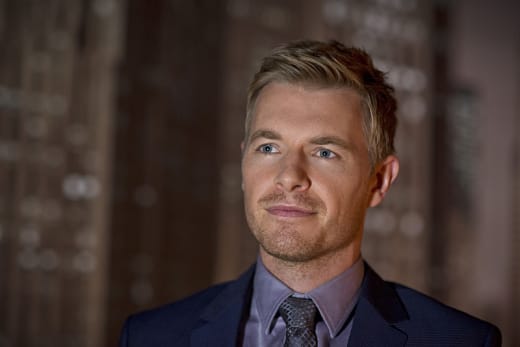 Cosnett wasn't giving away too much in terms of spoilers when I sat down with him, but he did tease some of the darker stuff coming, as well as how there are many questions about Eddie that may be slowly doled out across The Flash Season 1. Let's see what we found out...
TV Fanatic: What can you tell me about Eddie moving forward? So far in what we've seen on the show he seems like the perfect guy, but is that just on the surface?
Rick Cosnett: It's definitely the surface and the wonderful thing about the show is that we'll see these people as human beings and wonder where they're going to go and who are they? To be honest, it's even changed on me from when we started. Then it kind of changed again. It's very mysterious as to exactly who Eddie is and I wish I could say more! I think it's going to be interesting to see where his relationship with Iris goes and where his relationship with Joe goes.
TVF: You did such a good job as the villain/mad scientist on The Vampire Diaries, was that the first time you played someone villainous?
RC: On television, yes. I love playing flawed people and I think that's so wonderful as an actor. You have to be very empathetic to human beings, even to someone who would kill people. Not that I condone it [laughs].
But I think to play someone now who is pretty much flawless in the sense that he doesn't question his own abilities and he really believes in himself at this stage…[Eddie] has his own backstory which I think you'll find out later runs very deep and I think with someone like him, he's so able that you think he has no problems but there is something underneath but it might take quite a while to get down there.
TVF: How much did you need to know going into the show? Did you need to know the whole story about your character or are you okay not knowing?
RC: I can work with anything but they've been good at telling me where they see Eddie going. I guess just like on Vampire Diaries, I have this clear understanding of who this guy is and the basics of where he is from and his relationship to all the people in the story at the moment as far as I know. And, the fact is that there was this big explosion so there's a lot that Eddie may not remember as well…
TVF: Are there things from Barry that Eddie can learn?
RC: Absolutely. He really could learn but I think he doesn't realize who Barry is. I think he regards Barry very much as a little brother to him almost. Without meaning to be, I think he's a little bit patronizing and often the lessons that we need to learn most are staring us in the face and I think that's maybe the case between Eddie and Barry.
TVF: Will we see a lighter side to Eddie?
RC: That's the wonderful thing about Flash is that we have these great funny moments. We have a lot of dramedy happening and in episodes to come I was genuinely cracking up when I read the scripts. There are a lot of awkward moments and wonderful tension with what's really going on with a lot of the characters and they write some really funny jokes. A little un-PC some of the time! And there's some dark stuff coming as well.
TVF: There seems to be a lot of things happening around Eddie that he's not aware of yet like what's going on with Barry and the other meta-humans. How will that play out moving forward?
RC: It's going to be very interesting to see how Eddie reacts to all of this. At the moment, obviously, crime is rising very quickly in Central City and that's something I'm reacting to at the human level but being trained as a police office and detective, it just doesn't even cross his mind. It's quite interesting that I wasn't conscious for any of that stuff and that was a conscious decision by the producers. They're holding something back that will be revealed throughout the season.
TVF: I asked Josh Duhamel this same question and I want to ask you.
RC: Oh, well, I'm honored!
TVF: Do you ever feel that your looks are a detriment to your career and how you want people to see you as an actor?
RC: I think in my earlier career, which is why I didn't work very much, I was a character actor and I had these crazy takes on these characters. Moving to LA I realized that I would get my start playing characters that I looked like. I think whether you look like a nerd or whether you look like a character actor or whatever, I think in the beginning you really have to think, 'What's my thing?' I thought, what's my thing? And mine is playing, in whatever sense, a pretty boy but he could be a pretty boy who is a murderer.
You have to use all the resources you have and what a wonderful thing as actor to be able to do. You have to use exactly what you look like because that's what makes it believable and that's what makes people invest in the story because they can see you as that person. I think, for me, I knew that that was my in to becoming established and once you're established you can branch out and show people that you can also do this and you can also do that. I'm so grateful the CW has embraced me and I'm just rolling with it.
The Flash Season 1 airs Tuesdays at 9/8c on The CW. 
Jim Halterman is the West Coast Editor of TV Fanatic and the owner of JimHalterman.com. Follow him on Twitter.