The Originals Season 2 Episode 4 Review: Head or Heart?
Miranda Wicker at . Updated at .
Cami's back! I know some of you aren't exactly thrilled (you crazy people, you!) but Cami returned this week and we learned on The Originals Season 2 Episode 4 that Lesther's plan is a little more slow-going than she would like since neither Finncent nor Koleb can get her the answers she needs.
If Cami were around more often, maybe Klaus or Elijah could have filled her in that their eldest brother is residing in the body of her therapist, but hey, she's back now and playing therapist herself! To Klaus, of course!
And call me crazy, but I think she might be wishing she could play a little something else to Klaus, ifyouknowwhatImean.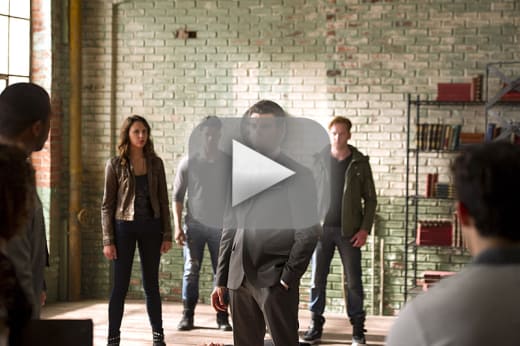 The Originals Season 1 mind compulsion aside, I've pretty much been pulling for a Klaus-Cami pairing since the pilot when she psychoanalyzed the street artist and didn't know she was actually psychoanalyzing Klaus. 
I know, I know, Klaroline forever! But until Caroline Forbes shows up in the Big Easy, let's give the guy a chance to have some happiness, okay? (Give Cami a chance! She will grow on you! Plus Leah Pipes has the most gorgeous eyes I've ever seen!)
Here's why I like Cami: She gets Klaus. She accepts him. She sees the good in him. The same good Elijah sometimes sees and which Klaus shows to those he chooses. 
Cami doesn't try to ridicule him or shame him out of feeling his very legitimate feelings. His parents are horrible, terrible monsters. He's pretty much entitled to hate them for the pain and torment they've caused over his 1,000 years on Earth. 
I like that Cami lets him know that his parents are tools and it's okay to hate them for all they've done and still wants to be close to him when he's lashing out. She isn't afraid of his anger, but she also challenges him to feel more than just rage.
In fact, I think there's something about his anger, his brokenness, that attracts her to him. I was practically shouting "KISS THE GIRL!" tonight and then Whoosh! He was gone. So I rewound the DVR and watched their dancing scene again. 
There's a tenderness that comes out of Klaus when he's with her. I love that Joseph Morgan is capable of playing two sides of this character so well and simultaneously and having us love all of Klaus. It's just fantastic and offers up a great contrast to Mikael, the vampire who hates vampires.
Mikael is pure evil, vindication, and rage. What he calls strong is actually just unbridled testosterone and a major superiority complex coupled with a millenia-old patriarchal power trip. 
I have a love-hate thing with Mikael because he's so torturous to Klaus. Even his "hello...boy" from the cabin porch was dripping with derision and disdain for his bastard child in such a way that I was at once intrigued and also disgusted that he could be so hateful. 
That? That is the mark of a masterfully portrayed character. 
After their battle, Mikael isn't dead because he's taught himself over the years to reject poisons and foreign intruders to his body. Klaus will no doubt blame Cami for his momentary lapse in judgment in stabbing Mikael with Papa Tunde's "mystical knife of ludicrous torment" instead of the White Oak stake and my Klaus-Cami dreams will be dashed for half a season, but hey, it's not like she had any way of knowing he could fight off the misery and pull the blade out of his own torso!
But seriously, Mikael or Esther need to go. I can't handle both of the brothers in immortal peril fighting against both of their parents in two wars instead of being able to fight together and right now, Elijah is in trouble. 
After Finncent revealed their plan to force a new pack to activate their curse (and thus potentially turning this into Teen Wolf) Aiden and Oliver went to Hayley for help. That is, if turning the baby wolves was ever the plan at all. Maybe this was Lesther's way of getting Elijah alone.
When her people came to her for help, Hayley took the wolves to Elijah and Marcel to form an alliance in ushering the would-be wolves out of the city and into the bayou where they can be looked after, and it was great to see them put aside their whatever-it-is and work together.
But Mia's going to be a problem.
Elijah isn't her sire, but there's a bond between those two and it is kind of smoking hot. Daniel Gillies has chemistry with brick walls so it's not like this sizzle between them is exactly shocking, but that fight sequence with the musical terms followed by his "head or heart" and, well, yeah.
Hot. Hot. HOT. 
That Hayley walked in on them in the middle of what should not have been nearly as sexual an encounter as it seemed only makes it a little more smoking since now it feels taboo.
While I want to see Hayley and Elijah together, I don't hate that he's having all this eye sex with Mia and we're getting to watch it happen. Nor do I hate Hayley's "brand of sass" which she keeps giving him whenever there's an opportunity. 
Something tells me she'll be moving past her sass next week once she learns that he's in trouble and not actually capable of taking care of himself, but it was all fun while it lasted. 
Elsewhere: 
Oliver is proving himself as an ally to the vampires and Hayley, which I like, but where is Jackson?
If Koleb could stay forever and ever and be Davina Claire's witchy boyfriend, that would also be great. Maybe Kol body jumps but we get to keep Kaleb the witch as a consolation prize! Yes, let's do that!
Josh and Aiden's West Side Story relationship is going to prove interesting and challenging as the war for New Orleans rages on. Whatever keeps Josh around is okay by me.
What did you think of "Live and Let Die"? Are you disappointed Mikael isn't dead yet? Do you love the idea of Cami and Klaus? Remember, you can always watch The Originals online right here at TV Fanatic!
Here's your sneak peek at The Originals Season 2 Episode 5, "Red Door," featuring Nina Dobrev as Tatia, the Original Doppelganger.
Miranda Wicker was a Staff Writer for TV Fanatic. She retired in 2017. Follow her on Twitter.