The Simpsons Season 26 Episode 2 Review: The Wreck of the Relationship

Stacy Glanzman at . Updated at .
The Simpsons Season 26 Episode 2 wasn't one of their best installments, but it does seem like there's a recurring theme lately revolving around the father/child relationship. 
After The Simpsons Season 26 Episode 1 focused on Krusty's relationship with his father as well as Homer and Lisa's, tonight's episode centered on Homer and Bart.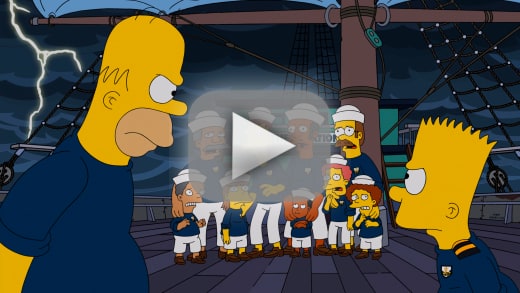 Homer and Bart have certainly had their "ups and downs" over the years, so it was no surprise that Bart ignored Homer when he asked him to clean his room. Bart disrespecting authority (and especially Homer) is nothing that hasn't been done before. 
In the past however, Homer usually gave up pretty easily, but not this time. When Bart refused to eat his broccoli, Homer stuck to his guns and thus began the "great broccoli sit-off." I enjoyed the narration in this episode. Often I find voice-overs distracting, but it fit in well here. 
Homer letting Marge pick his fantasy team was a sacrifice, but Bart missing out on Martin finally kicking the crap out of Nelson? That's huge! I know he's a stubborn kid, but that had to be worth throwing in the towel to see. 
I was really looking forward to Nick Offerman's supporting role tonight as I'm a huge fan of his. His captain of the "Relation-ship" was fun, but I think it could have been better. The character was redeemed in the end though when he got drunk with Homer. His drunken juggling and concern over the therapy bears was pretty funny. 
Marge doesn't know football. This was established when Homer got stuck with the Denver Broncos instead of the Dallas Cowboys (though, maybe now he wouldn't mind the Broncos so much). I chuckled when she came back from the draft and announced she drafted five kickers. Poor Homer. 
Mom, it's trash talk. You know how guys say mean things to their friends the way women say nice things to their enemies?

Lisa
Bring on the trash talk! Chief Wiggum had the best one with "your RB is worse than Arby's." For the most part though, the trash talk storyline felt a little bland. I was happy for Marge when she beat Moe thanks to one of her five kickers making an eighty-five yard field goal though, leading the voice over to conclude that really, "fantasy football is basically just luck." 
I have to admit, though I do like watching football, I've never actually played fantasy football. Can you actually draft five kickers? I'm assuming the system requires you to fill every position with a couple of back ups, right? Maybe next year Homer would be better off with auto-picks set up for his team. 
What did you guys think of this episode? Did it feel a bit lackluster to you too? Were you hoping for more out of Nick Offerman's role?   Check out the The Simpsons quotes page for tonight's best lines and watch the Simpsons online any time via TV Fanatic. 
Stacy Glanzman was a staff writer for TV Fanatic. She retired in March, 2019.