Overall, The Strain Season 1 met and at times exceeded my expectations. As the story unfolded, there were plenty of twists and turns to keep even fans of the books engaged.
Like other genre shows along the lines of The Walking Dead and Game of Thrones, no character was safe. As a matter of fact, the body count was absolutely insane on this show.
Setrakian lost his wife, as did Eph. Gus, Nora and Zack lost their mothers and the families of Regis Air flight 753 all lost loved ones. This is not a series that promises happy endings. If that's what you're hoping for, you're watching the wrong show.
Check out the things that worked and didn't work for me this season on The Strain and then give it your grade below...
-------------------------------------------

BEST CHARACTER: Vasiliy Fet (Kevin Durand) totally stole the show. From his one liners to his random tid bits about New York, the character never failed to entertain. Was Fet's accent a tad tough to understand at times? Sure, but Durand's charisma always managed to win me over. Besides, if you watch the episodes a few times his dialogue becomes much more clear. While Eph and Nora's resolve wavered constantly, Fet became the soldier and apprentice Setrakian had been longing for.
Honorable Mention goes to my man Quinlan. The moment the character appeared in The Strain Season 1 Episode 7 and killed Neeva's infected daughter we couldn't stop talking about him.
WORST CHARACTER: Dr. Ephraim "Eph" Goodweather (Corey Stoll) was a constant contradiction. One minute he acknowledges Setrakian is the expert when it come to strigoi, the next he's doubting the old man. He loves his wife, Kelly, but manages to sneak in a little sexy time with Nora amidst a vampire apocalypse. Not to mention being an absent father for most of Zack's life, to becoming an overprotective and unreasonable Dad. As I mentioned in my reviews, I don't remember disliking Eph this much in the books.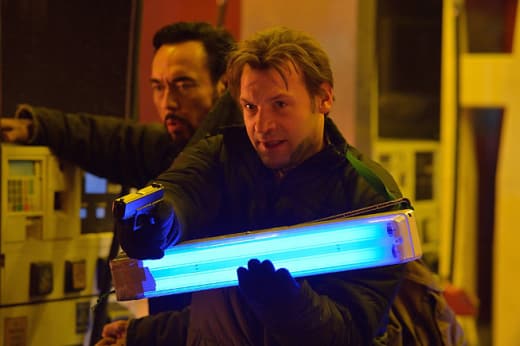 BEST EPISODE: That's an easy one... The Strain Season 1 Episode 8 where the "Creatures of the Night" lay siege to a convenience store. The tension throughout the episode was crazy and we finally saw Fet fight side by side with Setrakian and Co. This was also the episode where Jim was infected and the realization he was beyond saving was tough to watch.

Honorable Mention for The Strain Season 1 Episode 3. The image of Eichhorst putting on his human face will stick with me forever. I'd like to mention that both these installments were written by book co-author Chuck Hogan. Actually, the most memorable episodes of the season were written by Hogan. Here's hoping he is as involved with The Strain Season 2.
SLOWEST EPISODE: I'm going to go with The Strain Season 1 Episode 6. Not only did the big eclipse we'd been hearing about come and go without consequence, but Eph's arrest dragged on and on. It was disappointing that we didn't see more strigoi running around infecting New Yorkers during the "Occultation." After all, this was supposed to be the tipping point in the Master's plan to spread the disease.
BIGGEST SHOCKER: Kelly being infected and experiencing the metamorphosis through her eyes. Natalie Brown did a wonderful job making a character we're not really supposed to like into a sympathetic victim. Not to mention Kelly's the one that finally kills Diane. Shame it didn't happen sooner.
BIGGEST DISAPPOINTMENT: The Master's big reveal in The Strain Season 1 Episode 9. For more than half the season the creative team had been building audience anticipation but the Master's evil visage failed to inspire fear. There were memes passed around social networks where the Master was given a Pennywise the clown makeover. While most fans got used to the "look," the damage was done. The Master failed to terrify us, which I'm sure was not del Toro and Hogan's intention.
HOPES FOR THE STRAIN SEASON 2: Beef up the female characters and don't make the guys look good at their expense. After decapitating her mother, Nora's already on her way there. Dutch was more enjoyable in the later episodes as well. I'd just like to see the ladies be as kick ass and smart as the gents. Also, now that the world has been established, burn through story arcs a little quicker. I understand the writers have 13 hours to tell their story, but that's no excuse for filler episodes. With del Toro much more involved in the production of Season 2, I have high hopes it's going to be even better than Season 1.
Overall Grade: A.

YOUR turn, TV Fanatics! How would you grade The Strain Season 1?