The Vampire Diaries Season 6 Episode 3 Review: Welcome to Paradise
Leigh Raines at . Updated at .
Welcome to Paradise? We're not so sure about that, The Vampire Diaries Season 6 Episode 3.
I'm not certain what was supposed to be so idyllic and heavenly about this latest installment. All I saw was a bunch of unhappy vampires!
Was the paradise part Elena doing a Tarzan swing and flip in a bikini? Because I will admit that she is smokin' hot. Still, no amount of Jeremy's abs could help hide the general despondent attitude from the overall group. 
You guys are 20. What excuse is there not to enjoy Jello shots with your best friends at a lake party in the woods?
Okay fine, there's a lot going on. I get it. I'm just ragging on everybody because, truth be told, this episode made me feel sad. The Vampire Diaries Season 6 Episode 2 left with me a renewed sense of hope for the upcoming season. Whether it was Damon shaking his booty to "Whatta Man" or Alaric trying his hand at Compulsion 101, I found last week to be thoroughly enjoyable.
This week? Not so much.
Let's dive into Elena and her lost memories. At first I thought this was a unique idea at allowing Elena to move forward and making things more interesting for when Damon inevitably returns. Then it was pointed out on our The Vampire Diaries Round Table that the whole amnesia storyline is just SO soap opera. 
Cut him some slack. He lost his brother. Granted said brother was a soulless homicidal maniac, but still.

Elena [about Stefan]
Granted, TVD is a supernatural soap opera. However, the reason I might be rethinking my stance on the whole compulsion-to-forget situation is because of Caroline's point of view. It seems a lot of the viewers felt irritated by her last week, but personally I felt no such ire.
Elena used drugs, gave into anger and then had someone erase her memory to deal with Damon's death.
I know that everyone deals with grief differently, but how is it dealing at all if you're just having everything erased from your brain? Life is not Eternal Sunshine of the Spotless Mind.
Well that's the problem Elena. Not all of us are okay with pretending. Some of us prefer to face our problems head on.

Caroline
Everybody else is expected to pretend that the last two years didn't exist really because they can't bring up Damon in front of Elena. Once again, it all revolves around Elena! Aren't we just a wee bit sick of that? How about Caroline and Jeremy losing Bonnie? Stefan losing his Damon?
Now I know Stefan thinks it's a one-and-done leaving Enzo for dead, but since Michael Malarkey was signed as a series regular that's not going to happen. Things should be interesting when Tripp Fell gets him alone in the truck. 
As for Jeremy and Bonnie, we know he is hurting but on the surface he needed a distraction. That distraction was Sarah, until Elena scared her off at the swimming hole and she ransacked the Salvatore mansion. Anybody else think that Sarah could potentially be related to Bonnie as a half sibling?
This girl is looking for her dad, maybe it was Bonnie's dad. Just a hunch I knew a few people were getting.
Speaking of Bonnie, things were getting tense back in 1994. Bonnie calling Damon out in the parking lot to basically shut up or give up was perfect. She called his bluff. Then we finally met Kai. 
Kai was cast to stir up trouble this season, so I don't buy that he is only around to help Bonnie get use of her magic again. Why would he be alone on that plain with them? What is he truly doing there?
Sound off in the comments and don't forget to watch The Vampire Diaries online if you need to catch up!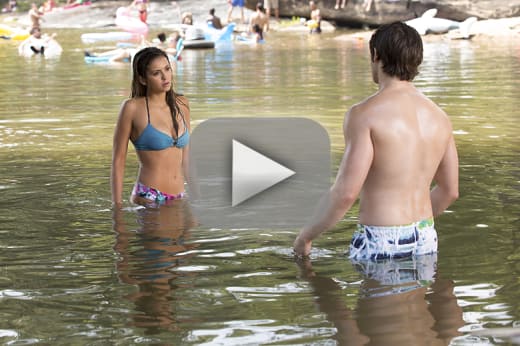 Also catch, the promo for The Vampire Diaries Season 6 Episode 4, "Black Hole Sun."