"Draw Back Your Bow," Arrow Fanatics, because we're back with another round table.
Up now we're examining Arrow Season 3 Episode 7. Was Cupid worthy of viewer's affections? If Felicity is in a good place, was it right to set the weight of Oliver's safety at her feet? Are we in for a little Atom coming our way?
Join TV Fanatics Hank Otero, Allison Nichols, Paul Dailly and Carissa Pavlica as they discuss these topics and more. Join in the discussion in the comments!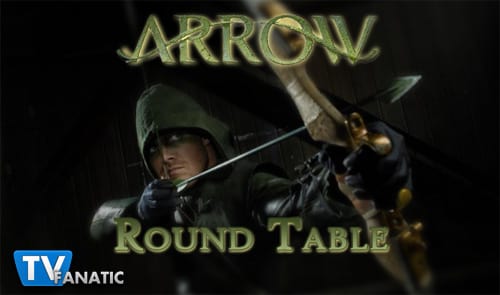 Did you fall in love with Cupid?
Hank: Not at all, never thought I'd say this... bring Huntress back guys! LOL I had a feeling from the promos this wasn't going to be my favorite episode. I liked the stalker aspect and the fact Cupid's been hiding in several episodes this season. However, the character was too over the top and her lines were super cheesy. Yeah, I'm definitely not a fan.
Allison: I did actually. I loved her twisted sense of love, and all of her interactions with Oliver were fantastic. I wish she had run into more of Team Arrow. The writers were smart to show the beginnings of Cupid's obsessions, and like Hank, I loved that she was secretly in the background for the past couple episodes.
Paul: Not at all. Her storyline was really boring. I'm not buying Carrie's transformation into Cupid. It seemed a bit off that she would become a vigilante just to get the attention of someone she was obsessing over. I'd expect a stalker storyline in Pretty Little Liars, not Arrow!
Carissa: Not at all. She had no redeeming qualities. She was over the top and pointless. I will be happy if she's so taken with Oliver on her first trip with the Suicide Squad that she makes a run for it and blows up like Shrapnel.
Was it right of Diggle to lay Oliver's head space at Felicity's feet?
Hank: Probably not, but since Diggle has been relegated to playing Oliver's conscious this season (more than ever) it doesn't surprise me. He's the voice of the audience and says the things most of us are thinking. Personally, I'm over the Olicity drama and I'm hoping for another Diggle-centric episode. The writers are seriously wasting that character. As a matter of fact, back off the Roy stuff and give Diggle more to do.
Allison: Diggle is captain of the Olicity ship, so it wasn't surprising that he went to Felicity. However, he shouldn't have made Felicity feel like it was her duty to keep Oliver's head in the mask. Felicity has a right to be happy, even if that means being with someone other than Oliver.
Paul: Not at all. I understand that as a team if they are at each others throat it will show. He made the decision to try and make things less complicated. It wasn't his place to do so. I hated Diggle this week. He shouldn't have put it all on Felicity.
Carissa: I could never hate Diggle, Paul. For shame! I'm in line with Allison. That said, Felicity is in a really tough spot. She knows she can't push the issue with Oliver because he needs his head in the "hood" as Allison says. Then again, a reader thought she wasn't clear enough about her feelings. To me, she can't win no matter what she does. Unless she stays with Ray. Ahem.
Felicity is in a pretty good place all things considered, talk about it.
Hank: Aside from the Olicity nonsense, I've loved Felicity's story arc this season. Her relationship with Ray is much more interesting, possibly because we're not sure of his intentions yet. Still, the guy's coming on pretty strong and bordering on harassment at the workplace. Giving her the big office and pretty dresses, even showing up at her place unexpectedly. It's all a bit much, but I guess she's enjoying the attention. Loved her Central City visit!
Allison: I'm glad we have gotten to see her outside of the Arrow cave. It's been great to see her living her own life. Can I have Felicity's job? She gets a lot of perks, and she basically takes off whenever she wants. Also, she has a tendency to witness extremely attractive guys working out shirtless.
Paul: She is. Obviously Ray has an ulterior motive, but for the most part she probably feels like she is getting the recognition from him that she never got from Oliver.
Carissa: Since I've Googled, I'm hoping Ray stays on the side of good and there is no need to worry for Felicity's safety. If that's the case, then damn I want her life. Best job in the world, best hobby, looks great punked out or in couture and has two of the most awesome men interested in her. If we could only get her a BFF, she would be unstoppable!
It appears Ray Palmer will be Atom. React!
Hank: That scene with Ray looking over the render of the A.T.O.M. Exosuit was my favorite part of the episode. I'm finally more interested in the character. What's he up to and will he suit up this season? Seems like ATOM might be more at home on The Flash no? Hey, perhaps we're looking at another crossover before the season finale?
Allison: I know nothing about Atom. I'm excited that Ray will have something potentially Arrow related to do. It will make his character a lot more interesting. I'm curious to see if Felicity will stumble upon Ray's plans or if our first introduction to Atom will be during an Arrow case.
Paul: I've not read the comics and I stay relatively spoiler free, so it was a good development. I'm getting more invested in this character. If Felicity finds out: will she tell Oliver? Oh the drama.
Carissa: Like I said above, from what I Googled, Atom is a good guy. There are never enough good guys to go after all the creeps, so I'm keeping my fingers crossed he's here to stay. I watched Brandon Routh in a Hallmark Christmas movie, and he's just adorkable in all incarnations. Maybe an Atom spinoff is coming? There's certainly room!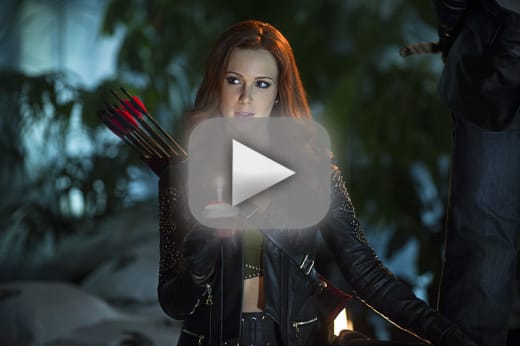 What are you overall impressions as we head into the winter finale?
Hank: For me, the show has had its ups and downs this season. While The Flash has been strong throughout, Arrow has been a bit inconsistent. I know I should be more invested in Sara's murder, but for some reason I'm not. Hope they put that one to bed and bring in Ra's al Ghul for the second half. Don't get me wrong, the action sequences have been as intense as ever. It's just the overarching storyline is much less clear than it was in Arrow Season 2. I feel like we're lacking a great villain like Slade/Deathstroke. I'll be honest, the coolest episode for me was Felicity helping The Flash take out Captain Cold. That's right, that was on The Flash... my point exactly.
Allison: I'm so ready for the Arrow crossover with The Flash. Give it to me now! I'm with Hank though. Most of the overarching Arrow storylines, I don't care about. I wish Sara was still alive and that we weren't chasing around her murderer who we have no idea who it is. The best episode dealing with Sara's murder was when Nyssa stopped by. I loved Felicity stopping by The Flash, and I cannot wait to see the Arrow and Flash teams meet and interact.
Paul: I agree that this season hasn't been the best. I feel like the series isn't being nurtured as much as it should be with the people behind the show pulling double duty on The Flash. I stopped watching The Flash a few weeks back, but I'll catch up in time for Arrow vs. The Flash.
Carissa: In hindsight, I wonder if the show wishes they thought differently about the Sara arch. Since Laurel originally got the job from her mom, I understand why they went the route they did, but it's really tough being a fan of both when there is so much animosity toward Laurel now. The most enjoyable characters, for me, are Felicity and Ray. I really want Donna to come back. Up next are Diggle and Lyla. I'd like more dinner scenes, etc., at their pad.
Here is a look at Arrow Season 3 Episode 8, "The Brave and the Bold."
Carissa Pavlica is the managing editor and a staff writer and critic for TV Fanatic. She's a member of the Critic's Choice Association, enjoys mentoring writers, cats, and passionately discussing the nuances of television and film. Follow her on Twitter and email her here at TV Fanatic.