In our round table for Arrow Season 3 Episode 5, we're discussing whether the Felicity-centric episode lived up to expectations, the secret intentions of Ray Palmer, meeting Donna Smoak, peeping Tom Malcolm Merlyn and Roy's surprising sleep problems.
Join in with TV Fanatics Hank Otero, Paul Dailly, Allison Nichols, Carla Day and Carissa Pavlica by hitting the comments. We welcome your thoughts!!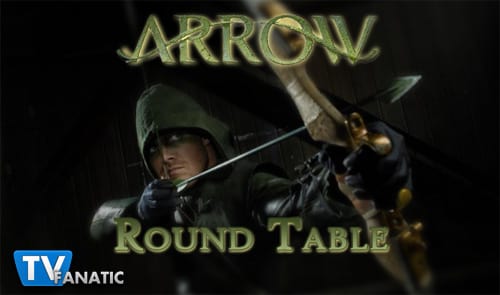 What were your thoughts on the first Felicity-centric episode? Did anything surprise you?
Hank: I was surprised the writers didn't give us more of Felicity's back story. This was basically one event that caused her to change into the girl we all love today. There's still so many questions left unanswered.
Paul: Yeah, for an episode that was following a fan favorite, It was a bit disappointing that there wasn't much back story. I liked the younger Felicity. Emily Bett Rickards pulled it off really well.
Allison: Don't get me wrong, I enjoyed it. We did learn a lot about the dynamic between Felicity and her mother. There are some good hints about her father but nothing that is mind blowing. But I did expect a little more. The flashbacks were geared more to help viewers understand who Cooper was to Felicity, instead of what Felicity was like. I'm disappointed that there weren't any family scenes in the flashback.
Carla: I liked the introduction to Felicity's past. For me, it worked as a first introduction to where she got her computer background, while providing insight into her upbringing. The mention of her father was particularly noteworthy. I think some people expected too much out of one flashback episode.
Carissa: That's a great way to put it, Allison. The flashback proved to give us insight into Cooper, not Felicity. Donna shared a bit about being a single mom, but we really learned very little about Felicity herself. Carla, I wouldn't have expected much if the title wasn't "The Secret Origin of Felicity Smoak," but it was, so I did. And while many people thought I disliked that it was light in tone, I didn't think it was. I thought it was light in content about the titular (and fan favorite) character, and there's a difference.
Do you hope to see more of Donna Smoak?
Hank: Actually, I wouldn't mind that at all. I thought Felicity and Donna had a fun dynamic. They seemed to have a better appreciation of each other by the end of the episode. It would be great to watch them build on that.
Paul: Yes! The casting was really good. I love the chemistry between them both. There are still a lot of layers to the mother/daughter relationship we have yet to witness.
Allison: I would love to see more of her. Donna still doesn't really know what Felicity does, and so it would be interesting to have more of Donna seeing Felicity in action. It could be like when she is doing Arrow business on the phone while Ray is in the room. Donna wouldn't really know what was happening, but it would give her more of a hint as to what Felicity does.
Carla: Definitely. She's a riot and I expect she has significant secrets of her own to be revealed in the future. Hey, if nothing else, she can come back when Felicity's planning her wedding....
Carissa: Felicity has earned a life outside of the Arrow lair (even one outside of work), so bringing Donna in once and again would be a great way to give us more insight into Felicity and give her a more realistic presence. I'm all for it.
Is Ray Palmer the kookiest and most unassuming boss of all time? What's up with him?
Hank: No idea, but the guy's just too good to be true. I'm ready to learn more about Ray; can't figure him out.
Paul: This is one I don't fully understand. He is so lenient with Felicity. She gets away with everything. I can't comment on what he's up to. I have no clue.
Allison: Can I have Felicity's job? She gets Oliver's old office, and she never actually has to work. There has to be an ulterior motive there.
Carla: I love Ray Palmer. He's hilarious, caring, and has a thing for Felicity. She has a hold over him that allows her to get away with anything she wants. He's drawn to her and just wants her near him. Do you blame him? I also think he has a specific plan to use her technical abilities. We're just getting glimpses into that.
Carissa: Ray may have plans for Felicity's skills we don't know about, but I'm not getting a nefarious vibe at all. He's pleasing in most every respect, and even seems civil-minded. Not everyone is too good to be true, after all, we do have Felicity!
Why is Malcolm spying on Thea?
Hank: Because he's a freak! I think he just wants to keep track of Thea and that view is pretty ridiculous.
Paul: This alarmed me. He obviously doesn't trust her, but does he really trust anyone? Is it possible he knows who killed Sara and is worried they go after her?
Allison: I think Malcolm liked the control he had over Thea. In Corto Maltese, it was just the two of them, and no Oliver Queen in sight. I think he might be jealous,but I'm also hoping he is maybe watching out for Thea as well. I want there to be at least one decent bone in his body.
Carla: I didn't see his watching over Thea as a creepy thing, but as a concerned father looking over his daughter. I believe he cares about Oliver too. Malcolm's lost so much. At the same time, he's an observer by nature, so it didn't surprise me or shock me to see him on that roof. It's what I'd expect from him.
Carissa: Allison, I like where you headed with this. I hope all of Malcolm's bad bones are gone. But -- I still don't trust him.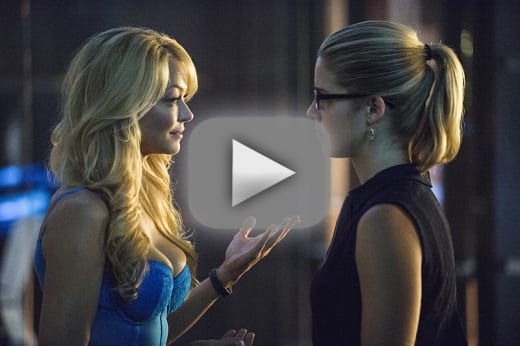 Talk about Roy's dream of killing Sara.
Hank: I can't imagine Roy's the killer. That would destroy his relationship with Oliver, even if he was programmed. Though it makes sense Slade brainwashed him while captured, I'm still betting on Ra's. Hope they don't drag this out all season, it's getting a bit old already.
Paul: I think it's just a nightmare. I don't see the writers revealing the truth in a dream. It doesn't make sense. This would ruin the character and take him beyond redemption. I really hope he isn't the killer.
Allison: I like that we had the set up of Roy not sleeping, and now in this episode we learned why. Is it some weird Mirakuru side effect or mind control or some other drug? I don't know. I can't picture Roy being in his right mind and killing Sara. It doesn't make sense.
Carla: Shocking! Whether it was real or not, he got the visuals correct which leads me to believe if he wasn't the shooter, he witnessed the shooting. I hope it's not him, though it could spark a transition from Roy to Thea on Team Arrow. My personal preference would be that she joins in her own right though.
Carissa: Carla hit on what has to happen if it turns out Roy is NOT the killer. He has to have witnessed it. If he didn't, then it was a bad play having him recall it exactly as it happened rather than in a surreal fashion, like many dreams go down. I could see it going either way, really.
Remember, you can get all episodes of this exciting series via TV Fanatic when you watch Arrow online!
And here's your first look at Arrow Season 3 Episode 6, "Guilty."
Carissa Pavlica is the managing editor and a staff writer and critic for TV Fanatic. She's a member of the Critic's Choice Association, enjoys mentoring writers, cats, and passionately discussing the nuances of television and film. Follow her on Twitter and email her here at TV Fanatic.