Awkward Season 4 Episode 19 Review: Over the Hump
Nick McHatton at . Updated at .
With one big blowup during Awkward Season 4 Episode 19, Jenna is finally able to sort out the messes collecting in her life.
Her results are nothing like she predicted, naturally.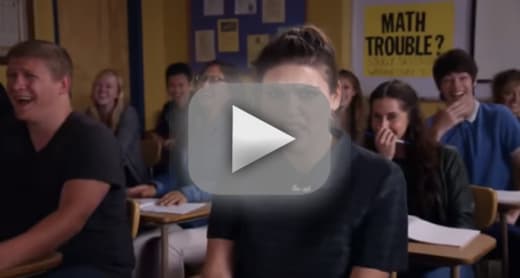 Jenna's blowup with Lacey brings up the simmering feelings that Jenna's had for Lacey since Awkward's inception. Jenna and Lacey simultaneously get each other completely, and at other times dislike each other.
Lacey is still trying to live in two worlds: one where she is a mother to Jenna and the other where she still wants to make sure that the things she lost out on during her youth aren't set in stone. Jenna's always known about the latter, and is usually good with Lacey's craziness.
This time, though, Jenna's point of view is well taken. The one thing she's been stressing about all senior year is her future: her college prospects. The rejection has some consistently and swiftly for Jenna. When Lacey gets her acceptance letter, Jenna sees her future flying away and into Lacey's hands.
Lacey's college admission letter is the rewrite to the carefrontation letter written seasons ago, it's a love letter to the bond she shares with Jenna and, most importantly, it's the most direct connection she could throw Jenna's way: writing. I've had serious issues with Awkward Season 4 on nearly all fronts, but this installment continues digging back to what made the show incredibly charming.
Jenna's unpredicted results come from Matty. For so long, we've been unsure of where Matty's intentions are. For the deeper stuff, he's with Jenna, but for the girlfriend activities he's with Gabi. Jenna's not a big fan of this, and she shouldn't be because she gets strung along because of it. But just when Jenna thinks she's back in the game with Matty she strikes out because she's pushed Matty in the other direction.
Partly because Jenna is sending him mixed signals, but so is Matty. It's a mess all over the place, but when Jenna finally does make up her mind, Matty does too. Sadly, it's not what Jenna's looking for.
Sadie's image, according to Jake, needs a bit of a makeover. She'll be heading off to college soon, and Sadie will have the opportunity to be a new person.
Jake: But maybe you're not as big a bitch as you want everyone to think you are.
Sadie: No, I totally am.
Thankfully, Sadie knows better.
What are you thoughts as Awkward heads towards its season finale next week? Are you happy with the way the last few episodes of this season are shaping up? Let us know and be sure to watch Awkward online right here at TV Fanatic to relive all your favorite moments!