In our round table for Bones Season 10 Episode 8, we're discussing the newest addition to the Bones family.
Below, join TV Fanatic writers Bridget Liszewski, Mary Kate Venedam, Christine Orlando, and Ashley Bissette Sumerel for a discussion of this bittersweet episode. And don't forget to share your thoughts in the comments!
What did you think of this week's case and its effect on the characters?
Bridget: I'm going to be honest, I barely remember what this week's case was about. I know it involved crosswords, and that's about all I can tell you. It just took such a backseat for me in comparison to everything else that was going on. I do remember that I laughed at Cam being so into crossword puzzles and that it fit right into her character. Plus it was cute to watch her "geek out" a bit about them.
Mary Kate: I don't know if I would call this case particularly memorable, but I did find the last scene with Aubrey and the killer/victim's son heartbreaking since he felt so guilty for what happened. In his mind, he was fighting back, obviously it's not good that he killed and left him, but you could tell how much it hurt when he realized the truth. Other than the last scene, I don't remember much of the details.
Christine: For me it was quite memorable. My grandfather had Alzheimer's so I really related to that part of the case. That poor man disappeared from his own life little by little, long before he actually died. In the end his assistant took advantage of him and he never got to know his own son, even though he was standing right in front of him. It was all very sad.
Ashley: I agree that the case wasn't as important as everything else that was happening in this episode, and I didn't even mention it in my Bones Season 10 Episode 8 review. But I appreciated how Aubrey intervened on the gambling piece as a way to look out for Booth. And even more than that, I'm glad that brought that back up-- it's an important part of Booth's story.
Are you any good at crossword puzzles?
Bridget: I used to be somewhat obsessed with the one in my college's daily newspaper, but I'm not sure if that was more about having a distraction during class… oops! I think they are fun, and I guess yes, I do alright at them.
Mary Kate: I'm good at the People Magazine crosswords. Outside entertainment related crosswords, I'm horrible.
Christine: I like crosswords, but I wouldn't say I'm very good at them. However, give me a TV themed crossword, and I'm a pro!
Ashley: Not at all. Even if it is TV related or something that I know a lot about, I tend to over-think them! I'm also the person that has to do them in pencil in case I make a mistake.
Like Bridget said earlier, it was fun to see Cam's reaction to famous crossword puzzle master, though. That she's a crossword puzzle fun is an interesting little tidbit about her character that doesn't really surprise me.
We have to discuss Daisy and her doula. Why do you think the writers chose this for Daisy's story?
Bridget: I think the doula was a bit over the top, but this is TV after all. That being said, I'm sure there are doulas, and people that have used doulas, that were probably a little annoyed with this portrayal. I know, speaking for myself, I just wanted all the drugs and to feel nothing, so I couldn't really relate to this. I do think it was just something that Daisy needed; as she said, she's finding her way. That doesn't mean I wasn't cheering when she kicked Valentina out of the room!
Mary Kate: I feel like it was just a way to make everyone have more questions about the birth, rather than just have her have the baby. Like Bridget said, it is TV. It was sweet to see how everyone was concerned or had Daisy's back at the lab. Even the little moment between Hodgins and Daisy was cute.
Christine: I told my doctor I wanted an epidural the moment I found out I was pregnant, so I'm definitely not a doula person. But I did love that she was played by Mindy Cohn from The Facts of Life. That alone made me smile.
Ashley: I agree with Mary Kate that this was a way to talk more about the birth. But I also think it was fitting for Daisy's character to want to reach out and have someone to support her since Sweets was gone. What she realized instead was that her friends at The Jeffersonian could be that for her.
What were your thoughts on the final scenes when Daisy was in labor?
Bridget: I always enjoy the moments when we get the whole gang together for a scene. It was fitting that they were all there, especially with Sweets gone, and showed what a family they truly are. It hit all the right notes for me. It was sweet, but then funny at the same time. Booth was probably my favorite, and David Boreanaz always plays these types of scenes perfectly.
Mary Kate: They were very sweet scenes. Seeing them altogether to celebrate the birth of Sweets' son was heartbreaking knowing he wasn't there, but having Angela, Brennan, and Cam help Daisy through the birth was a nice gesture. I also liked how persistent Booth was to being at the birth and how close they seem to have grown to Daisy, knowing that Booth doesn't normally get chummy with the Squinterns.
Christine: I liked when Brennan asked what was taking the anesthesiologist so long. I remember it feeling as though it took forever for the anesthesiologist to show up. When Daisy was told it was too late to administer the epidural I couldn't help but think that it was like a delivery room nightmare. But Daisy was a trooper and she had everyone there to help get her though it.
Ashley: Daisy kicking the doula out of the room and asking for shiny machines instead was amazing. And Booth's reactions while Daisy was in labor were fantastic.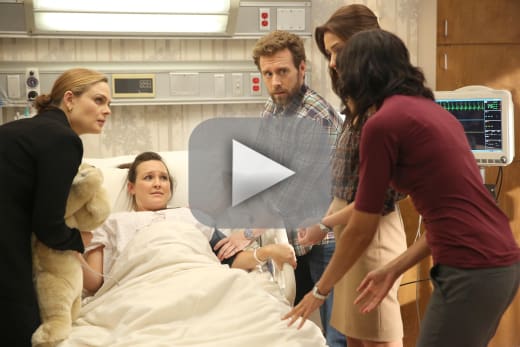 Talk about your favorite moment or your overall impressions of "The Puzzler in the Pit."
Bridget: Overall, I think it was a good episode, and I didn't mind that I had no clue what was going on in the case. I watch this show for the characters, and I was happy to focus on them and how they truly are each other's family. Daisy giving birth had the potential to be a very sad moment, given Sweets is gone, and instead the show delivered a really sweet, touching and funny moment. It was great. Welcome to the world little Seeley Lance Wick Sweets!
Mary Kate: The entire sequence in the hospital at the end was my favorite part to see them all together with Sweets' baby as the new member of their little family. Next step, play group with Christine, Michael, and Baby Seeley.
Christine: I hate to go with the crowd but it has to be the final scene at the hospital. My daughter and I couldn't wait for them to say whether it was a boy or a girl. I really liked that final scene. Being that Sweets spent so much time in foster homes, it was wonderful to see that his son would never lack for people to love and care for him.
Ashley: I have to go with the final scene too. Like Bridget says, it could have been a really sad scene, but it was handled perfectly. And Booth holding the baby and starting to tell him all about his dad was so sweet. As for the episode overall, I loved it.
What did you think, Bones Fanatics? Share your answers to our questions in the comments!
Ashley Bissette Sumerel was a staff writer for TV Fanatic. She retired in September 2017. Follow her on Twitter and on Google+.