When I began Brooklyn Nine-Nine Season 2 Episode 5, I had no idea what to expect. This was my first time watching the show, and aside from seeing a few previews, I really didn't know much about it.
For the first several minutes, I was apathetic. I didn't know these characters and I didn't really care to -- it all just seemed a bit too silly. But it was probably about halfway through the episode that I could feel myself becoming invested, particularly in the character of Jake Peralta.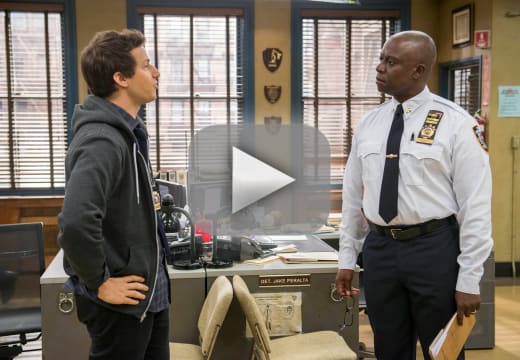 Jake is quirky and adorable, has a silly sense of humor, and has real faith in people. He refused to believe, for example, when Captain Holt told Jake that they had a mole. He said that he knows everyone too well, and none of them could possibly be the mole.
So, the precinct is being investigated by internal affairs, but Jake imagines he can charm them with a few jokes.
Miller, the agent from internal affairs, was more concerned with staying away from germs than anything else, though. This scene is completely over-the-top, especially when Miller insisted that Jake use his elbows to bring him a bottle of hand sanitizer. It was a slapstick sort of moment that I really appreciated when Jake actually tried to do just that, but instead dropped the sanitizer on the floor.
I think I started becoming invested when Jake showed some worry. Turned out, he had taken some files home a while back that he never returned, and that may make him a suspect for internal affairs.
Jake asked Amy for help getting the files back to the precinct, but they found more than just files when they went to his old apartment. They were surprised (and a little disturbed) to find Charles and Gina sleeping together. And Charles and Gina don't want anyone else finding out.
Charles: I'll handle him. You take care of Amy.
Gina: But how do I make it look like an accident?
Charles: I'm not saying murder. Just talk to her like a normal person.
Jake's timing continues to be pretty terrible when he tries to return the files to the precinct, only to be caught by Miller. So Jake goes to Captain Holt for help, and they pull an all-nighter trying to figure out who the mole could be.
This was probably my favorite scene. It might even be the scene that makes me want to continue watching this show.
There's clearly a close relationship between Jake and Captain Holt, and Holt seems to be the kind of mentor that any person would love to have in their lives. Jake is the sillier character who has plenty of skills, but still seems to have some growing up to do. So he relies on Holt as a mentor. But I think he is a character with heart, and that may be just why Holt needs him around too. Their relationship is not unlike that of Pete Hill and Major Cody from Enlisted (r.i.p), and that leaves me loving them even more. What can I say? I'm nostalgic. 
Holt was not only willing to stay up all night trying to help Jake, he even saw to it that Jake got a pair of "guest pajamas." The two were completely comfortable together, even though Holt still showed some authority.
But as the night went on, they found themselves accusing each other.
Someone's got a case of the sleepover jokies.

Jake
Luckily, though, they figured out the one person who had to be the mole. It's germophobic Miller, and he'd been sent as a spy by Deputy Chief Wuntch.
I love that the detail of Miller being afraid of germs is how Jake and Holt figure out he's the mole. When Miller and Wuntch crossed paths earlier, she already knew to nod rather than to shake his hand -- something a stranger wouldn't have known.
Even better is the fact that Jake's faith in his friends at the precinct isn't shattered. It is instead restored by the fact that it was really an outsider who was the mole.
Still, they needed proof. And Captain Holt wasn't sure they'd be able to come up with any.
Well, lucky for you, proof is my middle name. And yours is... Jared! Juice box! Jellyfish! Jamiroquai!

Jake
The moment that they did get proof was another great scene in this episode. Again, it's all about Jake and Holt working together. They tricked Miller and Wuntch pretty easily with a gun-shaped flash-drive (a fun detail) that included a recording device. And it told them everything they needed to know.
Captain Holt: You're going to leave my precinct and my task force alone. Or else, you're "Wuntch" meat.
Jake: You sure you wanna go with that one?
Captain Holt: Absolutely. It's hilarious.
Meanwhile, Terry and Rosa went undercover at a silent disco, which in itself was utterly hilarious. I'm not sure if I care for Rosa's character very much, but I do really like Terry. He's a loveable, caring dad who seems to just want to see the best in people. Including a young girl at the disco party who orders water and is wearing a t-shirt from her pre-school. Terry saw this as a sign that his girls would grow up to be good and to say no to drugs. Too bad, though, that the young girl turned out to be a dealer.
And after something of a manipulative chat with Amy, Gina made a bold move. She stood up on her desk and declared to everyone that she and Charles have been sleeping together.
I'm about to Olivia Pope this sitch!

Gina
That moment in itself made me love this episode. Absolutely hilarious.
I think I may just keep watching this show.
What did you think of this episode, Brooklyn Nine-Nine fanatics? Leave us a comment -- we want to hear your thoughts!
And don't forget, you can also watch Brooklyn Nine-Nine online any time via TV Fanatic!
Ashley Bissette Sumerel was a staff writer for TV Fanatic. She retired in September 2017. Follow her on Twitter and on Google+.