On Brooklyn Nine-Nine Season 2 Episode 7, Jake is put in charge of the precinct when Capt. Holt and Sgt. Terry have to attend a charity event in Brighton Beach.
But when the precinct is put on lockdown after a possible exposure to a dangerous toxin, it's up to Jake to take control of the situation when the team is trapped along with 42 civilians.
Did I mention that this lockdown also takes place on Thanksgiving Day?! Was it a total disaster? Let's find out!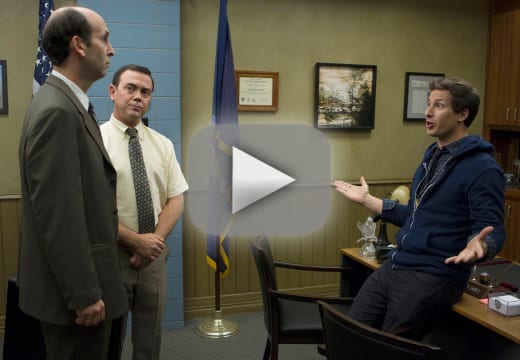 After the Captain's estranged uncle passes away, Jake competes with Amy to send out the best condolence. It's classic Jake and a perfect mix of bravado and buffoonery. 
I'm the king of respectfulness, bitches!

Jake
Of course, he forgets to turn off his personal email signature which reads "from my stinky butt". The Capt. is stone faced as ever when he thanks said butt. It's hilarious. This episode sees the great pairing of Capt. Holt and Sgt. Terry. On the show's last Thanksgiving episode, the two were also paired.
However, unlike last year, the overall episode is a vast improvement, made in part due to the screen time spent between Andre Braugher and Terry Crews. Despite the recycling of Zeke, Terry's enormous brother in law, the two really bonded this time around after they are forced to take a detour from the charity event to Terry's home after the precinct is placed on Lockdown. 
Jake quickly decides to become the fun kind of Captain, letting Gina answer the phone like she doesn't care and allowing Boyle to say the word "succulent". When Amy criticizes Jake for not taking this seriously, he verbally fights back with this classic quote.
Jake: I'm as serious as a heart attack. No offense Scully.
Scully: Eh! Mine are never that serious. I call them "oopsies."
When Boyle picks up his backpack, leading a package with a powder-like substance to fall out, Jake immediately calls Hazmat and the entire precinct is placed on lockdown. The Hazmat people immediately deduce that it's not baking soda, unlike the other precincts who had previously received similar packages. Jake and the team try to formulate a plan since not only are cops trapped, but also 42 civilians.
The 42 civilians are placed into four factions because why not? The factions are as follows: the suspects in lock up are called The Dirty Dozen. The witness, delivery guys and random good people are called the Normies. The friends of The Dirty Dozen and snitches are called The Doink Meisters and the 6 lawyers present are called The Vegetable Medley because it's the grossest thing Jake can think of. As someone who hopes to one day become a lawyer, this was particularly funny and amusing. 
Jake and the team do their best to keep morale up, with Boyle placing himself second in command. 
I made number 2. I hear it. Why would I say that?!

Boyle
Perhaps my all-time favorite scene of the episode is the all too quick performance of Boyle with two hookers doing the exact number from Beyonce's Single Ladies video. Others have attempted it (Kurt on Glee comes to mind) but it has never been as perfect or ridiculous than Boyle doing it. I vote for more dancing from Boyle. Yes please!
Back at Sgt. Terry's house, his brother in law Zeke easing up on the teasing when he says that his boss is also a jerk like Capt. Holt. Terry does not tell him otherwise. It's a definite bonding moment later in the episode when Capt. Holt agrees to act like a jerk so Terry and Zeke can continue to get along. He may not put up with any crap but you can't say that Capt. Holt doesn't have heart. 
Several hours into the lockdown, the precinct finally erupts into chaos after Jake tells one of the lawyers the truth about the lockdown and he quickly proceeds to tell everyone else over mega phone. There is even a fire on a couch! Jake turns to Amy for help.
Jake: I know you're too proud to say "I told you so" so I'm just gonna...
Amy: Told you so! Not too proud.
Jake: Yeah... Seems right.
But when Jake asks Amy to take over, Amy gives Jake a great pep talk. 
Amy: I've been waiting to hear you say that all day long...
Jake: I know.
Amy: Which is why you shouldn't say it.
Jake: What?
Amy: You're still trying to make people happy. Don't apologize to me. Be a leader and tell me what you need me to do. Tell everyone what you need them to do. You're the Captain, Jake.
Jake: I'm the Captain now... Captain Phillips!
Amy: Captain Phillips!
Jake: That's what it was! Look at me!
Jake takes control and Boyle discovers that a fired IT specialist was responsible for the packages at the 99 and the other precincts. There is no anthrax. Things are settled just in time for Capt. Holt and Sgt. Terry to see the great work Jake has done.
This was a vast improvement over last year's Thanksgiving episode mainly because it avoided tired holiday episode cliches and focused on the beauty of the relationships between everyone on the show. Here's hoping the rest of the season continues to be this entertaining!
As always, you can always watch Brooklyn Nine-Nine online!
Ariana Guzman is a staff writer for TV Fanatic. Follow her on Twitter.