Kate Beckett...or is it Kate Castle, insists that this is so not their honeymoon on Castle Season 7 Episode 7 but it certainly looks like it. OK, it doesn't look like the tropical island honeymoon they had planned but with no vacation time, some romance in the wild west may be all they get. For now.
In truth, Castle and Beckett are undercover trying to solve a murder and the investigation turned into a treasure hunt for 50 bars of US Treasury gold. Needless to say, Castle was downright giddy. 
Back home, Kate and Rick told their close friends that about their impromptu wedding and much to their chagrin, Lanie, Esposito, and Ryan are more than a little miffed. Especially Esposito and Ryan who not only wrote a speech for the occasion but were ready to perform a song as well. 
Off in Arizona, Castle and Beckett go all in as they put on their wild west costumes, cowboy hats, learn how to hog tie and play the harmonica, all in the name of finding justice. They even uncover a naked cowboy in their bathroom.
There's no reason to miss a fun filled moment when you can watch Castle online here at TV Fanatic.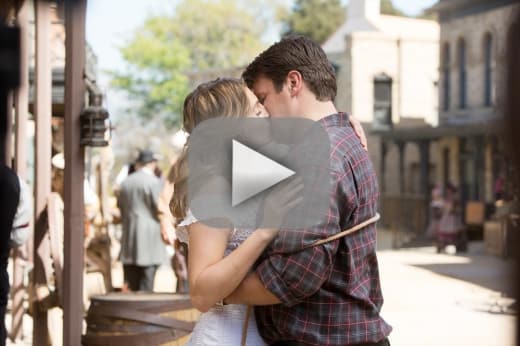 C. Orlando is a TV Fanatic Staff Writer. Follow her on Twitter.