On Chicago Fire Season 3 Episode 9, Severide's impromptu, whirlwind marriage to Brittany came to an end. Despite it being over with so quickly, can we still call it a success? Join the fun as we break down its merits and much more!
Join TV Fanatic staff writers Maggie Fremont, Mary Kate Venedam and Bridget Liszewski and TV Fanatic super fan Sarah Silva to see what they have to say and then add your thoughts in the comments section.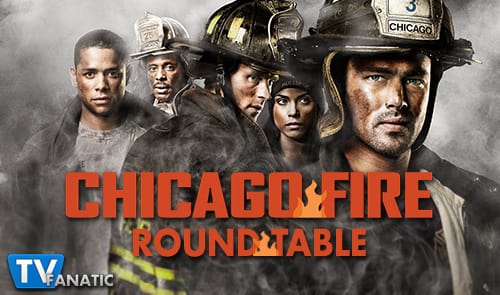 Brittany and Severide's whirlwind of a marriage finally came to its end this week. Were you OK with how everything came to a close between the two of them?
Maggie: No, not at all. I was left really confused. Brittany definitely needs to take some time and deal with her sister's death, but why does that mean their marriage has to end? Take a breather, get your head on straight, and come back to Chicago. I was happy to see Severide finally healing, but that didn't connect for me at all.
Mary Kate: If it had to end, I liked that it ended on a good note. I actually thought they would last a bit longer than they did. Brittany and Severide were a cute couple outside of Brittany's clinginess.
Bridget: I totally agree with Severide; the marriage was definitely a success. I think this was two people coming together at a point in their lives where they were exactly what each other needed. Severide should be able to get on with his life now, and a lot of that is due to his relationship with Brittany. I'm also glad they ended on good terms because that should leave the door open for a possible return by Serinda Swan. I really enjoyed her as Brittany and hope she works out her issues and we see her back one day.
Sarah: Personally I would have liked their marriage to have lasted. Even when they were saying goodbye you could tell that they really cared for each other and they said 'I love you' for the first time. Maybe when Brittany deals with her sister's death she will come back.
Dawson and Casey certainly seem headed for trouble. How worried should we be?
Maggie: I don't buy Peter Mills could actually unravel all that is Dawsey. After all of the energy and work the show has put into Dawson and Casey's relationship, it feels cheap to make their major conflict one of misunderstanding and jealousy. I think those crazy kids will figure it out.
Mary Kate: Well, if Casey keeps taking the work home, it probably won't end well.
Bridget: If Casey stays shut down and unwilling to talk things out, I think Dawsey fans should be fairly worried. All season long we've been told how them working together was going to strain the relationship. We hadn't seen that until this point, and now it sure seems as if it's all come to a head. I'm hoping Casey comes around and is willing to talk things out with Dawson. That's the only way things will get better.
Sarah: I would say we should be very worried. Dawson not being able to talk to Casey about work like she can with Mills will be hard. Also, we all know that Mills still cares for her, and I still say they have more chemistry than Dawson and Casey.
Do you think Casey has anything to worry about when it comes to Mills and Dawson, or is that just friendship and nothing more?
Maggie: I don't know how Mills feels – he might have some lingering feelings for Dawson, but I don't think Dawson is on the same page. I think she sees Mills as a close friend and someone to confide in. I mean, who else does she really have at the moment? 
Mary Kate: It seemed like it could be friendship, but there also seemed to be a connection that could go stronger if things get worse between Dawson and Casey.
Bridget: I think Mills is going to have his hands full in other areas and there will be no thread to Dawsey from him. I think Mills was genuine when he said he misses Dawson's friendship, and that's all he was trying to do, be there as a friend for her. With Shay gone, it's not like Dawson can't use someone she can really talk to, and if that's Mills, then I'm ok with that.
Sarah: As I said above, Mills seems to still care for Dawson. At this time Dawson seems to just see Mills as a friend but if she can continue to confide in him and if things keep going badly for her and Casey, then her feelings for Mills may return.
Speaking of Mills, he seems to have his hands full with the "John Gotti of Chicago." Are you afraid for Mills?
Maggie: I am! That guy seemed LEGIT. The only thing that makes me feel any better about the situation is Detective Halstead is on the case. Halstead and Mills working together – that's a big YES.
Mary Kate: Seeing that he was following him at the end of the episode, it definitely could end badly. I liked how Halstead visited and I hope, if the story with Mills continues, Jay comes back to help.
Bridget: I'm definitely a little worried for my boy Mills! Lullo seemed to mean business, and the fact that he's already got a tail on Mills doesn't bode well. Hopefully Mills makes it out of this OK because he's just too pretty to harm!
Sarah: I am a little worried, but with Halstead on the job I am sure he will be fine. It may lead to a crossover episode, so I am all for this story line sticking around for awhile.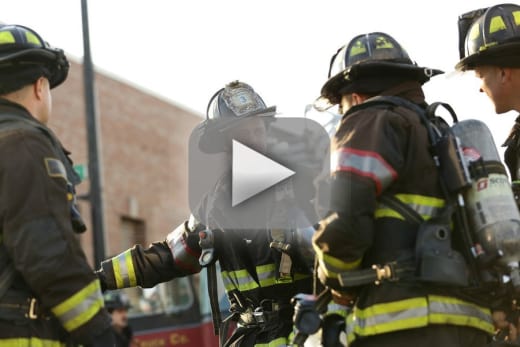 Are you excited that Cruz has made it out of the "friend zone" with Brett?
Maggie: I know last week I expressed some hope for an Otis and Brett pairing, but I'm fully on board with Cruz and Brett making a go of it. Cruz deserves a little love in his life!
Mary Kate: That was a very sweet moment between the two. I felt so bad for Cruz when she "friend-zoned" him at the beginning of the episode. I'm looking forward to seeing the relationship progress.
Bridget: At first I was all for Brett placing Cruz in the "friend zone." She has just come out of a serious relationship and is finding her way in a new city and new job. That being said, Cruz totally won me over in the end. There aren't many nice and stable guys out there; she was pretty smart to realize that and scoop him up. I think they'll be cute to watch in the future.
Sarah: Yes I am. I am really excited to see where the relationship will go. I like the idea of Brett and Cruz more than Brett and Mills.
What was your favorite moment from this week's episode?
Maggie: Watching Boden and Herrmann giving Mouch conflicting advice about his date with the eye doctor was hilarious. It was like our own little sitcom secretly hiding within a somewhat exhausting hour of relationship drama. You're right, Herrmann: "Trudy did not put a ring on it."
Mary Kate: I thought it was funny to see the whole mistaken date story with Mouch. It was just a funny story especially when Platt showed up at the end.
Bridget: ​I guess I'm alone in picking a serious moment, although I was laughing at Mouch. However, I really enjoyed hearing Severide finally open up about Shay. He's been reluctant to do so ever since her death, and it was something he needed to do before moving on. Taylor Kinney was definitely pulling at my heart strings as he went on about Shay, and I'm still in denial at times that she's really gone.
Sarah: Platt going to the restaurant to meet Mouch and telling him she went and told the doctor he was off limits. I adore Mouch and that whole storyline was great.
If you can't wait to get your hands on more Chicago Fire, remember that you can always Watch Chicago Fire online via TV Fanatic!
Bridget Liszewski is a staff writer for TV Fanatic. Follow her on Twitter.