Cristela Season 1 Episode 7 Review: Enter Singing
Whitney Evans at . Updated at .
On a very musical Cristela Season 1 Episode 7, Cristela and Felix butt heads for the hundreth time. But this time they aren't fighting about women's rights issues, they're fighting about West Side Story. 
Yes, that West Side Story. The tragic tale of a forbidden love between Maria and Tony. And one of my favorite musicals of all time.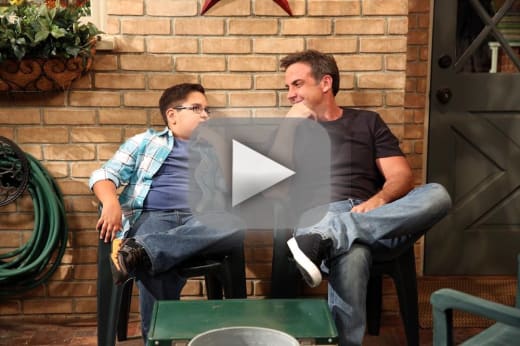 Cristela wanted to take Henry to the theater to see West Side Story, as it was playing in the Dallas area. After seeing how expensive the tickets were (which they really are these days), Cristela was excited to learn that Maddie had box seats to the show and she offered to take them.
Daniela was on board with Henry getting the opportunity to go to the theater and she and Cristela did a very lively rendition of "America" to show their excitement. I don't know what was cuter, their duet or Cristela and Henry's duet. They were both adorable. 
Unfortunately, both Natalia and Felix were not into the idea of Henry going to see the show.
Natalia: You're in America, you can stop singing.
Cristela: You're in America, you can stop complaining.
Natalia was of the mindset that she didn't move to America for her kids to become people who were above the things they knew and loved growing up. Like cockfights for instance.
Cristela: Can you believe Felix? I'm just trying to expose Henry to something nice. It's the theater, not a cockfight.
Natalia: Ah, suddenly somebody's too good for a cockfight?
Cristela: No Mama, I will never forget my ninth birthday party.
Natalia was a riot tonight, as she chimed in with some great one liners. She and Cristela could not be more opposite, but they have such a great dynamic. As much as Natalia wants the best for her children, she doesn't want them to forget where they came from. 
We all see the push and pull between Cristela and Felix and this week really wasn't any different. But bringing the kids into the argument helped to ground Felix a bit more. We haven't gotten to see much of Felix the Dad. 
Father Felix was concerned that Henry would see the glitz and the glamour of the theater and box seats and be disappointed when he realized his father could never afford things like that for him. 
I'm not a parent, but I imagine it's a very real, internal sadness parents feel when they can't give their kids everything they'd like. 
Cristela tried to appeal to him and show him that by not letting Henry do things like this, he was alienating him. But it didn't seem like Felix was convinced. 
I think the funniest part of the episode was seeing Cristela sitting in that box the night of the play, coughing to cover the sound of her opening a can of soda. Classic Cristela. There are so many things I like about her, but her willingness to truly be herself is my favorite quality. 
After Maddie scampers off to the bar, Felix and Henry show up, looking so daper. I couldn't keep the smile off my face during that scene. This is the Felix I really, really like. 
The office mini plot had to do with Cristela taking pictures for the firm website to promote diversity. I wasn't really into this and I don't have too much of a reaction. Trent has come a long way since the pilot, but he was sucked back into inappropriate boss tonight. 
Although, I did like his short chat with Cristela about making sure Henry got to see West Side Story. 
What did you guys think about this week's episode? Did you enjoy Felix? Did you miss Alberto as much as me? Is West Side Story one of your favorite musicals as well?
Leave me a comment, check out the Cristela quotes section and remember to watch Cristela online via TVFanatic anytime!
Whitney Evans is a staff writer for TV Fanatic. Follow her on Twitter.