It was a short week in Salem but there was still plenty to talk about as Melanie did some visiting, Clyde went into therapy and Sonny got a surprising kiss.
Our TV Fanatics Nick Mc Hatton and Christine Orlando are joined by UnaVitaSegreta and Sevenna92 from MyHourglass a Days of Our Lives Fan Forum to debate Chad's love interests, Clylde's potential and what they are thankful for on Days of Our Lives.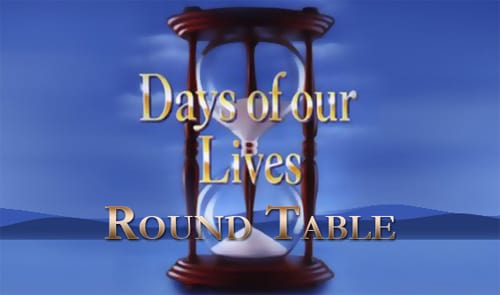 Who would you prefer to see Chad paired with, Jordan, Abigail, Melanie or someone else?
Nick: I think in terms of story potential pairing Chad with Abigail or Melanie would be the best. For Abigail, it's that allure of DiMera men and bringing out something other than always being a saint. With Melanie, there's the history with Chad, but their pasts could come back to haunt both of them.
UnaVitaSegreta:  I enjoy Billy Flynn's Chad so much that I honestly don't care who he is paired with.  I like him with Jordan, though he has chemistry with both Abigail and Melanie too.  But I'd really like to see how he pairs with Theresa!  
Sevenna92:  I would rather Chad be with Theresa. I think she is the best person for him right now.
Christine:  Not Abigail! I've had enough of her. The only time I've enjoyed Jordan has been her scenes with Chad but it would be interesting to see him paired with Melanie since she's not exactly a saint herself. That could be a lot of fun. 
We've seen a lot of Abigail and Ben in bed together. Are you a fan?
Nick: Wait, Abigail's been there too? I'm just enjoying the shirtless screen time with Ben.
UnaVitaSegreta:  No.  I get distracted during their love scenes because I can't help but wonder why almost everyone in Salem has those same gray bedsheets  I like Abigail, but I have no interest in her and Ben.  I feel like she has more chemistry with Chad than she does with Ben. 
Sevenna92:  No I am not a fan. The Babby love scenes add nothing to the show.
Christine:  Yawn…normally I'm a fan of hot love scenes but something about these two just makes me want to roll over and go to sleep. 
Clyde revisited his abusive past with his father in therapy with Marlena. Do you now feel any differently about Clyde?
Nick: Abuse is a terrible thing, but it doesn't give him the right to repeat history. 
UnaVitaSegreta:  I don't know.  I am intrigued by Clyde but I'm not sure how the show is going to make me like a child molester, if Jordan's allegations are true.
Sevenna92:  I still think that Clyde is an evil person and nothing will change that.
Christine:  I agree UnaVitaSegreta. If Jordan's allegations are true, then it feels as though they've written this character into a corner there's no coming back from, which is a shame because I like the actor who plays him and think he's doing a heck of a job with some of these scenes. 
We just had Thanksgiving. What are you most thankful for in Salem?
Nick: I'm thankful that Sonny has his own story detached from Will, and that Hope and Aiden are continuing to grow closer. 
UnaVitaSegreta:  I am thankful that Brady's addiction story line seems to be over and that Daniel and Jennifer are still broken up.
Sevenna92:  I am thankful for good food, friends and family.
Christine:  I'm so thankful for Hope and Aidan. They feel like the one real romance in Salem. I'm also thankful for Victor Kiriakis because he always speaks his mind and whether I agree with him or not, he's always entertaining. 
What if anything disappointed you this week?
Nick: Dr. Daniel freaking Jonas and Eric. I understand the idea behind it, but it just screamed of a culmination of a series of poor storytelling. Nicole and Eric were paired and pined for, and now it's being swept away in favor of Daniel. 
UnaVitaSegreta:  Nothing, really.  I've enjoyed every minute of Will, Sami, and EJ being gone!  Oh, wait.  I was disappointed in Theresa throwing herself at Paul.  
Sevenna92:  I was I kind of disappointed that Paul turned out to be gay because it really limits his romantic prospects outside Will and Sonny. I think it would have been better if he was bisexual so Theresa can have someone else to go after.
Christine:  That Theresa's way of dealing with losing Brady was simply to throw herself at Paul. I keep hoping she'll grow up and mature but that doesn't seem to be happening.
What was your favorite scene from this week's Days of Our Lives?
Nick: The kiss between Sonny and Paul. Sonny being a little darker! I've been waiting for this version of Sonny.
UnaVitaSegreta:  My favorite scene was the Maggie/Melanie reunion.  I liked how Maggie figured out instantly that something is up with Melanie and that she wouldn't let it go.  It was great to see her not crying over Daniel/Jennifer and instead focused on Melanie.
Sevenna92:  I really liked the Theresa and Paul scenes. I thought they were kind of cute. 
Christine:  I actually liked that Melanie went to meet with Chad. There's a lot of history between these two and there not afraid to call each other out on it. I'm hoping to see more of them in the near future. 
C. Orlando is a TV Fanatic Staff Writer. Follow her on Twitter.