Grey's Anatomy Round Table: Are You on the McDream Team?

Christina Tran at .
Welcome back to the Grey's Anatomy Round Table!
Grey's Anatomy Season 11 Episode 8 was all about risks and pushing forward, giving panelists Christina Tran, Krystal Sondel, Stacy Glanzman, Maggie Fremont and Amanda Steinmetz plenty to discuss regarding Meredith and Derek's heartbreaking choice, Jackson and April's unfortunate baby and much more.
Ready to gather around and join in? Leave your takes in the comments!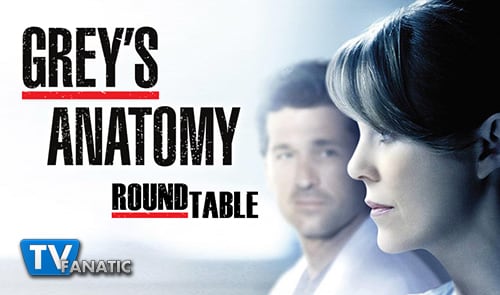 What was your favorite quote or scene from Grey's Anatomy Season 11 Episode 8?
Christina: Hands down, I thought the Jolex moment takes the cake. They're absolutely adorable and I can't get enough of those two. More please, Shondaland!
Krystal: I really got a kick out of Bailey and her pedometer. She is going all out to get her steps in. Not to mention her kale rage!
Stacy: My favorite scene was actually the very end with Meredith's flashbacks of her mother, Derek, and Cristina. Like I said last week, I'm a sucker for Grey's nostalgia.
Maggie: I loved Amelia and Owen's scene and I'm excited for this friendship - I think they've both been through hell and could really lean on one another. Also, they're both hotties, so, take her to Make Out City already, would ya, Owen?! And by Make Out City, I mean the boiler room.
Amanda: Jolex at the end of the episode. They're so good together, and I demand more for them to do in the second half of the season. Get me Shonda on the phone, stat!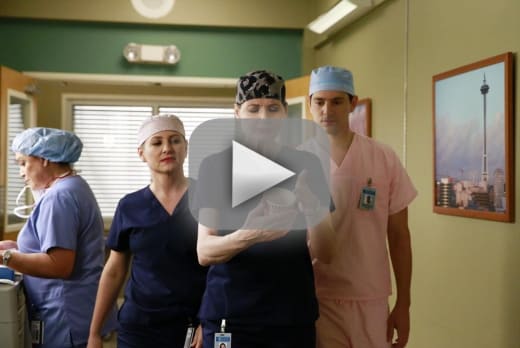 Grade the winter finale.
Christina: A-. It wasn't a crazy jaw dropping finale, but it was tragic and moving. There were slight underwhelming cliffhangers, but I wanted to see more. So, all in all, I thought it was well done. Grey's Anatomy Season 11 has totally been on point.
Krystal: C+ - It pains me to write that, but I felt like this winter finale was just average (especially if compared to the other Shonda shows on TGIT). There were some cliffhangers, yes, but I expected Derek to eventually accept the job, and they so heavily promoted something being wrong with April's baby that it wasn't much of a surprise. I am excited to see where Dr. Herman's storyline goes, though.
Stacy: I'll give it a B. It wasn't one of their best but I still enjoyed it. I was actually okay with there not being a major cliffhanger. It was enough that I'm looking forward to the return without being too anxious.
Maggie: B+. It was a pretty average episode that was meant to set-up some interesting storylines for when the show returns, but it definitely won me over with the big Mer/Der blow out. That last scene was so powerful. Somebody hold me!
Amanda: I agree with Stacy. Solid B. It wasn't a disaster/catastrophe/major character's life hangs in the balance episode, which I'm thankful for. There was no urgency to most of the storylines that will keep me anxiously awaiting the show's return. The only storyline I am anxious to get back to is Jackson and April's baby. Good episode, but not great.
Derek and Meredith both basically decided that Derek should take the job in DC. Do you like where the McDream team's story is heading?
Christina: Yes, as I mentioned in my review, I feel like the space might give both Derek and Meredith a chance to see things more clearly. All they've been doing is fight, and absence will make the heart grow fonder.
Krystal: It needs to happen. It's the only decision that can ultimately have a positive outcome in their relationship. If he ended up staying in Seattle, they both would have resented the decision, but now he has his chance.
Stacy: Yes, I feel like I need a break from Derek and I'm not married to him. I'm tired of them fighting. I hope he does well in DC and finds some happiness. His "woe is me" stuff this season is getting old.
Maggie: I agree with you ladies. Somewhere along the way, this relationship became toxic for the both of them. I think with some time - and space - Meredith and Derek will find their way back to one another. I'm really interested to see how they cope with the separation.
Amanda: It's fine for now. I think some distance will do them some good. Both characters have been so annoying this season whenever they're in the same room together. Even I want a break from them.
Pick one storyline you are most interested in seeing play out when Grey's Anatomy returns in January.
Christina: As a huge Amelia fan, I'm curious to see how her friendship plays out with Owen and also watch her dive into Dr. Herman's case.
Krystal: January 29th is basically February. I can't believe that we have to wait that long for a new Grey's episode. I'm really looking forward to seeing where Callie's story goes in the new year. The project with the vets is great, and I'm. excited to see both Callie and Arizona grow on their own.
Stacy: I am really interested to see Amelia tackle Dr. Herman's brain tumor. I hope we get to see the conversation Arizona has to have with her about it now. In order to tell her she can be saved, she has to admit to stealing all of her scans.
Maggie: The reveal that Jackson and April's baby is most likely not going to survive broke my heart. It's going to be intense and incredibly sad, but I'm looking forward to some focus on my favorite Grey's couple. How will they handle the news? Will April's faith be tested? How will this affect their relationship? I, for one, hope they lean on one another, rather than push the other away. I'm already counting down to January 29th.
Amanda: I am most interested in Jackson and April's baby. If there is nothing that can be done to save the baby, how will they take the news? Will it separate them? Will April lose her faith? I love them as a couple, so I don't want their relationship to fall apart.
It's Thanksgiving week! Who or what are you most thankful for on Grey's Anatomy?
Christina: I could say Jolex, Meredith, the bonds between the doctors, the crazy cases, and so much more, but I'm going to go with the writing. Week in and week out, I've found myself with my eyes glued to the screen as "the carousel never stops turning."
Krystal: I'm really thankful for those Ellis/Richard flashbacks. It was great to learn the backstory on their relationship, as tragic and heartbreaking as it was. That episode has been my favorite of the season (and if I had to really sit down and figure it out, probably one of my top five favorite episodes).
Stacy: I'm thankful for the cast. For a show that has been on this long and no longer gets Emmy consideration, the cast still brings it every week. I was concerned losing Cristina would hurt more than it has, but everyone has done a great job of keeping the chemistry together.
Maggie: I'm really thankful that Grey's takes time to highlight U.S. soldiers and veterans. These stories, this year especially, with the prosthetic trials and the homeless vet case, remind us of some of the enormous hardships vets face upon arriving home and I hope give some people watching a new perspective on what being a vet looks like. I'm glad to see they have a place on primetime television.
Amanda: I'm thankful for the writing and the cast. 11 seasons in and I still care about these characters. I'm still invested in their stories and their relationships. All these years later and Grey's Anatomy is still a weekly staple in my life.