I didn't see that coming.
When Audrey discovered the ring, I was aiming toward either another Audrey, as one reader guessed last week, or even a sister. 
But when Charlotte revealed on Haven Season 5 Episode 12 she's actually Mara's mother (and by extension, I guess, Audrey's), the idea was pretty damn exciting.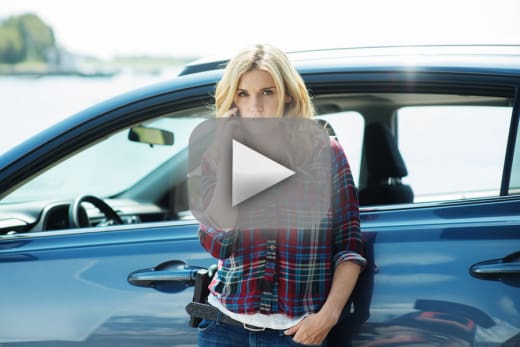 It's a little disappointing the time between Duke and Mara was cut short because they were kind of fun together. Mara's unique brand of girly girl nastiness was just starting to grow on me when she flew the coop.
Duke looks very hot with silver eyes. The black ones? Not so much. If Mara turned Duke into something super awesome (in her opinion) did she slip him the aether? Why black eyes and black tears, similar to the color of aether, if it's not somehow involved.
Even though Duke and Nathan were at loggerheads, their scenes were enjoyable. I had to laugh when Duke asked about Nathan's head. Just because he was knocked out didn't mean he actually felt it.
All of that seems somewhat secondary to Charlotte, doesn't it? 
It appears Charlotte really does like Dwight. She doesn't give off an evil vibe like her daughter and I'm wondering if William fell back into his own world somehow and tattled on his partner, sending Charlotte through one of the open thinnies to find out what her daughter was up to.
No wonder she's been so fascinated with Audrey. If Mara saw Charlotte, surely she'd recognize her own mother. But she was being held hostage. I looked back through the most recent episodes and I don't think the two have crossed paths.
Mara seems a bit obsessed with mothers, however, as it's one of her favorite topics to bring up with Duke. It's never made any sense until now; her morbid interest in Duke's mom. Did Charlotte have something to do with Mara's punishment here, returning every 27 years like clockwork? Her punishment for creating the Troubles?
If my daughter created havoc such as the Troubles, I'd want to know as much about them as possible. She must have been floored to learn Audrey didn't recognize her. That has to be why she kept thinking Audrey was keeping something from her. Why didn't her own daughter recognize her?
Audrey no longer has any of the memories of the whole person she was and all of the different embodiments. 
If you didn't watch the previews, don't read any further. It's time to speculate! Audrey learns next week she has to return to Mara and in doing so she'll lose herself. Audrey was already powerful enough to come back through the barn; I doubt she won't be capable a second time if faced with taking over again.
Who would Charlotte want to be inside Mara? It would be a cool twist if she wanted Audrey's presence and shared her story with Audrey and us. I still want to know more about where they come from and why they are who they are, you know?
It took far to long to get here, but here is a good place to be. Charlotte's presence has a larger purpose and I want to know more. A lot more. How about you? Did you see this coming? Do you like it?
Hit the comments and if you have a desire to scour the previous installments for more clues, you can watch Haven online via TV Fanatic!
Carissa Pavlica is the managing editor and a staff writer for TV Fanatic. She's a member of the Broadcast Television Journalists Association (BTJA), enjoys mentoring writers, wine, and passionately discussing the nuances of television. Follow her on Twitter and email her here at TV Fanatic.