Just imagine if the last hour ever of Hell on Wheels was the truly disappointing finale that was Hell on Wheels Season 3 Episode 10.
That would have been an unfortunate way for the series to have concluded, pretty much riding straight off the rails.
So it was truly a pleasant surprise that the show found a way to get back on track (with of course, a few bumps along the way) to what was a rather satisfying Hell on Wheels Season 4.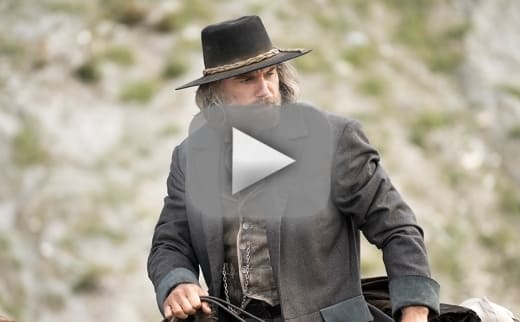 This season was all about Cullen trying to take care of his new family while digging in and helping continue the railroad, the emergence of John Campbell and the law clashing with the "uncivilized," and a forward progression of characters and events that would shift everything in a new (but natural) direction.
This was the season that felt much more like a cohesive story rather than mini-tales strung together with the same characters. And in that, Hell on Wheels Season 4 Episode 13 found a certain sense of closure for its overall season chapter at the same time opening the doors for what will be the final season of the show.
It was fascinating to watch the ever-determined and ambitious Cullen Bohannon quit the railroad and choose to focus on his family. He was ready to move on, especially after Ruth's death in Hell on Wheels Season 4 Episode 12.
And his story has always been the most interesting, especially given that Anson Mount has portrayed a character who has depth beyond the general badass "cowboy." We've seen  a variety of emotions and actions from the gunslinger, watching him go from a revenge-fueled man to one determined to set his mark on the railroad straight into a man trying to provide for his family.
This is a character to remember, and I can't imagine any other actor as Cullen. Mount should really get more recognition for this role.
So to see Cullen prepare to leave his railroad life behind only to discover the Mormon camp was no more?
I was so glad it wasn't an Indian attack and instead smallpox. It was something new and scary in the sense that Naomi and his child might not have survived. I was even worried that might be the case. I guess you could say it was lucky Mother Hatch got it, a rather disgusting looking sickness, seeing as she wasn't very nice even to the bitter end.
I can only imagine how Cullen felt basically having no clue where to find them and no clue where to look. Looks like fate was destined to have him back on the railroad in the end.
It seemed like the perfect way to realign Cullen back with the whole railroad race, while putting in the interesting aspect of having him on the opposite side of Durant. Not only will he have some claim to the work, but hopefully, going through Mormon country, he'll be able to find his family and settle down in peace.
Though the fact that most of the characters around him seem to die, let's just hope he winds up on a much more happy note, right?
And I love that there was that sense of moving forward, moving onward as Mickey and his crew were cast out (a rather cool shot of the guns surrounding them) while also giving Eva a chance to step up in her job. Looks like all that card playing worked out in the end for her.
Her character unfortunately didn't have much to do this season, but perhaps this new role will rectify that.
Even John Campbell's presence was clearly felt as a sense that the times are changing as he pretty much finished his takeover of Cheyenne. A little mud wrestling and bargaining gave both Durant and him what they wanted.
At the same time, the series feels like its ready for its final run not only with the railroad but the characters and story.
Putting the Swede back on course towards Cullen is also an interesting one, seeing as he's still as villainous as ever (how creepy was he when he killed that guy?). As much as I've felt his story should be done, I at least appreciate how the overall progression with him and the other characters has felt relatively organic this season.
This was a very entertaining and engrossing finale that didn't rely on some major death or explosive battle, rather, giving us a sense of closing on one part of the saga as it prepares to go full steam ahead into its last ride.
Hell on Wheels Season 4 definitely came back with a vengeance proving that this western television series has still got it. And it's certainly got me ready to take that final journey with Cullen and company.
Did you enjoy the season finale? Did you enjoy season four? Will Cullen find his family? Will Durant win the railroad race? Sound off below and take another ride through the episodes when you watch Hell on Wheels online.
Sean McKenna was a TV Fanatic Staff Writer. He retired in May of 2017. Follow him on Twitter.