Doomsday preppers may be crazy, but at least they're prepared.
Gil certainly was on Marry Me Season 1 Episode 4.
While a storm was brewing outside, Gil took over as leader of the group inside the storage basement, and Annie and Jake were convinced their anniversaries, or date-iversaries, were cursed.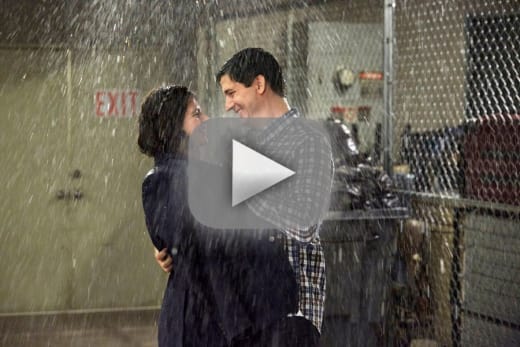 This was a strange, but amusing episode. Jake and Annie's date-iversary flashbacks were cute and silly. The funniest one had to be where the crazy woman pulled the fire alarm/sprinkler at the restaurant causing Annie's white dress to become see-through. The expressions on both their faces was hilarious. 
It was sweet when Jake revealed he had lied about being allergic to soy on their 5th date-iversary. Annie's a nut, but Jake loves her and wanted to keep his future proposal a surprise. 
Annie: You were going to go your whole life avoiding soy just to keep the proposal a surprise?
Jake: Well I love my edamame, but I love my Anniemame more. Ha! Anybody? No. Come on that was gold. God, tough storage room.
I wasn't expecting Jake to have been engaged before with a prenup. I'm glad it wasn't for Annie because that would have sent Jake straight into the doghouse. I loved how it turned out to have been for the crazy woman who ruined their 1st date-iversary. 
My concern is that Jake might be keeping more secrets from Annie. If he lied about being engaged to someone years ago, what else could he be hiding? I didn't see the point in him keeping his prior engagement a secret.
I wonder if the trust issue will come back into play again. Jake had told Annie to trust him, but unless he's in the witness protection program, I don't think secrets like the engagement should be kept from Annie.
Jake: Babe, I know it looks bad, but I am not unlocking my drawer so our friends can just riffle through my stuff. It's private. Weren't you embarrassed when Gil went through your night stand?
Annie: Of course I was. He found dilda radner.
Jake: I still think you should of called it dildo baggins.
Annie: Gilda's my hero.
I hope he's not hiding anything else from her because I like seeing them happy. The ending was beyond adorable with the two of them dancing under the sprinklers. At least until she asked to be taken to the hospital!
The upside to the evening being trapped inside a storage basement was that Jake and Annie realized there was no curse. All their date-iversaries were ruined by their friends and outside forces: Jake faked an allergy; Dennah got Annie kicked in the head by a horse; Gil blew up their car; the bread pudding was poisoned; and Kay tipped off Jake's psycho ex. 
As I mentioned earlier, Gil took charge in this episode which caused Dennah to find him strangely alluring. I thought the plot was weird-silly, but I hope they don't make them an actual item down the road. It would be forced and not believable.
Gil: Hey, thanks for defending me back there.
Dennah: Don't mention it my lord. I mean seriously, don't mention that we kissed or I'll (bleeping) destroy you.
Gil: My lips are sealed, but still tingling.
It looks like Dennah saw the error of her ways so there's hope this will be the end of this unnatural attraction. I'm still not sold on Gil. He's amusing, but is he just going to be that guy who's friends rag on him all the time? I'm not really into that.
I'm enjoyed Kay a lot though. Her offhanded comments are on point, and I want her to get her own storyline one of these weeks.
(To Liam after he falls) Easy Mr. Bean. We get it, you're British.

Kay
This was a funny bottle episode that forced all the characters into one storyline, which I greatly appreciated. I want to see the gang interact more often. It's important in these early episodes to establish the group dynamics.
So over to you guys! What did you think of the episode? Do you think Annie and Jake are cursed? Would you actually like to see Gil and Dennah as a couple!? Which supporting character would you like to see get some of the spotlight going forward?
Sound off below, and don't forget you can watch Marry Me online in case you need to catch up! 
Amanda Steinmetz was a staff writer for TV Fanatic. She went into retirement in June of 2027. Follow her on Twitter.