Thanksgiving is a time for food, family, and a whole lot of stress.
On Marry Me Season 1 Episode 5, Annie tried to take over hosting Thanksgiving dinner, but Jake's mom, Myrna, tried to undermine her every step of the way.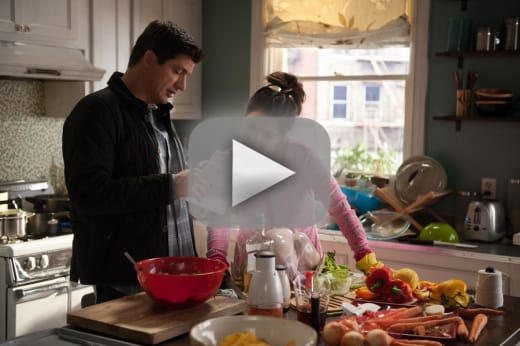 The continuing theme of milestones in a couple's life continued in this episode. Annie wanted her and Jake to be "that" couple who hosts grown up dinner parties and can handle cooking a Thanksgiving feast.
Jake, please. I really want to host this like Norman Rockwell-esque Thanksgiving where I come out and I'm holding the turkey like this and everyone's like, "Oh my god how does she do it? She makes it look so easy. She's like Jackie O meets Murphy Brown with Jennifer Aniston's arms."

Annie
Jake may love Annie, but he sure isn't great at confronting his mom. I thought the scene where Jake and Annie had dinner with Myrna was hilarious. Watching Jake chicken out and run to the bathroom was perfect.
Annie bit off way more than she could chew when Myrna agreed to them hosting. Annie's cooking struggles were expected but Jake didn't help ease Annie's mind when he said she was acting crazy. She was, but that's not the point.
After catching his mom's backup Thanksgiving food, Jake was all about taking down his undermining mother. Jake managed to rally Annie for a quick bang and some all-nighter cooking. The cooking montage was funny, especially with Dennah coming in and out of the apartment. 
Not surprisingly, the food still turned out to be a disaster, but the tiny table only made things more embarrassing for Annie. Bless Jake's heart for trying to salvage the dinner, but Annie had to concede to Myrna. Thankfully, Myrna was gracious enough to tell Annie about her first Thanksgiving and how it was a disaster.
While the main focus was Annie attempting to host Thanksgiving better than Myrna, the obvious goal was to secure her place as the most important woman in Jake's life. Annie knows she'll have to compete with Myrna for the rest of her life.  
The war between wife and mother-in-law is a tale as old as Everybody Loves Raymond.

Annie
I'm sure there will continue to be tension between Annie and Myrna as the season goes on, but for now it was nice to see them come to an understanding.
Elsewhere in the episode, Gil discovered he's a secret cheese connoisseur. The interaction with the grocer was funny, but awkward, which I've quickly learned is the show's forte. 
It's great the episode focused primarily on Annie and Jake, because they are the strongest components of the show. However, I found myself finding Gil more watchable in this episode. 
Normally he's annoying, but his cheese commentary was too weird not to laugh. The "speak-cheesy" was a pointless scene, but was still amusing. 
Gil's still a pretty pathetic character overall. He says funny things but he doesn't have much going for him. I'm sure the cheese thing will never come up again, but at least Gil found something he was good at, even if it was only for a short time. 
Fred: You know I don't throw this word around a lot, mainly because it's a little silly, but you are what we in the cheese community like to call a prodi-cheese.
Gil: Wow, that's the first compliment I've gotten in eleven weeks.
Overall, this was a funny, enjoyable Thanksgiving themed episode. I was waiting for JoBeth Williams to return as Jake's mom, and she did not disappoint.
Watching Annie and Jake's relationship develop has been the highlight each week. In future episodes, I'd like to see some more flashbacks during the years before the engagement. 
So over to you guys! What did you think of the Thanksgiving themed episode? Were both Annie and Myrna acting crazy? Does Jake need to man up when it comes to his mom? Should Gil pursue a career in the exotic cheese business? Sound off below and don't forget to watch Marry Me online in case you need to catch up! 
Amanda Steinmetz was a staff writer for TV Fanatic. She went into retirement in June of 2027. Follow her on Twitter.