NCIS Los Angeles Season 6 Episode 7 Review: Leipei

Carla Day at . Updated at .
Drone attacks aren't exactly new threats on television programs, but they are definitely becoming much more common. They are now an added threat to suitcase nukes, dirty bombs and suicide bombers for methods that terrorists can use to hit their targets.
NCIS: Los Angeles Season 6 Episode 7 took the premise of a drone attack and used it to murder one specific person in Los Angeles. That added a bit of intrigue over the usual terrorist plot, but the motive quickly turned into an overly complex web of twists.
While I enjoy NCIS: Los Angeles and it's one of the very few procedural shows I watch, I sometimes wonder if there's a wheel of plot twists that writers spin a few times and see what they can create by putting them all together in one hour.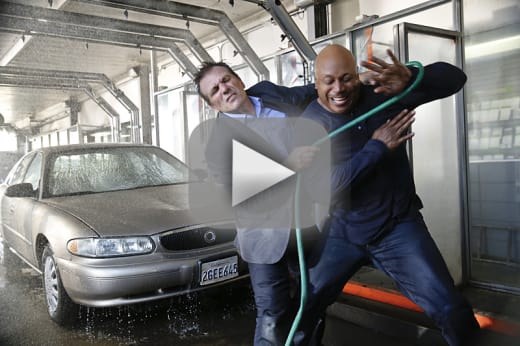 The victim was identified as Antonis Cosse, though that was just an alias. He actually was Elias Minas, who turned on his terrorist brethren known as PK and was put into witness protection. Minas went from being on the no-fly watch list to being protected by the government to escaping WITSEC.
The victim's back story was crazy enough, but that was only the beginning.
Before Minas died, he went downstairs for coffee and spotted PK member, Frank Kouris. That scared him such that he wanted to leave right away, but he didn't make it out before the drone attacked and killed him. The attack was caught on video by his mistress and -- though she was reluctant to help -- the threat of being publicly outed as a cheater opened her up.
The obvious culprit was PK since Minas turned on them. That's when the real fun began. In order to get to Kouris, Sam and Callen set up ruse at the restaurant where the PK terrorist was having a meal. Callen's portrayal of a restaurant inspector hilarious and was made better by Sam's freak out.
Their scam worked to clear out the restaurant, though I'm not sure why it was actually necessary to do. PK ended up shooting at Sam and Callen, while Kouris ran. That's not any different than if they would have taken a more direct approach. And, with the inspector ruse, they risked PK leaving with the other customers. Regardless, it was hilarious and one of the many fire fights of the hour.
Kouris didn't kill Minas. PK wouldn't have used an explosive device, but would have used a knife to kill him. It made sense that they would be old-school in their executions. Minas wasn't a dead end though, he provided information that lead NCIS to the real story. Kouris had been following Minas and pointed NCIS in the right direction.
It wasn't the terrorist group NCIS originally thought, instead it was another home grown group. Twisty twist twist....
Minas actually designed the drone that killed him. Bummer! And, Rand Palmer and his group used it to make a scaled up version to use in a real terrorist attack. NCIS was a second too late to stop the drone from being launched. What fun would that have been anyway? The car chase, fire fight and Callen's attempt to bring down the drone was the most exciting part of the hour.
It's a good thing he had Nell there to help him use the tablet to control the drone. The drone controls were highly complicated. I'm not sure why anyone would design it to work that way. Callen -- with Nell's help -- saved the day. The drone exploded and no one was hurt.
I enjoyed "Leipei," but it was more for the fun banter between Sam and Callen, the action sequences, and the interactions between Kensi and Deeks than the dense plot. It was just over the line of being too much.
I'm also not sure what to make of Nell's desire to be an undercover agent. She wants to do it her way or not at all. which is honorable, but I don't see her as someone fit for being in the field. She's not a Callen, Sam, Deeks, or Kensi. It's okay for Nell not to be like any of them; at the same time, maybe she needs to find a different area of undercover field work that's a better fit.
What do you think? Should Nell be an undercover NCIS agent? And, even more important, should Sam and Callen get a drone together?
Want more of the team, then watch NCIS: Los Angeles online!
Carla Day is a staff writer for TV Fanatic. Follow her on Twitter and on Google+.