NCIS Los Angeles Season 6 Episode 9 Review: Traitor

Carla Day at . Updated at . Comments
The mole strikes again!
On NCIS: Los Angeles Season 6 Episode 9, the mole goes from targeting Hetty to poisoning Granger. Who is the mole?
When it was first announced that "Traitor" would expose the mole, I was excited. The stories which affect the main characters are usually my favorite, though in this situation I was disappointed.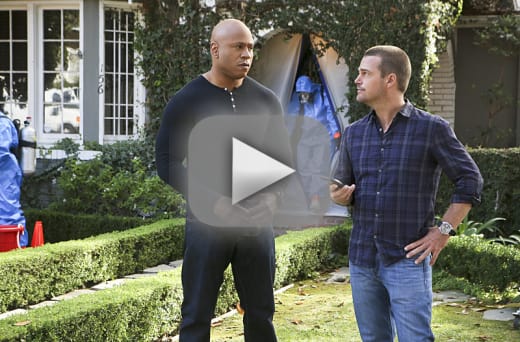 Carl, the IT guy? He's the mole? You have to be kidding me! Have we ever met Carl before? I've watched every episode since the beginning and if we've seen him before, he didn't make any impression on me at all. It's not like I wanted Eric to be the mole or another beloved character, but Carl, the IT guy?!?
This felt more like an episode of Columbo than NCIS: Los Angeles. While I wasn't thrilled with the mole reveal, the chase to uncover him was clever. For example, the poisonous plant left on Kensi's desk and the $50,000 in Eric's bank account both added to the intrigue. Both employees were targeted in very different ways which meant this wasn't a simple scam.
When Helen was found dead, I didn't believe it was suicide for a moment and the agents should have been quicker to question it. I forgive the slight delay because it provided the reenactment between Kensi and Deeks. While the situation called for a more somber and perhaps even scared mood, the lighthearted exchange between the partners worked. 
It was their idea for DNA tests that broke the case open instead of the lie detector tests. We didn't get to see any other the tests other than Hetty's and that was okay. Hetty freaks me out sometimes. I'm not sure how Nell is able to connect with her mentor as easily as she does. Hetty's a traitor (not to the US) and tried to kill Granger (years ago). Interesting...
Overall, I wasn't thrilled with the reveal of Carl as the mole. As serious as the leak situation has been, the case to find him felt too quirky and not taken as seriously as normal. There was an odd sense of urgency, yet time to crack jokes. In particular, when Carl was taken for questioning to the fake "black site." Callen's demeanor wasn't that of someone who had people he cares about threatened and still in potentially in danger.
Carl is working for someone. My hope is that the case isn't over and there's more urgency at finding the person behind the threat to Hetty and Granger. As long as that person's out there, this isn't done. There could still be an epic ending to this storyline which supersedes that of Carl, the IT guy.
One last thing ... Kensi and Deeks are definitely dating, right? I mean he knows too much about her personal life to not be dating. Toilet paper, girlie magazines. Though, his interest in the smell of her shampoo indicated that maybe they weren't as physically close are expected. Either way, I wish their personal relationship status was more clear. I don't enjoy the mystery of it at all.
Want to watch this or any episode? Stop reading and go watch NCIS: Los Angeles online! 
Carla Day is a staff writer for TV Fanatic. Follow her on Twitter and on Google+.