The best thing about New Girl Season 4 Episode 8 was the return of the very sexy teacher Ryan. Thank you New Girl Gods for bringing him back!
Can I start shipping Jess and Ryan? There is a lot of chemistry between the both of them; though Jess does need to grow up some more before getting into a relationship.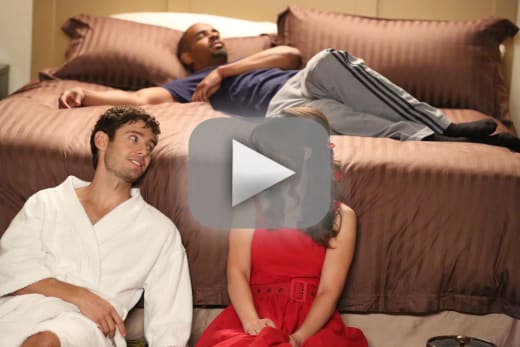 It does scare me a little bit how perfect the writers are making Ryan out to be. The man is not only gorgeous, but he is intelligent, has a sexy accent and has a lovely heart – so I am just waiting to see what his faults are going to be. There has to be some way that we can keep Ryan around because he would be a great addition to the already established group of friends.
Why must they make Winston such an idiot? Winston has not only gone through police academy training, he passed as one of their top cadets, yet he cannot read a ruler. It is supposed to be seen as funny and endearing, but truthfully is just seems like lazy writing. When Winston was first introduced he was a strong character that seemed to be pretty intelligent – now he is a five year old.
It was a change of pace having Nick be the teacher – though I have no clue how Schmidt and Winston have made it this far in life. They may have taken Winston's intelligence, but at least they gave them to Nick – silver lining. I agree with Schmidt that Nick is the cute one of the group. 
Coach having a complete meltdown was predictable, but it did have some comedic moments. We all know Coach is not the best choice as a teacher – how he is even qualified is beyond me – yet I do hope that he succeeds.
It was another choppy episode of New Girl; not a lot of laughs, but it was not completely boring either. Looking at New Girl Season 4 Episode 1 and comparing it to the last eight episodes has shown that the writers have no clue where they are going with the show. There has been very little character growth and they seem to be using cheap tactics to get laughs. Will I still watch the show? Of course I will! It takes a lot to get me to stop watching a show. 
What did you think of tonight's episode of New Girl? What do the writers need to do different to get the ratings back up? Or are you happy with the way the show is going?
If you want to catch up on this season you can watch New Girl online now via TV Fanatic!
Samantha McAllister is a staff writer for TV Fanatic. Follow her on Twitter.