Once Upon a Time Season 4 Episode 10 Review: Fall

Christine Orlando at . Updated at .
A magic mirror, keeping the faith and wishing upon a star still couldn't save Storybrooke from one evil spell on Once Upon a Time Season 4 Episode 10.
Everyone seemed to have faith Emma and Elsa could work together and stop the spell of Shattered Sight as it bore down on the town but they were wrong. It was Anna who could have saved the day, if only they could find her.
Of course Anna had her hands full back in Arendelle. After finally getting out of their deep freeze, Anna and Kristoff had to fight off Hans and his brothers before running off to find Blackbeard. I liked Anna's belief that pirates were easier to deal with than wizards as pirates could be bought off. True, but the flip side is that there may be someone else who outbids you.
Anna and Kristoff in the trunk was an emotional moment, not that I believed they would die but nevertheless I felt their terror.
It was quite a relief to see Anna and Elsa finally reunited and the necklace being the wishing star was a fun twist. Unfortunately, getting Anna to Storybrooke proved to be too little too late. 
This was an emotional episode for Emma. I can't remember her calling her parents Mom and Dad in a way where I felt she meant it as much as she did in this hour. When Mary Margaret gave her baby Neal, I could have cried along with Emma. Somehow being the Savior almost always means she's on the outside looking in. This time she was looking at her parents, locked in cells, waiting for her to save them.
Mr. Gold continued down his dark path as he forced Hook to trap the fairies in the Sorcerer's hat but I'll admit I was amused he compared them to fleas. 
The sad part was Hook was absolutely right. Belle loves Gold and he loves her. Mr. Gold can have that happy ending or he can have dark power. Thinking he can have both is an arrogance that will surely be his downfall and break Belle's heart. 
There were lots of emotional moments in the end. Regina leaving Henry and then Robin Hood as she told him in this Once Upon a Time quote...
Robin Hood: Regina, I'm not afraid of you.
Regina: But you really, really should be.
Then Mary Margaret and David confirmed that it's Emma's specialness that will save them all, although that was a lot of pressure to place on her as this scary spell came crashing through the air vents. 
Emma's goodbye kiss with Hook was heartbreaking because I kept wishing he would tell her Mr. Gold had his heart. With only one day left to live, I really thought he'd come clean with the woman he loves.
Finally, there were David and Mary Margaret who had faith their love and their shared heart would help them weather this magical storm...
We share one heart and nothing can come between two halves of one heart.

David
From the look of disdain in their eyes as the spell took hold, I'd say they were dead wrong.
Don't miss a magical moment, watch Once Upon a Time online right here at TV Fanatic.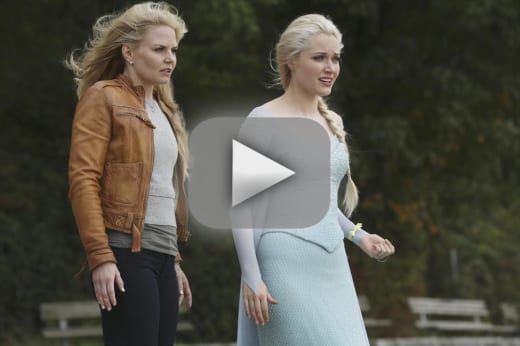 And here is your first look ahead to Once Upon a Time Season 4 Episode 11, "Shattered Sight."
C. Orlando is a TV Fanatic Staff Writer. Follow her on Twitter.