It was all about embracing your powers and finding your happy endings on Once Upon a Time Season 4 Episode 8 and Once Upon a Time Season 4 Episode 9.
Elsa and Anna were reunited in Arendelle and I loved how giddy Anna got when she found out her sister was simply play acting in front of the guards. Anna's enthusiasm is infectious. 
The Arendelle saga ended with Elsa in the urn and Anna and Kristoff frozen. We know Elsa made it out but are Anna and Kristoff still popsicles back in the castle? 
In present day Storybrooke, Emma sought out Mr. Gold in order to be rid of her out of control powers. I was a little surprised she turn to him instead of Regina. Perhaps she felt his marriage to Belle had mellowed him, or she couldn't find Regina...or maybe she was just plain desperate. 
Either way, that decision almost cost her everything as Gold planned to have her sucked into the Sorcerer's Hat. He'd gain more magic to separate himself from the dagger and Emma would simply be gone. 
I was hoping that Neal's death would have had a longer lasting effect on Rumple but it's barely made a ripple on the Dark One's plans for power. Despite Belle's optimism, if his son's heroic death wasn't enough to change him, I don't think anything ever will.
Most heartbreaking was the taking of another heart. Poor Hook. The guy just can't catch a break. He even tried to confess all to Emma only to have Gold intercept the voicemail and then steal his heart...literally. Now Gold truly has control over him and in the end plans to kill him anyway. I don't think I've ever hated Mr. Gold more. 
There was a bit of hope in Storybrooke despite the impending doom. Robin and Regina finally spent the night together and although they both agreed that with Robin still married to Marian it shouldn't happen again, Robin saw a loophole as he explained in this Once Upon a Time quote...
I agree but if we don't leave this room then I think that this still counts as the first time, don't you?

Robin
Thankfully, the two took advantage. I liked that Regina confided in Mary Margaret about Robin and her theory of the book. Mary Margaret tried to make Regina realize that no matter the past, there's hope for her future...
You have literally seen my heart. You know it's not untouched. You are not all evil and I am not all good. Things are not that simple.

Mary Margaret
The mysterious new pages appeared to prove Mary Margaret correct. There may be a future for Robin Hood and Regina. After watching their earlier scenes together I can only hope she's right. 
And as usual Regina had all the best lines as she pointed out that Emma getting rid of her magic wasn't like giving away an old pair of Jimmy Choos and then telling Mary Margaret and David that...
This could be the worst idea you've ever had and you hired the Wicked Witch as your nanny.

Regina
So very true.
Now that Emma, Elsa and Ingrid are bonded by the magical ribbons, will the Snow Queen destroy Storybrooke? 
Don't miss out on one magical moment, watch Once Upon a Time online here at TV Fanatic.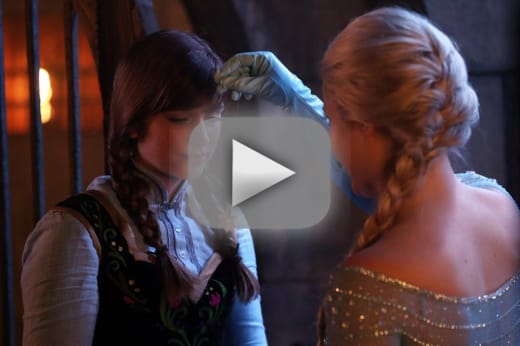 C. Orlando is a TV Fanatic Staff Writer. Follow her on Twitter.