Parenthood Season 6 Episode 7 Review: These Are the Times We Live In

Carissa Pavlica at . Updated at .
Despite the fact Parenthood is winding up, it's not moving stories along at a rapid pace. They're rather leisurely, considering.
Last week I commented on how nice it feels to be able to focus on a smaller group of characters per episode. There are some drawbacks to that formula. 
On Parenthood Season 6 Episode 7 Adam and Kristina took a bit of time to shop the school in another market. Or something. With The Luncheonette in such dire straights, it didn't feel organic that Adam would leave it, and Crosby, to focus on the Chambers Academy.
Millie hiding out on the balcony or reading in her room also felt incredibly odd. Until Zeek called out to her that he was going somewhere with Drew, I thought she must be out of town but they hadn't mentioned it yet. The absences aren't flowing as well as expected, but they are what they are.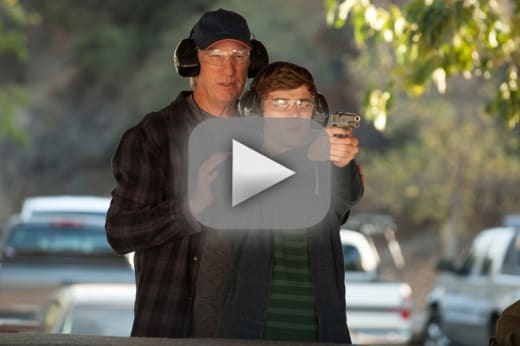 As Millie hid out of sight, Zeek had several "adventures" with an unappreciative Drew. Who guessed Natalie would turn out to be such a great girlfriend? She had some major freshman college type issues when they met, but she's really grown on me. I'd prefer to watch her over Drew. He's just a bit too laid back for my taste.
I guess we can chalk up Zeek's unending desire for adventure to his brush with death. First it was Crosby and then Drew he was compelling to be his sidekick. When Joel came to say goodbye, he fell into a more fatherly role, but I fear the advice he gave Joel was too little too late.
Most divorces are already done when a character hits our screens. Depicting a full divorce doesn't happen that often. The closest I can think of in recent years was that of Don and Betty Draper on Mad Men, even then it was written in the stars for so long it wasn't as compelling as what we are witnessing with Julia and Joel.
What works for me is showing two people who were once a part of the couple we all wanted to see as ourselves. They were perfect. Then things fell apart. At first is was slowly, and then it snowballed into a tragedy playing out before our eyes. 
Their breakdown in communication was so deep it kept them from understanding the opposing arguments about their relationship. Even we couldn't understand how things fell apart so completely with Joel, the once loving and compassionate man, refusing to discuss it with Julia. 
Yes, I'm well aware that many blame Julia for the end, but it's nonsensical. Joel imagined things with Julia that were untrue and he forgot that he had gone through the same type of misunderstanding with a nanny at one time in their marriage.
Julia: Is something wrong?
Joel: A year ago you asked me fight for you, but I was too stupid to listen. So I'm here. I don't want to live another day without you, Julia, not another second. So I'm fighting for you and I'm fighting for our marriage. I want you back.
When Julia begged for him to stay with her and talk things over, again and again, he walked away. Now it's a year later, the divorce papers are ready to be signed and he decides to fight. It's unfair. My deepest hope is that Julia finds her happy ending with Chris. This isn't out of spite for Joel, but because Parenthood has always tried to show life as it is (minus friends outside of the family and those other pesky issues).
To bring them together at the last minute is a cop out. Joel is panicky. He's not thinking clearly. He hasn't moved on and he's alone. If he took the time to consider everything that happened and ignored Zeek's speech, I think Joel would realize things could never be the same between him and Julia again.
He's hanging onto what was; happy memories that created their family. But for over a year there was darkness. Julia found light with Chris and he's good for her. He's almost angelic, for goodness sakes. I hope Parenthood has the guts to show how a marriage can end successfully without leaving the two parties bitter and angry, but friendly and caring for the family they will continue to share.
Alrighty then.
Hank is still fighting his way back into some sort of normal life after his realization he has Asperger's. He's finally admitted that it's not longer a possibility. It's real. Hopefully that will give him what he needs to step back before reacting. His tendency to walk out will grow tiresome for Sarah. Walking right into the arms of his former family was difficult for her.
Spending time together for their daughter seemed like a nice idea, but it's execution left Sarah at home, alone, once again reminded that she's the odd man out in this and her presence isn't needed or wanted. The bigger thing for both Sandy and Hank to do would have been to invite her along to understand the joys of the mysterious yogurt flavor and why it meant so much to the family.
It's not as if Sarah doesn't have her hands full already. Amber's attempt at parenting wasn't a success, but how could it be with Max? He really hurt her when he screamed that she would be a horrible mother and it made her rethink her decision to do it alone (I guess Drew hasn't shared his plans with her yet).
You shouldn't be putting all this pressure on yourself. They don't start out this age. They don't start out as big as Max. They start out little and tiny and they don't talk or do anything except poo. You can handle that.

Sarah
That line was so Sarah. Yes, she showed Amber Fast Times at Ridgemont High at too early an age and now he daughter's an unwed, expectant mother, but she's been a great mom. Seth forced her to up her game and she knows that Amber has it in her, as well. Max would try the patience of a saint. He tries the patience of viewers every week.
It looks like next week she'll be having her baby. Depending upon who shows up to the hospital, I guess we'll know whether or not Julia accepted Joel's proposal? These off weeks can leave stories in the lurch. 
Can Parenthood pull off a good ending to the series in six more episodes? Are they going to try to make every ending a happy one or will they allow the reality that the Bravermans have always shared with us lead the way? What's your call?
If you want to see more of the Braverman clan, you can watch Parenthood online via TV Fanatic!
Carissa Pavlica is the managing editor and a staff writer and critic for TV Fanatic. She's a member of the Critic's Choice Association, enjoys mentoring writers, conversing with cats, and passionately discussing the nuances of television and film with anyone who will listen. Follow her on Twitter and email her here at TV Fanatic.