Parenthood Season 6 Episode 9 Review: Lean In

Carissa Pavlica at . Updated at .
It seems like Parenthood is trying to be all things to all people as it nears the end of its run, and I'm not sure it's working.
On Parenthood Season 6 Episode 9, the string of stories continues on the path of least resistance, and it seems as though there is no other ending for the Bravermans than a happy one.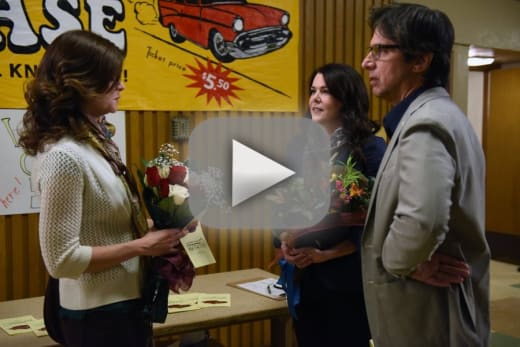 There is nothing wrong with wanting a happy ending for the family that has kept us entertained for almost six full years. Characters have come and gone and they all feel like friends and extended family now.
The problem with the happy ending is with four hours left, unless we have a dramatic time jump for the series finale, it will be easy to imagine things going in the opposite direction. By saving so many dramatic moments for the end, they lose their punch.
Take Joel and Julia. There is no doubt a deep affection and even love remains between them. Yet when Joel makes one last stand for Julia, the word that hits the hardest is vows. As long as they're married he won't break their vows. Julia shares with Camille what is eating away at her – she doesn't think she can forgive him for being weak and walking away.
Regaining trust is an amazingly huge hurdle to get over. Can Julia magically, with a kiss, learn to forgive? Can Joel, who takes his vows – one of which is fidelity –so seriously all of a sudden he refuses to give up, really get over Julia breaking them for a period of time by sleeping with other men?
Given their past, their future doesn't look that bright, regardless of how they choose to play it for four episodes. Can their marriage last for the long haul? It's unlikely.
Then there are Hank and Sarah. For all of his faults, with Hank connecting to his family again, he's gained some much-needed perspective. He wants Sarah in his life and when she runs into Mark Cyr, it's logical for him to wonder if she's happy where she is.
Hey. You asked me if I'm happy. I'm happy. There's nowhere else I'd rather be.

Sarah
The words don't match the expression on Sarah's face, an expression she exhibits well before she runs into Mark. It's as if she's bitten into a sour apple. She doesn't want to offend the fruit vendor, but she's not really enjoying the apple. Every time she seems slightly happy, Sandy comes in and ruins the moment. This is another couple who don't seem invested for the future.
Kristina and Adam turning Max's worst behavior into training moments does him no favors. Max has Asperger's, but he's not stupid. He reads books on sex and dating. Dylan's rejection should send him to another book on the subject (How to get over the one that gets away or something). That's the kind of kid he is. He never takes the word of his parents for anything unless it's convenient for the story.
Thankfully Dylan's absentee parents finally appear at parent/teacher night to point out to Kristina and Adam how they have neglected his terrible and offensive behavior. Kristina has a job as headmaster of an entire retinue of special needs students, and they build the curriculum and make rules that suit their son.
Fortunately, Dylan's parents have been through the ringer with her. If it was another family with the same issues, it's entirely possible a lawsuit would be brought against the school and the Bravermans for treating their own child differently than others at the school.
Finally, we have the ever-present threat of Zeek's death. A death that cannot come now. It's too late. With for hours left he has to be just ill enough to force everyone to love each other – a reason to keep the Grahams intact, for Ryan to rush to Amber's side after her baby is born and for Sarah to commit to Hank. 
Yet, the smile he gives to his Millie when they decide to go to France is a smile of a lifetime. It's the last smile Camille will remember after he passes because they're not making that trip.
To kill off the patriarch now, without giving us the time to adjust to the new family dynamic doesn't work. It will not fly. Painting the cafe in France as a remembrance to him? No thank you. If that's the plan, they best rethink and re-shoot. 
Given the way the stories are dabbling in this very dramatic territory, the only way for the series to end with everyone happy is with a jump into the future and the best damn 44 minutes to ever air. If they're selling rainbows and balloons of happiness, then don't let go of the string. Make us believe there isn't an end to the rainbow unless it comes with an actual pot of gold.
This pragmatic cynic will be back in January to count down the final episodes. Tell me what you want to see in the comments. Will you be satisfied with major decisions that indicate there may be hope for the future, or would you rather know how it all pans out ten years down the road?
If you need more evidence of the past to ponder the future, watch Parenthood online right here via TV Fanatic.
Carissa Pavlica is the managing editor and a staff writer and critic for TV Fanatic. She's a member of the Critic's Choice Association, enjoys mentoring writers, conversing with cats, and passionately discussing the nuances of television and film with anyone who will listen. Follow her on Twitter and email her here at TV Fanatic.