Resurrection Season 2 Episode 6 Review: Afflictions
Paul Dailly at . Updated at .
Well, that was an unexpected turn of events.
On Resurrection Season 2 Episode 6 we got some answers. Small ones.
With Bellamy seeking help from the government, I think we all knew he would have an ulterior motive for being there. Are we expected to believe they would go to extreme lengths to make sure he doesn't remember his journey, in or out of the facility, yet they would allow him to keep his phone?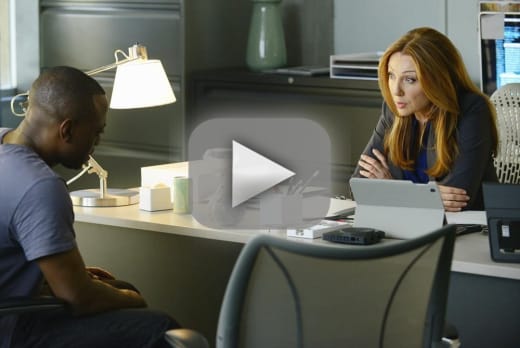 Government bitch seemed to be researching plane crashes, and can apparently predict events before they happen. I'm not buying this either, Bellamy is well and truly on to her. There is more than meets the eye with this woman. I have a sneaking suspicion people have returned from air craft disasters and the government have covered it up.
It was extremely disheartening to find out that, much like Maggie's mom, Bellamy's parents had also disappeared and they left his sister behind. Surely, if the illness truly gives you the choice to stay or go, you would stay with your daughter.
When were you going to tell me I died in 1934?

Bellamy
Margaret returned to the land of annoying this week. The way she managed to wriggle out of all things Barbara infuriated me. Elaine clearly saw it, but no one had the balls to go all out crazy in order to get some answers. The woman truly is a master manipulator, but you'd expect after six weeks of lying, that her whole family would be on to her.
Maggie and Fred gave up on questioning her, fast. Lucille is at the very least, curious about the grandmother/grandson relationship. Margaret has this hold over Jacob. He seems to listen to everything the deranged woman says. I really don't know at this stage if the woman is truly trying to get her family back together or is some sort of devil.
Margaret: Jacob, help me pick some flowers from the garden.
Jacob: No thanks, Grandma.
Margaret: It wasn't a question.
I was quick to write off the new storyline involving Henry looking to open the factory and a potential investor just waiting there. The place is derelict. Surely after recent events, Henry would be questioning every occurrence, but no, he accepted the offer. The guy could be anyone, and it appears I was right, as his father was much younger than him, and they look like they are going to give the Langston's a rough time. 
Ray returned this week, in what looks to be a good arc for his character. One thing I didn't understand. We were led to believe in Resurrection Season 1 that he never kept well, yet this episode he was the best we had seen him. He managed to have a conversation with his sister. She didn't even appear shocked at how okay he was. His views on the returned seem like a rehash of Kyle's from last season. Based on the promo for next week, it is.
On the flip side, the promos for this week's episode tricked me and made me think a lot of stuff was going to happen that didn't -- Damn you ABC promo department!
This episode was a bit of a mixed bag. Obviously, I was expecting a lot more. I know we can't get all of the answers right away, but when we are promised a big episode, we expect some big reveals. I don't think the show can sustain the current formula for a long time. Margaret, who was an excellent addition this season, has become stale and predictable. I only hope she is on her A game next week or we at least get some big developments in other storylines.
Remember you can watch Resurrection online right here on TV Fanatic! Relive the many secrets of Arcadia now!
What did you think of the episode? Did you find it a bit annoying? What was your favorite scene? Sound off below!
Paul Dailly is the Associate Editor for TV Fanatic. Follow him on Twitter.