Selfie Season 1 Episode 5 Review: Even Hell Has Two Bars

Amanda Wolf at . Updated at . Comments
If even hell has two bars of reception, then Eliza must be in whatever is far, far below hell, or the lowest level of it. Although Henry was there too, the amount of bars he had was the very least of his problems in Selfie Season 1 Episode 5. 
In this episode, Henry had to face what he has been struggling with in every episode so far, the fact that he does not know how to be fun. Unfortunately, this time for Henry it was working to his extreme disadvantage and preventing him from getting the one thing he wanted the most -- his promotion.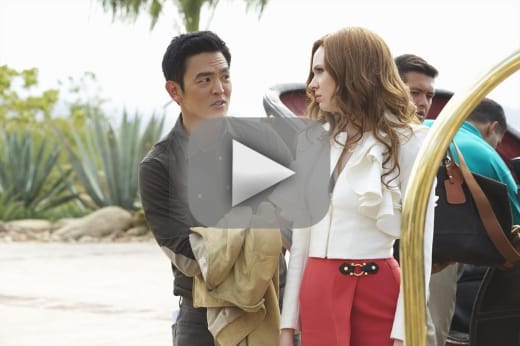 Even though this episode mostly took place at Saperstein's estate, my favorite scenes all took place at the beginning and end of the installment.
Although it was really over the top, I found Eliza dancing in the middle of the office really entertaining. She was wearing one of her classic pairs of tights and leather shorts, and dancing to 99 Anthems by Jaydiohead.
Did anyone else find it funny how long it took other people to notice her? In particular, the two people that were standing on the other side of the window. There were about three shots of them going over some documents before looking up and seeing Eliza. 
Shortly after that, Henry and Eliza got into a discussion about why Eliza was invited. If Eliza had not preformed that little number in the office, I would say that Eliza made some really good points (being the number one sales rep) to Henry about deserving a promotion.
Henry countered by stating that he fears Eliza is just his plus one. Uhmmm...what? Even if your boss is asking, is that appropriate for coworkers? I know it pushed the plot forward, but I think there could have been a stronger reason why they were both invited. What if Eliza actually was being looked at for promotion?  
Everything in the middle of the episode was about Henry slowly being driven over the edge, mostly by his own doing. Henry cannot help but overdo things -- like horseback riding (not sure if I could have resisted pool time and "Oprah Watching" either!). Just as it seemed the whole weekend was lost, Henry's boss informed him that it was a success, but that Henry needs Eliza. 
Before the day is over do one fun thing, just so Saperstein knows you are capable.

Eliza
However, why did Henry have to ride out to Eliza on the horse instead of just walking out there? Are you telling me he has no sense of absurd adventure when he choose a majestic steed over walking on his own? He even gave Eliza the biggest Henry Higgs compliment ever, which is good, because he needed to make up for what he said earlier. 
I don't want you to think that I value my job more than I value our friendship, because I swear, its a tie.

Henry
I was not a huge fan of the middle of this episode, but the last three scenes of the end made me smile. 
As Eliza and Henry almost had a moment, they both finally got some bars and ended things by checking their phones. I am a child of technology, and I sympathize with what these two did. It was just to intimate of a moment for them, when their phones went off it was a godsend.  As I said in my Selfie Season 1 Episode 1 Review, I enjoy scenes in Selfie that make me think about social media and technology in my own life. 
Are Eliza and Freddy moving a little bit beyond being just hook-up buddies? I felt like there were hints that these two actually have conversation. I know it may not be anywhere near a real relationship, but it seemed different than what they were like before. 
Finally, my favorite scene was of Sapersteain living out one of his wildest dreams and jumping into that once untouched lake. Something about that scene just really wrapped it up for me. It seemed like Saperstein was doing what he had always needed to do. I think Eliza and Henry could take note of this. 
In the past, I have both complimented and insulted Selfie. I was bored and annoyed during the middle of this installment, but the beginning and end did not make me sad that I watched. 
What do you think of this episode of Selfie? When do you think Henry and Eliza will move forward with their relationship?
If you missed this episode you can watch Selfie online via TV Fanatic!