Stalker Season 1 Episode 6 Review: Love is a Battlefield
Paul Dailly at . Updated at . Comments
Stalker Season 1 Episode 6 gave us answers to some burning questions.
After six episodes, Stalker is fighting its way to the top of my list of favorite shows. I feel like I am watching a movie every week. A fast-paced one that doesn't stop for air.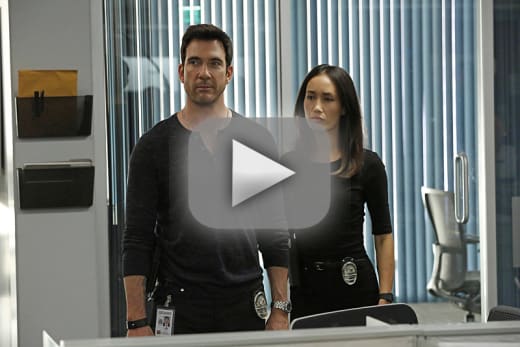 The case this week was excellent. Every time I thought I had it figured out, something else happened to make me question it. I was gob smacked when I learned that Andrea was actually the stalker. I didn't fall for the stuff with the watches. It was far too obvious it was not Kenneth. I actually thought Melissa was the one who set this up in order to put Kenneth in the frame.
Speaking of Melissa, did anyone jump for joy when Caity Lotz showed up? The actress needs to find another regular gig now that she's not full time on Arrow.
Look, an apology doesn't mean anything. You took him from me.

Andrea
The whole scene in which Andrea was making it look like she had been attacked reminded me of Jill from Scream 4, after the killer reveal. Did anyone else get that vibe?
I knew it would be too easy to say that Melissa was the bad one, but I didn't rule it out.
We finally got to see Amanda and Jack come to blows. Now we know that Jack slept with someone on a case. I have to comment on how excellent Elisabeth Rohm was in all of her scenes tonight; she owned them.
It was difficult watching Jack pleading with his former love. Sure, the guy made some mistakes in the past, but everyone deserves a second chance, right? Not according to Amanda. I actually thought he managed to get through to her. Amanda is unwilling to give the guy a chance, but she does have her reasons. He didn't take an interest in his son's life, so he left her to bring him up. Alone.
You may be his biological father, but you will never be a father, Jack.

Amanda
It appears that Jack is only stalking Amanda because the of way she is acting with him. I think he loves her. He also wants to have a relationship with his son.
It all became too much for him and he finally confided in Beth. Beth acts as though she doesn't like him, but she likes how committed he is to his job. Beth would find it difficult to be in a relationship with someone outside of TAU because of how invested she is in her job. She is rarely away from the office.
We didn't get any new developments with Perry. I hope he returns next week -- It is sweeps after all!
There were some particularly gruesome scenes. I felt sick to my stomach over the scene with the dead dog. I don't understand how anyone could actually end the life of a pet just to prove someone is stalking them. The woman needed help.
As much as I like Janice, I am wondering where her story is going. It appeared like she was going to come clean to Beth about bed hopping with Jack, but her boss quickly cut her off and sent her home. I'm not sure, but maybe she feels Beth will be pissed because they work together.
We have our cliches here. They have a soundtrack.

Janice
This was another thrilling installment. The quality is really consistent on the series and I'm already counting down the days until my next Stalker fix!
Remember you can watch Stalker online right here on TV Fanatic, get stalking now!
What did you think of the episode? Did you miss Perry? Did you feel bad for Jack? Sound off below!
Paul Dailly is a staff writer for TV Fanatic. Follow him on Twitter.