State of Affairs Season 1 Episode 1 Review: Pilot

Krystal Sondel at . Updated at .
On State of Affairs Season 1 Episode 1, we quickly learn what it is like to experience post traumatic stress disorder.
We all have different ways to cope with tragedies, and for Charleston (Charlie) Tucker, top CIA Analyst, and daily briefer to the President of the United States, it is alcohol, sex and more alcohol.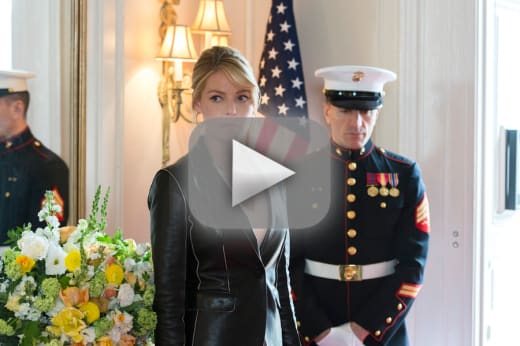 I can't even begin to understand how those who are victim to a terrorist attack get up and continue to go on, especially if you watch your fiance be gunned down in front of you. That's exactly what happened to Charlie. Throughout the episode, we relived that night in Kabul, Afghanistan, as Charlie crawled her way to safety, amidst shooting all around her. 
Like I said, we all cope with tragedies differently, but at some point it all catches up to us. For Charlie though, she doesn't have a second more to think about it, as she has to prepare the daily "book" for President Constance Payton. Oh, and by the way, the President's son, Aaron Payton, was Charlie's fiance. 
The book is a list of credible terrorist threats that need the President's immediate attention, and Charlie and her team need to wade through the hundreds of potential threats to decide what the POTUS needs to know. 
We are introduced to Charlie's staff, including Lucas Newsome, who I think will prove to be the most interesting supporting character (and, well, he's pretty handsome, too). Each staffer has their role, but Lucas – the newbie –  is the wild card of the bunch.
In the only comic relief moment of the night, I appreciated Charlie's, "leave it to briefer" description of one staffer. Thanks to the writers for that! 
The front of the book becomes reserved for an American doctor, Benjamin Butler, who was captured by a terrorist group. The group plans to execute the doctor unless their demands are met. It didn't help that Dr. Butler looked very much like Aaron. 
When Charlie heads for the White House to present her report, she leaves off a pretty important piece of information; the man responsible for the death of Aaron, Omar Abdul Fatah, is within range for the military to capture. 
Charlie makes the call to not tell the President, at least until they are certain they can get Fatah. This prompts her boss to suspend her. It led to the most action packed sequence of the night, proving just how close Charlie's staff is, and how far they will go to help her out. 
I don't know about all of you, but I can't imagine I would have made the same decision as Charlie. The man who killed the love of her life was within range to be captured and brought to justice. My emotions probably would have gotten in the way, but it appears Charlie was able to look at the big picture and not act on emotions.  
In the end, the President trusts Charlie's judgment and they are able to save Dr. Butler, but for now Fatah remains at large. 
Charlie and Constance are out for blood!
His death will make killers out of both of us.

Constance
I said it "appears Charlie was able to look at the big picture" because we learned through a series of text messages -- and an encounter with Nick at Charlie's apartment -- that Charlie has a secret. It's the "hook," and it's enough to keep me watching. 
While I'm not entirely sure of Charlie's reasoning behind her decision on Fatah, we do get a chance to see how strong her instincts are. CIA Director Skinner brings in a foreign leader who's known for trying to get information from the CIA. Charlie's quick thinking leads to the discovery that he was hiding a phone in his hat to obtain information. 
Katherine Heigl's return to television will get a lot of negative reviews. She is rumored to be difficult to work with but one thing is for certain; she can act. She portrays the flawed Charlie in a compelling manner that makes her relatable, while still proving she is a powerful leader. It was refreshing to see Heigl in this role; a change of pace from her last television outing on Grey's Anatomy. 
Alfre Woodard shines in her role as Constance Payton as well. I'm hoping we get a chance to see her flashbacks to the day Aaron was killed. The chemistry between Heigl and Woodard is great to watch. I'm looking forward to more powerful scenes between these two. 
The hour flew by, and now another drama has been added to my weekly television card. Was it perfect? No. Were some of the storylines a little far fetched? Sure. Will it stand up to it's previous time slot holder, The Blacklist? Only time will tell. But, it's time I'm willing to give to State of Affairs. 
Other thoughts on the premiere:
The writers took a lot of time to replay lines and scenes. I'm hoping it was because they wanted to set the stage in the premiere and that it doesn't continue. We heard the word "fiance" a lot. 
More women in power! While it's great to have two strong female leads in powerful positions, women in power are often portrayed as PITAs (pain in the asses) who still get the job done! It doesn't help the stereotype that women are "bitches," though. 
So what did you think of the premiere? Did Charleston Tucker grab your attention enough to keep watching? Who is Nick and what secret are they keeping?
Chime in with your comments below and let's keep the discussion going. 
Krystal Sondel is a staff writer for TV Fanatic. Follow her on Twitter.