The Blacklist Season 2 Episode 8 Review: The Decembrist

Sean McKenna at . Updated at .
After feeling like The Blacklist Season 2 has been simply bookending cases of the week with actual important and exciting stuff, I was concerned The Blacklist Season 2 Episode 8 would follow suit.
Perhaps it being a fall finale helped amp things up, but it was so satisfying to get the entire hour focused on the bigger story. This was the engaging episode that I'd been waiting to get again, and I'm so glad how it turned out.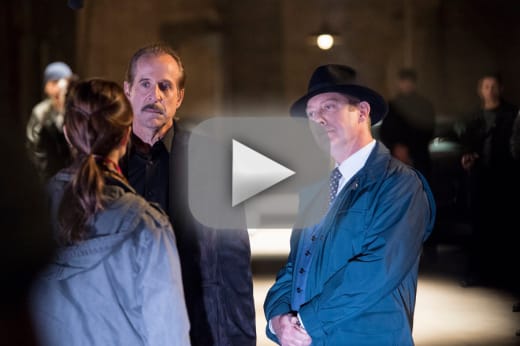 All the dragging out of Tom being Liz's secret and Berlin's daughter not actually being dead really came into play as Berlin and Red learned just who was behind the bombing and the lie that Red was the one who did it.
In between the sort of twisted agreement of Red and Alan Fitch, the Assistant Director of National Intelligence, Alan ordered the bombing and pinned it on Red. While it was neat to see essentially two villains teaming up, it wasn't a surprise Berlin was ready to break from the team and go on a mission to hunt down Alan.
At the same time, as much as Red was pissed off at what he felt was a betrayal, he couldn't let Berlin kill Alan because that would mean Alan's mysterious group would come after Red. He does have secrets about them after all.
It's always welcome to see Alan Alda, though I'm sure his character wished he got to come back under better circumstances.
It definitely made Red's inability to stop Berlin's bomb a nice -- but graphically messy -- twist. I felt bad for Alan in that moment when he spoke with Red behind the very nice callback to Red's box from The Blacklist Season 1 Episode 1.
But what's in that safe Alan talked about? And just what does Red actually have? Red's a dangerous character, but is he prepared to fight Alan's group if they do (and probably will) come after him?
Either way, Red won't have to worry about Berlin, as he was dispatched of after the bomb wouldn't come off. I just knew it was going to happen. I'm pretty sure Berlin knew it too.
We know Liz has a hard time killing, but Red? Red seems to have much fewer qualms about it.
I was glad Tom was finally freed; though, I was bummed that one guy had to die in the process. Could Liz really not have foreseen that coming?
It was watching Tom speak with Red at the end, seeing how super serious Red was in his threat, and getting to know that Tom and Red were far more connected than anyone ever knew that was a great final moment.
We have to see Tom again, right? Even if Red would probably kill him, Tom's bound to show up again.
If anything, it was just fantastic to see things coming together and pieces connecting to make that larger picture much more clear.
This was an exhilarating hour, especially because it didn't detour on nonsensical or unimportant scenes or moments. There was plenty of tension and intrigue, a feeling of closure on certain aspects while also opening the doors to new questions. This was a jam packed episode.
The Blacklist definitely has me excited for the Super Bowl, and I can only hope that when the show returns in February (it feels so far away!) it comes back just as strong as this particular outing.
What did you think? Were you surprised Alan was behind it? What's in the safe? Will we see Tom again? Sound off with your thoughts on the episode, and if you want to see this great hour again, watch The Blacklist online.
Sean McKenna was a TV Fanatic Staff Writer. He retired in May of 2017. Follow him on Twitter.